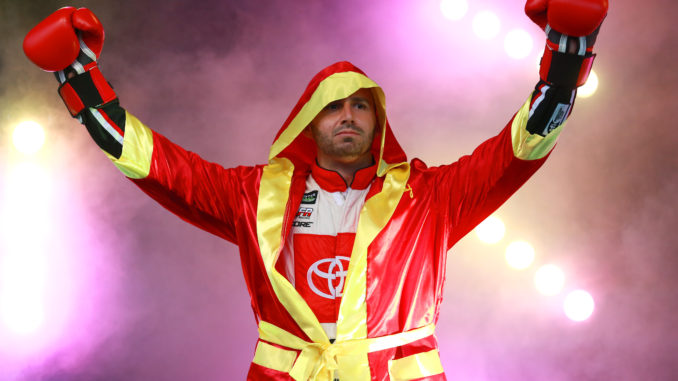 Matt DiBenedetto fever is sweeping the nation and appears to be taking on a life all its own.
DiBenedetto has all the makings of what NASCAR fans have been craving for quite some time; he's charismatic, likeable, talented and he touts his emotions as if they were a badge of honor. Seriously, what's not to like? One would think that with credentials like these the future would be bright, yes? Not necessarily.
As many know by now, it was announced last week that DiBenedetto would be dropped from the #95 Leavine Family Racing Toyota for the 2020 season, even though he still had a year remaining on his contract. This effectively leaves him with no job in the foreseeable future, and the vast majority within the NASCAR world are not happy about it. The decision to drop him from the team was purely a business decision (it is widely assumed this decision was made in order to make room for Christopher Bell at the Joe Gibbs Racing sister team) fans, drivers, team members and even the media have been voicing their displeasure for the past week, to the point that team owner Bob Leavine has received death threats via Twitter.
This has put DiBenedetto into "audition mode," and audition is precisely what he did Saturday night during the Bass Pro Shops/NRA Night Race at Bristol Motor Speedway. The 28-year-old California native led a race high 93 laps and appeared to be cruising to his first career victory when a hard-charging Denny Hamlin passed him for the lead, and ultimately the win, with 11 laps to go. The resulting second place finish appeared to do little to dissuade the emotional pain he was feeling as he neared the point of tears in his post-race interview.
"I wanted to win so bad," he said on NBCSN's live broadcast after the race, "I'm trying not to get emotional, but it's been a tough week, and I just want to stick around and keep doing this for a long time to come. I love it. I love the opportunity. I'm not done yet. Something will come open, it's gonna happen. I'm here to win."
Race winner Denny Hamlin even felt the urge to apologize to DiBenedetto, not because Hamlin did anything wrong, but just for beating him: "I'm so sorry to Matt DiBenedetto," Hamlin said immediately after winning the race, "I know a win would mean a lot to that team."
Logic would dictate that we are approaching the time of season where teams are starting to finalize plans for the next season, meaning rides should be available soon. But the likelihood of landing a quality ride for the 2020 season seems to be waning for DiBenedetto, as most of the upper-level teams have young drivers already in their Xfinity Series programs that will likely be promoted. One possibility may be the #38 Front Row Motorsports team that will be vacated by the retiring David Ragan at seasons end. This would reunite DiBenedetto with Ford but would most definitely not be considered a "top-notch" ride and would likely relegate him to mid-pack performances, save for the occasional glimmer of a decent finish.
In today's NASCAR world, funding is king supreme and dictates who gets what rides. Sans a sponsor willing to back him, DiBenedetto's future seems to be on shaky ground at best. It seems likely (or one would think) that many team owners would have him on their radar but have little wiggle room to make something happen.
Ahhh, the heartbreak of being Matt DiBenedetto.