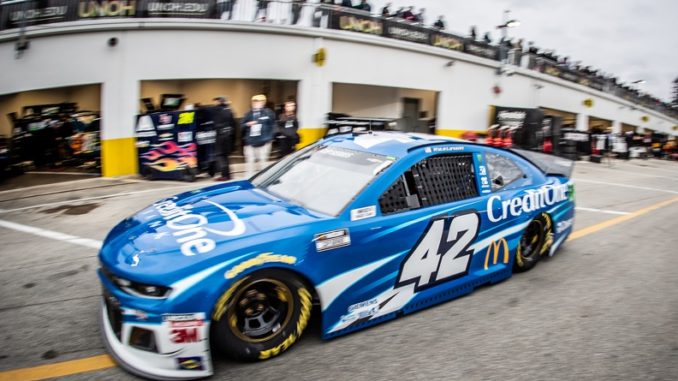 Kyle Larson has been suspended by NASCAR, and without pay by his team, Chip Ganassi Racing (CGR), following his use of a racial slur in an iRacing broadcast on Sunday.
The event was being broadcast on online via the NASCAR website. During the event, Larson seemingly attempted to communicate with someone through a private channel. However, Larson mistakenly broadcast his message through the public channel, which could be heard by all competitors and anyone listening online through the website.
Larson can be heard asking someone if they can hear him. In what seemed to be an attempt to get someone's attention, Larson said "Hey n#####". Others quickly let Larson know he was broadcasting on the public channel, but it was too late. Many heard the comment and began posting it on social media.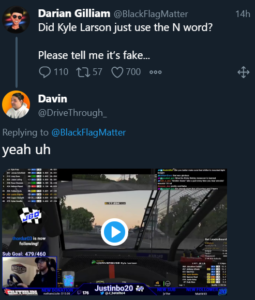 CGR responded by suspending Larson, who is in the final year of his contract with the team, without pay. "We are extremely disappointed by what Kyle said last night during an iRacing Event. The words that he chose to use are offensive and unacceptable,"said a CGR representative. "As of this moment we are suspending Kyle without pay while we work through this situation with all appropriate parties."
NASCAR is also aware of the situation and released this comment: "NASCAR is aware of insensitive language used by a driver during an iRacing event on Sunday, and is currently gathering more information".
This comment was followed by a statement released by the sanctioning body on Monday which stated, "NASCAR has made diversity and inclusion a priority and will not tolerate the type of language used by Kyle Larson during Sunday's iRacing event. Our Member Conduct Guidelines are clear in this regard, and we will enforce these guidelines to maintain an inclusive environment for our entire industry and fan base." NASCAR has suspended Larson and CGR.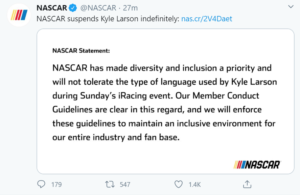 Ironically, Larson has been a leading representative for the sport's "Drive for Diversity" program. Larson is half Japanese and utilized the program to reach NASCAR's top division.
As of the time of this publication, Larson has not made a public comment regarding this situation.
UPDATE: Larson has now commented and apologized for his use of a racial slur.
— Kyle Larson (@KyleLarsonRacin) April 13, 2020