Ambetter Health 200: Nemechek Captures First Victory at "The Magic Mile"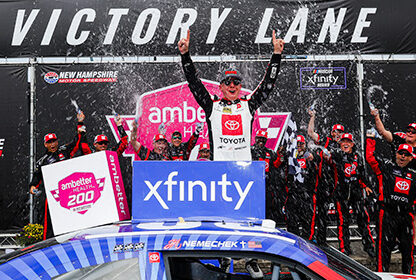 Joe Gibbs Racing driver wins under caution following green-white-checkered finish.
LOUDON, N.H. – The NASCAR Xfinity Series (NXS) makes one annual visit to the Granite State each year, and the latest visit may just have cemented a new championship contender.
John Hunter Nemechek avoided several multi-car wrecks and held on through two late restarts, including a green-white-checkered finish on his way to a victory in the Ambetter Health 200 NXS race on Saturday at New Hampshire Motor Speedway (NHMS).
Driving the No. 20 Toyota for Joe Gibbs Racing, Nemechek collected his NXS-leading fourth win of the season, the sixth of his career and his first at "The Magic Mile." It was also Joe Gibbs Racing's 199th career NASCAR victory.
"I am so proud of this 20 team," said Nemechek, who led a race-high 137 laps. "I'm so thankful for this opportunity. Hats off to all of our guys at Joe Gibbs Racing, and a huge shout-out to all of the fans here. I love coming up here [to New Hampshire]."
Nemechek, a 26-year-old North Carolina native, was up front much of the way, allowing him to miss several big wrecks throughout the race, including nine-car crash following a restart at lap 70, a three-car spin in turn one on lap 196 that led to the green-white-checkered finish and a two-car collision just after he took the white flag, leading to his victory under caution.
"I was a little worried on the last restart," said Nemechek, who has raced full-time in all three NASCAR national series. "I didn't know who was saving what. I'm so thankful to sit behind the wheel of this 20 car.
"The goal has been to win races, but that's very hard to do. There's some really tough competition for sure. We're going to do everything we can to be there at the end."
Pole-winner Chandler Smith (10 laps led) finished second, with Austin Hill placing third, Daniel Hemric in fourth and Sammy Smith (stage two winner, 18 laps led) in fifth. Justin Allgaier led 27 laps and won stage one before finishing sixth.
"We definitely have some work to do with this package," said Hill, who trails leader Nemechek by 33 points in the NXS standings. "For us to salvage a third-place finish, with us not having that great of a car, we'll take it and move on."
Notable finishes among New England natives included Kaz Grala (Boston, Mass.) placing 13th in a backup car following a crash in practice. C.J. McLaughlin (Framingham, Mass.) came in 28th, Parker Kligerman (Greenwich, Conn.) was 32nd and Anthony Alfredo (Ridgefield, Conn.) finished 34th.
Nemechek completed the overtime-aided 206-lap event in two hours, 38 minutes, 40 seconds, averaging 82.417 mph with 20 cars finishing on the lead lap. Seven leaders exchanged the lead 13 times with 10 caution periods taking up 60 laps.
NHMS's NASCAR weekend events concludes Sunday with the Crayon 301 NASCAR Cup Series race at 2:30 p.m. ET (USA, PRN, SiriusXM NASCAR Radio).
Tickets:
Sunday's Crayon 301 tickets start at just $59 for adults and $10 for kids 12 and under. Log on to NHMS.com for tickets and more information.
Follow Us:
Keep track of all of New Hampshire Motor Speedway's events by following on Facebook (@NHMotorSpeedway), Twitter (@NHMS) and Instagram (@NHMS). Keep up with all the latest information on the speedway website (NHMS.com) and mobile app.