Worth the Wait: Truex Triumphs at Crayon 301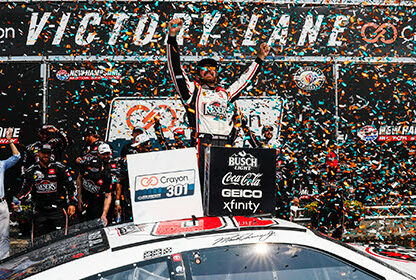 LOUDON, N.H. – It took 30 starts, 18 years and one rain delay, but Martin Truex Jr. finally prevailed at "The Magic Mile," turning in a dominant performance to earn the first New Hampshire Motor Speedway (NHMS) NASCAR Cup Series (NCS) victory of his career in Monday's Crayon 301.
"What a race car we had today," Truex said. "Pit stops were flawless. We had some challenges, but we kept our heads down and kept digging."
Truex led 254 of 301 laps around the 1.058-mile track en-route to his long-sought-after win. Following the victory, the New Jersey native shared memories of watching his father race at NHMS as a young race fan.
"I sat in turn one with my mom when my little brother was drinking out of a bottle; we were young. What we've been able to do here over the years is pretty remarkable – in K&N and the Busch Series. This feels really, really good – being able to cap it off with a lobster. This one's been eluding me for a long, long time."
Truex, who started on the outside of the front row, took the lead from polesitter and defending race winner Christopher Bell on the second lap of the race and blistered the competition under the New England summer sun. The win marked the ninth Crayon 301 win for Joe Gibbs Racing.
While his Toyota was clearly the best of the class, Truex's win wasn't without some late-race drama. The 301-lap showdown was marred by eight cautions, the last of which led to a nine-lap sprint to the finish. As he had done all afternoon, Truex executed a perfect restart to pull away from Connecticut native Joey Logano for the victory.
"I thought I had a shot to beat him," Logano said. "I had a chance to roll his outside. If I got in front of him, I think I had him beat. When you're at your home racetrack, second hurts more than anywhere else."
Kyle Larson finished third. In his final start as a full-time NCS driver, four-time NHMS winner Kevin Harvick finished fourth, with Brad Keselowski rounding out the top five. New Englander Ryan Preece finished the race one lap down in 28th position.
Tickets:
Fans can renew their tickets for the 2024 NCS race at NHMS.com. The official 2024 NCS schedule, including their annual stop in New England, will be released later this year.
Follow Us:
Keep track of all of New Hampshire Motor Speedway's events by following on Facebook (@NHMotorSpeedway), Twitter (@NHMS) and Instagram (@NHMS). Keep up with all the latest information on the speedway website (NHMS.com) and mobile app.