Austin Hill Wins Explore the Pocono Mountains 225 at Pocono Raceway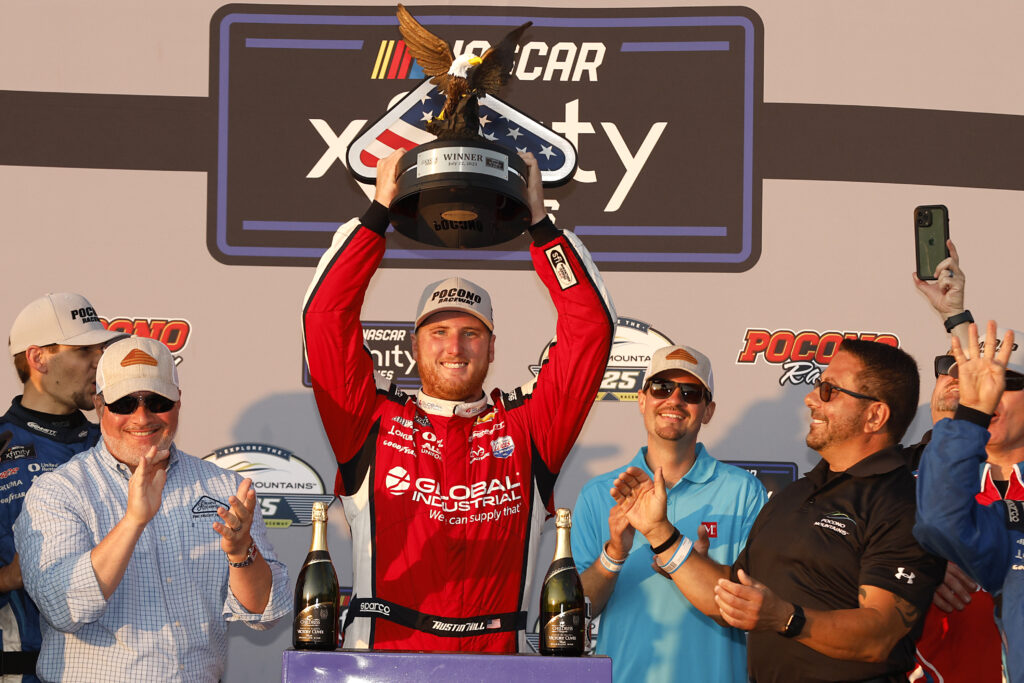 By Holly Cain
NASCAR Wire Service
Austin Hill survived an early race pit road speeding penalty, gambled on fuel strategy and prevailed in an incredible wheel-to-wheel run to the checkered flag in overtime to claim his fourth NASCAR Xfinity Series victory of the season in the Explore the Pocono Mountains 225 at Pocono (Pa.) Raceway on Saturday.
As important as the victory for the 29-year old Georgia-native his good day combined with an uncharacteristic disappointing day for his closest rivals in the NASCAR Xfinity Series championship standings gave him a huge boost in the points with only seven races remaining to set the 12-driver field. He trailed championship leader John Hunter Nemechek by 33 points before the green flag and took the checkered flag now only 13 behind.
On a dramatic – at times chaotic – overtime re-start, Hill had to get around the day's most dominant driver, JR Motorsports' Josh Berry. His No. 21 Richard Childress Racing Chevrolet was behind Berry on the restart and gave him a big push at the green flag, but Berry got loose and Hill got around him to lead his first lap on the afternoon.
Both Berry and his JRM teammate Justin Allgaier hit the wall in separate accidents on the final lap bringing out the yellow flag and the race ultimately ended under caution with Hill out front.
"We didn't have the best car all day.,'' Hill said. "Andy [Petree] and all the guys back at RCR engines worked really hard. We got the car better. I thought we were maybe a top-five or top-seven car. I didn't think we had anything for the leader today.
"On that restart he drove into one and got really loose into the entry.. … we drag raced down the backstretch and once I cleared him [Berry] I knew I just had to hit my marks.
"Such a special win,'' he added. "Obviously with fuel saving, we didn't know if we were going to make it and it was on my mind going into the Tunnel Turn (Turn 2) that I had to get back to the start-finish line. I had enough fuel to do a burnout so we saved enough.''
It was especially heartbreaking for Berry, who dominated all the race's major statistics. For the first time in his career he swept both Stage wins. And he started from pole position for the first time this year, leading a race high 51 of the 92 laps. He finished 24th after his No. 8 JRM Chevrolet trailed up track and into the wall racing Hill – bringing out the final caution that ended the race.
"Just a wild restart there,'' said Berry, who will take over for retiring NASCAR Cup Series champion Kevin Harvick in the No. 4 Stewart-Haas Racing Ford next year.
"The 21 [Hill] was behind me and gave me a really good push but pushed me a little longer and harder than I wanted into Turn 1 and got me into the marbles .. I was able to battle back and race with him. Tried to time the run, but got there a little quicker.
"Just a racing deal.,'' he added. "Hate we didn't get the finish we deserved today. ..Just really proud of the car we brought today and I know if we continue to have that kind of speed we'll win plenty of races. Just a tough way to end but still a lot of positives from the day.''
His JR Motorsports teammate Sammy Smith finished second to Hill, followed by former NASCAR Cup Series champion Chase Elliott, who was competing in his first NASCAR Xfinity Series race in two years – driving the No. 17 Hendrick Motorsports Chevrolet in a paint scheme honoring his team owner Rick Hendrick's late son, Ricky Hendrick – a popular NASCAR competitor.
Stewart-Haas Racing's Riley Herbst finished fourth, also coming out on the right side of fuel-save gamble. Kaulig Racing's Daniel Hemric was fifth.
"We finished fourth and that's what we needed at a track I don't particular love,'' Herbst said "Lucky to get out of here with a Top-5.''
The effort was good enough to keep Herbst in the points picture for the championship. He is ranked 12th – the final Playoff transfer position – 26 points ahead of Parker Kligerman, who finished ninth Saturday.
Sammy Smith, Brandon Jones, Brett Moffitt, Kligerman and another NASCAR Cup Series regular, Daniel Suarez, who drove for Kaulig Racing rounded out the Top-10.
A mid-race incident with two of the three championship leaders – Nemechek and third place Cole Custer – changed the complexion on the regular season title chase. On a restart just over halfway through the race – with both Nemechek and Custer running inside the Top-10 – Nemechek hit the wall and washed back across the track, his Toyota hitting Cole Custer's Ford. Custer was third in the championship entering the race.
Both teams made quick repairs to the cars, but they were non-competitive for the remainder of the race. Nemechek finished 32nd and Custer, 33rd.
Seven races remain to set the 12-driver championship field. Next week the NASCAR Xfinity Series resumes action next Saturday in the Henry 180 on the Road America road course in Elkhart Lake, Wisc. (3 p.m. ET, NBC, MRN, SiriusXM NASCAR Radio).
NASCAR Xfinity Series Race – Explore the Pocono Mountains 225
Pocono Raceway
Long Pond, Pennsylvania
Saturday, July 22, 2023
(11) Austin Hill, Chevrolet, 92.
(8) Sam Mayer, Chevrolet, 92.
(13) Chase Elliott(i), Chevrolet, 92.
(21) Riley Herbst, Ford, 92.
(2) Daniel Hemric, Chevrolet, 92.
(6) Sammy Smith #, Toyota, 92.
(7) Brandon Jones, Chevrolet, 92.
(18) Brett Moffitt, Ford, 92.
(22) Parker Kligerman, Chevrolet, 92.
(23) Daniel Suarez(i), Chevrolet, 92.
(3) Sheldon Creed, Chevrolet, 92.
(12) Jeb Burton, Chevrolet, 92.
(26) Anthony Alfredo, Chevrolet, 92.
(25) Ty Dillon(i), Chevrolet, 92.
(14) Jeremy Clements, Chevrolet, 92.
(20) Kyle Sieg, Ford, 92.
(30) Joe Graf Jr., Ford, 92.
(27) Ryan Ellis, Chevrolet, 92.
(35) Jeffrey Earnhardt, Chevrolet, 92.
(16) Chandler Smith #, Chevrolet, 92.
(34) Garrett Smithley, Chevrolet, 92.
(17) Ryan Sieg, Ford, 92.
(9) Justin Allgaier, Chevrolet, 92.
(1) Josh Berry, Chevrolet, 91.
(24) Kaz Grala, Toyota, 91.
(36) Patrick Emerling, Chevrolet, 91.
(38) Blaine Perkins #, Chevrolet, 91.
(32) Alex Labbe, Ford, 91.
(31) Brennan Poole, Chevrolet, 91.
(33) Chad Chastain(i), Chevrolet, 91.
(37) Joey Gase, Chevrolet, 90.
(5) John Hunter Nemechek, Toyota, 89.
(10) Cole Custer, Ford, 87.
(4) Connor Mosack, Toyota, Accident, 85.
(19) Parker Retzlaff #, Chevrolet, 84.
(28) Josh Williams, Chevrolet, 82.
(15) Corey Heim(i), Toyota, Suspension, 81.
(29) Sage Karam, Chevrolet, Transmission, 7.
Average Speed of Race Winner: 122.922 mph.
Time of Race: 1 Hrs, 52 Mins, 16 Secs. Margin of Victory: 0.657 Seconds.
Caution Flags: 6 for 21 laps.
Lead Changes: 11 among 8 drivers.
Lap Leaders: J. Berry 1-22;C. Custer 23-24;J. Berry 25-41;J. Allgaier 42-45;D. Suarez(i) 46-50;J. Allgaier 51-54;J. Berry 55-60;C. Elliott(i) 61-69;B. Jones 70-81;R. Herbst 82-84;J. Berry 85-90;A. Hill 91-92.
Leaders Summary (Driver, Times Lead, Laps Led): Josh Berry 4 times for 51 laps; Brandon Jones 1 time for 12 laps; Chase Elliott(i) 1 time for 9 laps; Justin Allgaier 2 times for 8 laps; Daniel Suarez(i) 1 time for 5 laps; Riley Herbst 1 time for 3 laps; Cole Custer 1 time for 2 laps; Austin Hill 1 time for 2 laps.
Stage #1 Top Ten: 8,11,20,18,2,9,1,7,19,21
Stage #2 Top Ten: 8,7,20,9,00,18,1,98,11,16