Mohegan Sun 100: Bonsignore Streaks to Wild Victory, Capping Doubleheader Saturday at "The Magic Mile"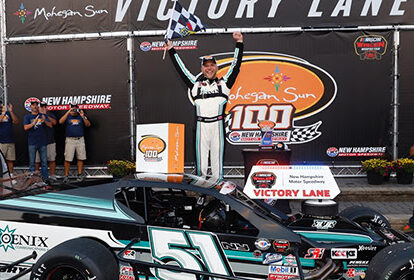 Three-time NASCAR Whelen Modified Tour champion holds off Coby, Silk in thrilling finish.
LOUDON, N.H. – Justin Bonsignore edged Doug Coby by half a car length to conclude a thrilling Mohegan Sun 100 NASCAR Whelen Modified Tour (NWMT) race on Saturday at New Hampshire Motor Speedway (NHMS).
Annually one of the crown jewel stops in the NWMT, "The Magic Mile" brought out the best in the popular series as Bonsignore, Coby and Ron Silk all exchanged the lead across the final 10 laps, sometimes multiple times in the same circuit.
"That was just crazy," said Bonsignore, the pole winner, a two-time New Hampshire winner and a three-time NWMT champion. "The way we were able to drag race back to the line and beat Doug was amazing. This is our Super Bowl, this is our Daytona 500. There's nothing like racing here."
The dramatic finish came after the race was delayed by more than an hour following a passing rain shower that put the race under red flag conditions with 69 of the scheduled 100 laps complete.
Once the drivers returned to their cars, a round of pit stops for fuel and tires ensued, scrambling the field. Bonsignore restarted 10th after the delay and slowly picked his way through the field until taking the lead for good on the backstretch just before taking the white flag. The 35-year-old from Holtsville, N.Y. kept the No. 51 Chevrolet on edge from there, with Coby and Silk just behind at the end.
"I'm glad we got that back going again for the fans that stuck it out," said Bonsignore after his second victory of the season. "[Cody, Silk and I] have a good rivalry but there's a lot of respect involved. They came over and congratulated me. We went really conservative [on pit road], stayed patient and got to the lead. I knew where I wanted to be [on the track] on the last lap."
Coby was second, Silk finished third, with Austin Beers fourth and Patrick Emerling fifth. NASCAR Cup Series (NCS) regular Corey LaJoie finished seventh.
"I started this race really good and then we got too loose," LaJoie said. "The etiquette for modified racing is a bit more brash than I was used to. The modifieds is one of my favorite series to run. They are unlike any other car I've driven."
Twenty-two drivers finished on the lead lap.
NHMS's NASCAR weekend events conclude Sunday with the Crayon 301 NCS race at 2:30 p.m. ET (USA, PRN, SiriusXM NASCAR Radio).
Tickets:
Sunday's Crayon 301 tickets start at just $59 for adults and $10 for kids 12 and under. Log on to NHMS.com for tickets and more information.
Follow Us:
Keep track of all of New Hampshire Motor Speedway's events by following on Facebook (@NHMotorSpeedway), Twitter (@NHMS) and Instagram (@NHMS). Keep up with all the latest information on the speedway website (NHMS.com) and mobile app.