Dillon wins Daytona Nationwide pole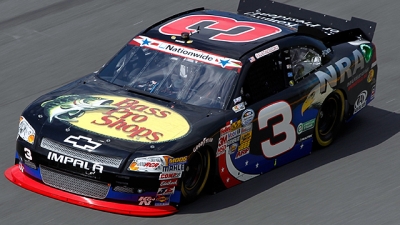 For the second qualifying session in a row, the No.3 Chevrolet driven by Austin Dillon was the fastest.
With a lap of 177.340 mph around 2 1/2-mile Daytona International Speedway, Dillon took his third Nationwide Series pole his career and his first at a track bigger than 1 1/2- miles in Nationwide Series competition.
Dillon was able to withstand challenges from Richard Childress Racing teammate, Kevin Harvick, and Sprint Cup Series drivers Kurt and Kyle Busch among others to take the pole position for Friday night's 250-mile race.
2011 Nationwide Series champion, Ricky Stenhouse Jr., was the final driver to take a shot at the pole position. Stenhouse's lap of 177.253 mph wasn't enough to overtake the RCR Chevrolet.
After winning his first career Nationwide race last Friday at the Kentucky Speedway, Dillon will attempt to win two races in a row and regain the points lead after a six point penalty dropped him to second in the championship standings.
Winner of the February 300-mile race at Daytona, James Buescher, will start the race from the fifteenth position driving for the same Turner Motorsports team he took his first NASCAR win with.
Stenhouse Jr., Cole Whitt, Danica Patrick, Kevin Harvick,  Kurt Busch, Brad Keselowski, Mike Wallace, Joey Logano, and Brian Scott are the top-10 starters for tonight's race.
With 43 cars attempting for the 43 available starting positions, no drivers failed to make the race.
Subway Jalapeno 250 Starting Lineup:  
1: Austin Dillon
2: Ricky Stenhouse Jr.
3: Cole Whitt
4: Danica Patrick
5: Kevin Harvick
6: Kurt Busch
7: Brad Keselowski
8: Mike Wallace
9: Joey Logano
10: Brian Scott
11: Bobby Santos III
12: Johanna Long
13: Clint Bowyer
14: Elliott Sadler
15: James Buescher
16: Mike Bliss
17: Sam Hornish Jr.
18: Michael Annett
19: John Wes Townley
20: Brad Sweet
21: Kyle Busch
22: Justin Allgaier
23: Tayler Malsam
24: Jeff Green
25: Casey Roderick
26: Joe Nemechek
27: Eric McClure
28: Josh Richards
29: Danny Efland
30: Jason Bowles
31: Jeffrey Earnhardt
32: Blake Koch
33: Bryan Silas
34: Jeremy Clements
35: Robert Richardson Jr.
36: TJ Bell
37: Mike Harmon
38: Timmy Hill
39: Stephen Leicht
40: Josh Wise
41: Joey Gase
42: Erik Darnell
43: Chase Miller