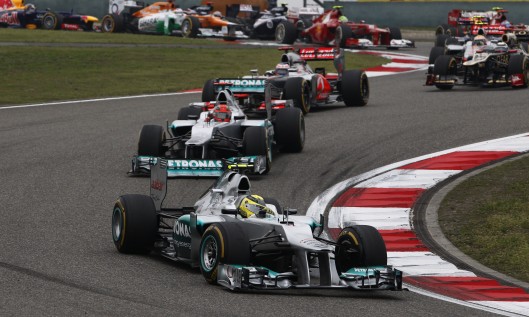 Back in April, a 57 year long winless streak was ended for Mercedes in the FIA Formula 1 World Championship.  The German constructor hadn't won a grand prix since Juan Manuel Fangio received the checkered flag at Monza, in 1955.  At the hands of Nico Rosberg, Mercedes once again stood atop the podium at the Chinese Grand Prix on April 15th.
Since that memorable day at the Shanghai International Circuit, Mercedes as only scored two podiums in eight races.  After both Mercedes' cars of Nico Rosberg and Michael Schumacher qualified on the front row at China, the season looked to be on an upswing. However, the team has accumulated four DNF's since the Chinese round of the championship and is fifth in the constructors championship, 83 points out of fourth place Ferrari.
Despite not accomplishing the results they'd like, there will be continued hard work towards progress at the Brackley based team, according to Team Principal Ross Brawn.
"We are still working on strengthening the team, strengthening the designs to be more competitive in the future."
Brawn, who has helped produce championship winning cars for legendary F1 teams such as Benetton and Ferrari, states the difficulty required to create a race car capable of winning consistently when speaking to Formula1.com.
"You have your theories and ideas, you have your experience, but I doubt that you will ever one hundred percent understand what makes a great racing car…It is a very challenging but interesting business."
Formula 1 is currently on its annual summer break, a notion the teams agreed upon in 2009, and will return to racing at Spa-Francorchamps beginning on August 31st to start the latter half of the 2012 season.  Mercedes are looking to be much more competitive, contesting for wins and poles more regularly throughout the second half of the season.
"We haven't got the car quite as we wanted right now, but we have a very good team – very good people – so I am optimistic that we are going to have a stronger second half to the season than the first half,"  Brawn states.