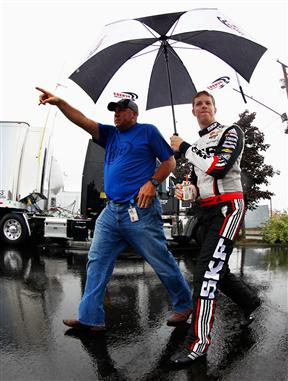 Fitted with rain tires, each of the Nationwide Series drivers were required to make at least one lap during the practice session. In the end, it was Brad Keselowski topping the charts with a lap of 74.596 seconds. Keselowski has three previous starts at Watkins Glen, finishing in the top 10 in each of them.
"Watkins Glen is a track that I picked up on fairly quickly from the first time I raced there," Keselowski said in the team preview. "It's a 'speedway type' road course and that fits my driving style well. The Nationwide cars are a blast to drive at the Glen because they go through the corners so much faster than the Cup cars. You have to back up your braking points in a Cup car, but you can really race hard into the corner in a Nationwide car. I've been close to winning a road course race a couple of times in my career and I'm confident that we will have a shot at it this weekend. After watching what Kurt (Busch) was able to do in my car last year, I know the Discount Tire/SKF Dodge will be fast enough to get it done."
Last year, it was Kurt Busch picking up the win behind the No. 22 for Penske Racing.
Kyle Busch was second in practice at a lap of 74.596 seconds, only 0.008 seconds behind Keselowski. Busch has finished in the top 10 in four of his five starts at Watkins' Glen. Ryan Truex was third in practice at a lap of 75.140 seconds in his first ever trip to the road course. Justin Allgaier and Brian Scott rounded out the top five.
Sam Hornish Jr. was sixth, followed by Ron Fellows, Austin Dillon, Cole Whitt and Miguel Paludo.
Points leader Elliott Sadler was 36th in practice. Carl Edwards, who is making his first Nationwide start of the season, was 46th.