Finger Lakes 355 preview; Race to the Chase wildcard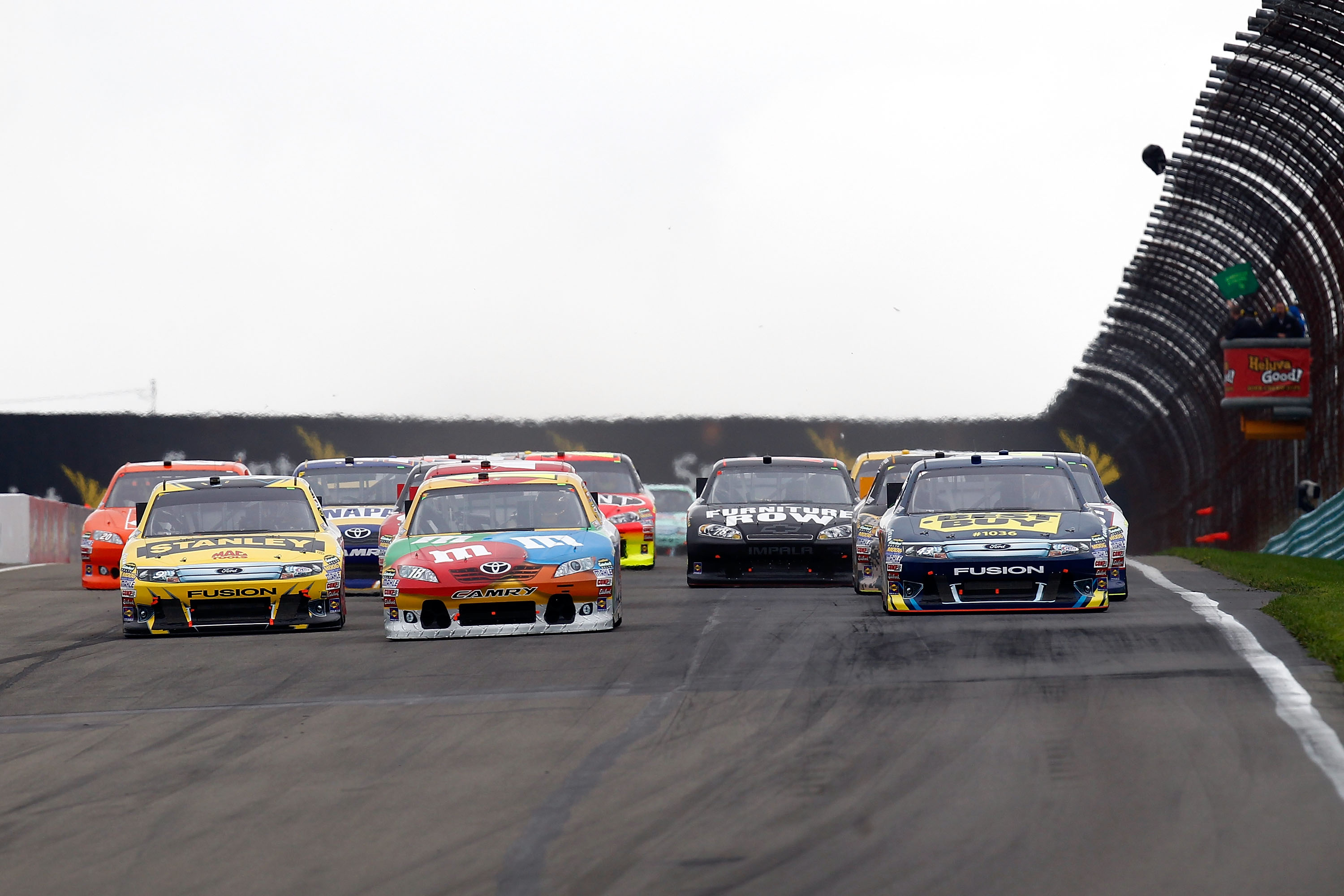 For the final time this season, the Sprint Cup Series visits a road course, this time the famed Watkins Glen International in upstate New York.
In recent years, this race has served as a "wildcard" in the race to the Chase. Maybe more than ever this season with the wildcard battle nearing desperation mode for many drivers.
With drivers needing wins to have a chance at the championship, Watkins Glen could be the place where late race (or early-race) strategy could affect the way the standings from eleventh on back look when the checkered flag is out.
But, before things get changed up, let's take a look at how the wildcard battle is shaping up heading into Watkins Glen.
Kasey Kahne— For Kahne, it's all about maintaining over these next five races. With two wins and being eleventh in points, consistent runs and/or another win would lock-up a Chase birth for the Hendrick Motorsports driver.
That will best tested this weekend at Watkins Glen where in eight career starts, Kahne has never finished inside the top-10.
Carl Edwards— Of the drivers with a realistic chance of making the Chase, Edwards may be the most confusing driver in the bunch.
While his Roush Fenway Racing teammates are top-five in the points, Edwards is struggling to find victory lane. This weekend at Watkins Glen may not be the ideal place for the Missouri native to get back there.
Edwards has never won on a road course in the Cup Series. However, if there was one he could win at, it would be Watkins Glen. In seven career starts, Edwards has three top-fives and five top-10's at the course.
Jeff Gordon—With his win Sunday at Pocono Raceway, the mood on Jeff Gordon making the chance have turned from people ready to call-up the fat lady to sing, to now locking her in the dressing room.
Especially with the stretch of races leading into the Chase, a stretch that Gordon has 18 victories on. Which includes maybe his best track; Watkins Glen.
But since Gordon's spin in the late laps of the 2007 race at WGI, Gordon hasn't had the success he's known for at the famed track.
Ryan Newman— For Ryan Newman, it's pretty simple. He needs to win. There's almost no way around it.
Since being the in the right place at the right time back at Martinsville, the No.39 team hasn't had much to get excited about.
While his Chase chances are sort of a long-shot, Sunday could be a good chance for Newman to pick up another win at the very same track he finished second at in his first start back in 2002.
Kyle Busch— Before last Sunday at Pocono, Kyle Busch was in good position to make the Chase as a wildcard. But, after early-race mechanical failures forced him into a thirty-third place finish, Busch now sits fifteenth in the points and outside the wildcard spot.
If there's a good sign for Busch, these upcoming five races are all tracks the Las Vegas native has won on before. Including Watkins Glen.
Including his win in 2008, Busch has six top-10 finishes in his seven career starts at Watkins Glen. Those statistics make this Sunday's race a perfect place to get back in the wildcard picture.
Paul Menard— Calling Paul Menard a "long-shot" to make the Chase would be an accurate statement. Sitting sixteenth in the points and not having a win, Menard would need to win at least two races to make the Chase.
I wouldn't count on it, especially this weekend.
In eight career Watkins Glen starts, Menard doesn't have a top-10. In fact, his average finish at the New York road course is 24.9. Results like that won't get the 2011 Brickyard champion into his first Chase.
Joey Logano— There may be no driver who needs a Chase birth more than Joey Logano. After all, the Joe Gibbs Racing driver is in a contract year and fighting to attract sponsors to stay with him at JGR or find a new ride with another Cup Series team.
We know Logano can hold is own at Sonoma, but how could he fair this weekend at Watkins Glen?
In three career starts at the track, Logano has one top-five and one top-10 finish. An impressive run at WGI last year and the pressure to make the Chase could be enough for Logano to stun the field and take home a victory on Sunday.
Marcos Ambrose— Watkins Glen is Marcos Ambrose's last-best-chance to put his name in the wildcard talks for the Chase.
Just one year ago, Ambrose claimed his only career Sprint Cup Series win in a thrilling race at Watkins Glen, holding off Brad Keselowski and Kyle Busch.
With no finish worse than third at WGI for Ambrose, this is a make-or-break weekend for his No.9 team.
Finger Lakes 355 Entry List: 
#1 Jamie McMurray (McDonald's)
#2 Brad Keselowski (Miller Lite)
#5 Kasey Kahne (Farmer's Insurance)
#9 Marcos Ambrose (Stanley)
#10 J.J. Yeley (Tommy Baldwin Racing)
#11 Denny Hamlin (FedEx Freight)
#13 Casey Mears (Geico)
#14 Tony Stewart (Office Depot / Mobile 1)
#15 Clint Bowyer (5-Hour Energy)
#16 Greg Biffle (3M)
#17 Matt Kenseth (Ford EcoBoost)
#18 Kyle Busch (M&Ms)
#19 Mike Bliss (Humphrey Smith Racing)
#20 Joey Logano (Home Depot)
#22 Sam Hornish Jr. (Shell-Pennzoil)
#24 Jeff Gordon (Drive to End Hunger)
#26 Josh Wise (MDS Transport)
#27 Paul Menard (Menards / Rheem)
#29 Kevin Harvick (Budweiser)
#30 Patrick Long (TBD)
#31 Jeff Burton (Caterpillar)
#32 Boris Said (HendrickCars.com)
#33 Stephen Leicht (LittleJoesAutos.com)
#34 David Ragan (Scorpion Truck Bed Liners)
#36 Dave Blaney (Tommy Baldwin Racing)
#38 David Gilliland (Mod Space)
#39 Ryan Newman (US Army)
#42 Juan Pablo Montoya (Target)
#43 Aric Almirola (Smithfield)
#47 Bobby Labonte (Miller Welders / Freightliner)
#48 Jimmie Johnson (Lowe's Cortez Silver)
#49 Jason Leffler (American Israel Racing)
#51 Kurt Busch (Phoenix Construction)
#55 Brian Vickers (MyClassic Garage)
#56 Martin Truex Jr. (NAPA Auto Parts)
#78 Regan Smith (Furniture Row – Farm American)
#83 Landon Cassill (Burger King / Dr Pepper)
#87 Joe Nemechek (Genny Light)
#88 Dale Earnhardt Jr. (National Guard / Dt. Mt. Dew)
#93 Travis Kvapil (Burger King / Dr Pepper)
#95 Scott Speed (TBD)
#98 Michael McDowell (Phil Parsons Racing)
#99 Carl Edwards (Fastenal)