Coulter wins Michigan pole with track record lap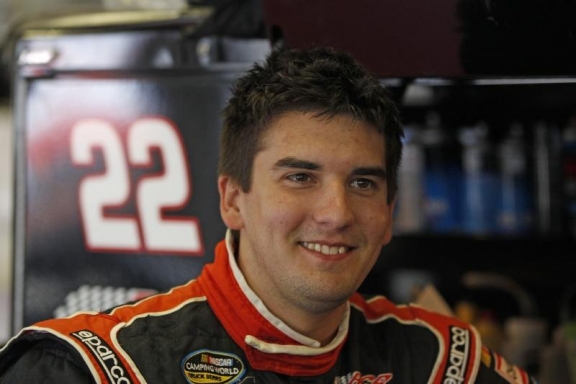 BROOKLYN, MI— Joey Coulter is the man with the momentum when it comes to the Truck Series as of late.
Or maybe he just likes freshly-paved race tracks.
That momentum continued Saturday morning at Michigan International Speedway where Coulter took the pole for Saturday's VFW 200.
Coulter was able to knock Nelson Piquet Jr. off the top spot as the final truck to qualify.
His lap averaging 184.101 mph around the two-mile speedway was enough to give the Florida native his first career NASCAR Camping World Truck Series pole.
The pole doesn't come as much of a surprise after Coulter's Richard Childress Racing Chevrolet paced the field in both practice sessions on Friday.
While an RCR truck won the pole, the Turner Motorsports group placed all three trucks inside the top-10.
In his first Truck Series start since 2001, Kurt Busch qualified brother Kyle Busch's No.18 Toyota in the fourth position.
With only 35 trucks attempting to qualify for the race, no trucks were sent home following qualifying.
VFW 200 Staring Lineup: 
1: Joey Coulter
2: Nelson Piquet Jr.
3: Miguel Paludo
4: Kurt Busch
5: Ty Dillon
6: Johnny Sauter
7: Tim George Jr.
8: James Buescher
9: Timothy Peters
10: Brad Keselowski
11: Parker Kligerman
12: Jason White
13: Matt Crafton
14: Justin Lofton
15: Todd Bodine
16: John Wes Townley
17: Cale Gale
18: Brennan Newberry
19: Scott Riggs
20: Dakoda Armstrong
21: Ross Chastain
22: Ron Hornaday Jr.
23: Bryan Silas
24: Chris Fontaine
25: Ryan Sieg
26: Johnny Chapman
27: Chris Jones
28: Dennis Setzer
29: Jennifer Jo Cobb
30: Stephen Leicht
31: Mike Harmon
32: Brandon Knupp
33: TJ Bell
34: Norm Benning
35: Josh Wise