Piquet Jr. grabs first career Truck Series win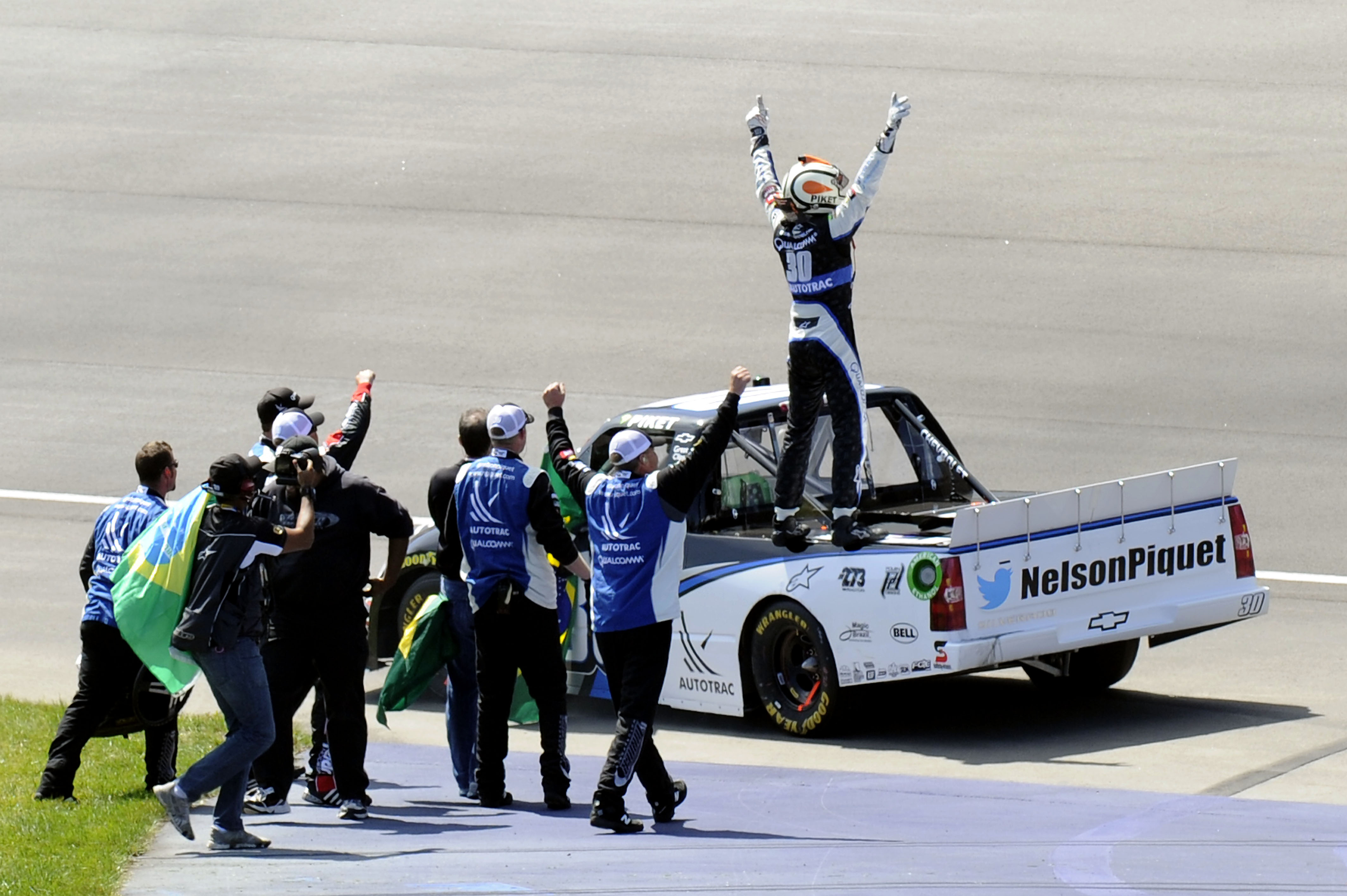 BROOKLYN, MI— It took 41 career starts in the Truck Series for Nelson Piquet Jr. to pick up his first win, but when he did, it was in dramatic fashion.
After a spin off turn two on lap 57, Piquet Jr. charged from the back of the field and raced his way inside the top-10 before the final round of green flag pit stops occurred.
Through charging from the back, Piquet Jr. was often reminded on their situation on fuel, which was close at best.
As the leader's began to hit pit road, Piquet Jr. started to climb further and further up the running order. With each lap, Piquet's crew reminded him to save fuel to make it to the checkered flag.
Once he was able to get the lead, Piquet Jr.'s crew didn't tell him how large his lead was over the second place truck until five laps to go.
"The strategy changed a lot, pretty rapidly," said Piquet Jr.'s crew chief Chris Carrier. "We knew going in we could run approximately 40 laps on fuel.
"With about 42 or 43 laps to go after one of the restarts, we spun around and he did a miraculous job staying out of the fence seeing how he had his eyes closed the whole time.
"From there, we we're thinking 'what if this thing goes green?'. Then in the back of our mind, we didn't think that was going to happen, we knew there was going to be a caution with 10 or 12 laps to go."
Piquet Jr.'s crew debated pitting in the final ten laps of the race for fear they wouldn't be able to make it to the end, resulting in a poor finish.
The drive to win prevailed and they stayed out on the track.
Slowing each lap, Piquet Jr. coasted through the final set of corners on the way to his first career NASCAR Camping World Truck Series win.
"I'm speechless. I know it took a long time. Chris (Carrier, crew chief) have been fighting for this win for a long time.We've been looking for this win since the beginning of last year. We finally made it," said Piquet Jr. following the win.
"I'm glad it came, doesn't matter how we did it. Really happy the whole team stayed behind me the whole time. Even though there was kind of a dramatic end, the whole race was fun."
With the win, Piquet Jr. becomes the fifth first-time winner in the Truck Series in the 2012 season.
His win also marks the first time a Brazilian born driver has won a race at the Truck Series level, but not the first in NASCAR. Piquet Jr. accomplished that feat earlier this season in the Nationwide Series race at Road America.
"We were very disappointed after Rockingham because that was a race we should have won. You have to get everything perfect to win a race and today, we had a totally different scenario and it worked.
"It's racing."
After a race filled with close action, it would be only fitting that the Truck Series championship battle is currently in a tie.
Timothy Peters and Ty Dillon sit dead-even with 449 points to their record.
Peters is listed as the points leader due to his win last moth at Iowa Speedway, per the NASCAR rule book.
VFW 200 Unofficial Results: 
1: Nelson Piquet Jr.
2: Jason White
3: Dakoda Armstrong
4: Parker Kligerman
5: James Buescher
6: Ty Dillon
7: Joey Coulter
8: Brad Keselowski
9: Kurt Busch
10: Miguel Paludo
11: Johnny Sauter
12: Justin Lofton
13: Timothy Peters
14: Bryan Silas
15: Ryan Sieg
16: Matt Crafton
17: Ron Hornaday Jr.
18: Ross Chastain
19: Brennan Newberry
20: Cale Gale
21: Tim George Jr.
22: Jennifer Jo Cobb
23: Norm Benning
24: Todd Bodine
25: John Wes Townley
26: Johnny Chapman
27: Brandon Knupp
28: Mike Harmon
29: Chris Fontaine
30: Stephen Leicht
31: Dennis Setzer
32: Scott Riggs
33: Chris Jones
34: Josh Wise
35: TJ Bell