AdvoCare 500 from Atlanta Motor Speedway preview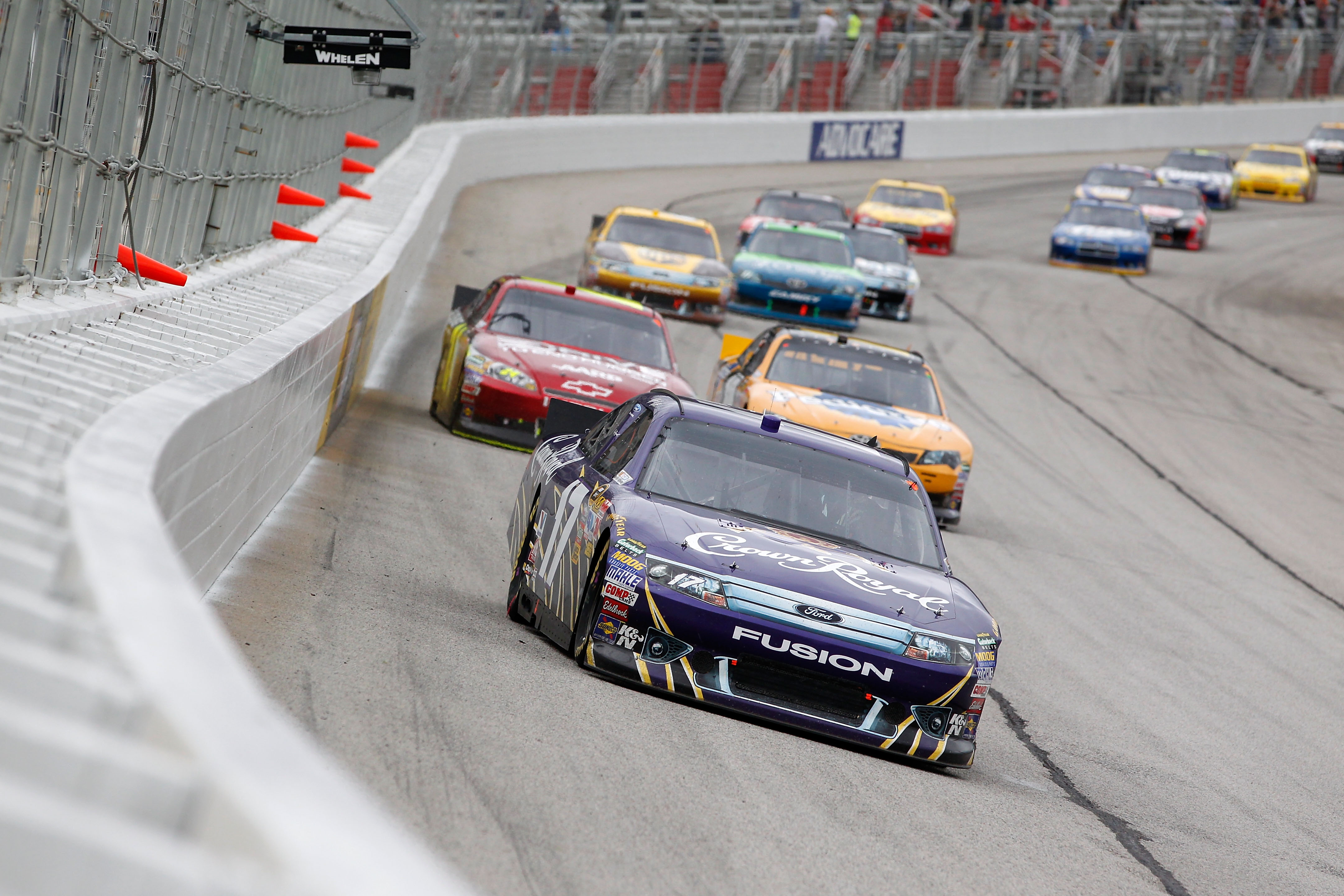 As the race to the chase for the Sprint Cup championship is now within two races of getting underway, it's time for the once-a-year race at the Atlanta Motor Speedway—the AdvoCare 500.
Atlanta has always been a track with some of the most compelling racing on the entire NASCAR calendar with the track being just as fast as it is wide, the action only magnifies when the 1.5-mile track has the glow of the lights shinning on it.
While Atlanta is one of the fastest tracks on the NASCAR circuit, by no means does it mean the track is silky smooth like we've seen previously at Michigan International Speedway and Pocono Raceway.
Atlanta is an abrasive, rough surface that chews tires to shreds as drivers power around the track averaging over 175 mph.
With that being said, Sunday night's race will be one of the most crucial races of the entire season for the crew chiefs and members as they attempt to dial in the handling for the drivers needing a win to claim a wildcard spot in the Chase.
Heading into the weekend, it's nearly impossible not to look at those drivers bidding for wildcard positions.
Jeff Gordon: There's no other way to put it; Jeff Gordon needs a win to get into the Chase. Atlanta may be a good place for that to happen. Not only is Gordon the defending race winner, but in 38 career starts at the track he made his Sprint Cup debut at, Gordon has five wins to go with 24 top-10 finishes.
Kyle Busch: For Busch, Atlanta hasn't been a great track. Sure, he has a win back in 2008. But since then, his results at the track he admittedly struggles at haven't been stellar.  In 14 career starts at AMS, Busch only has three top-10 finishes.
Ryan Newman: If there's been any Chase contending driver that's been in a slump, it's Newman. The recent stretch of summer races haven't been ideal for the No.39, most recently crashing out at Bristol Motor Speedway. While Newman is one of the best qualifiers in AMS history, in 19 career starts he only has seven top-10 finishes.
Carl Edwards: There's no getting around it, Edwards needs a win for the wildcard spot. Luckily for him, AMS has proved to be a successful track in the past. In his 14 career starts, Edwards has three victories, most recent in 2008, and 10 top-10 finishes. Sunday night may be the right time for Edwards and the No.99 crew.
Fantasy Racing Outlook 
"A" Drivers: Carl Edwards, Jimmie Johnson
"B" Drivers: Kasey Kahne, Clint Bowyer, Greg Biffle, Dale Earnhardt Jr.
"C" Drivers: Sam Hornish Jr., Aric Almirola
Recent AdvoCare 500 Winners
2011: Jeff Gordon
2010: Tony Stewart
2009: Kasey Kahne
2008: Carl Edwards
2007: Jimmie Johnson
2006: Tony Stewart
2005: Carl Edwards
2004: Jimmie Johnson
2003: Jeff Gordon
2002: Kurt Busch
2001: Bobby Labonte
2000: Jerry Nadeau
Atlanta Motor Speedway Fast Facts
Most Wins: 9 – Dale Earnhardt
Most Poles: 7 – Buddy Baker, Ryan Newman
Most Top Fives: 26 – Dale Earnhardt
Most Top 10s: 33 – Richard Petty
Most Cautions: 14 – 10/28/07
Fewest Cautions: 1 – 2 times, most recently 8/2/70
Most Caution Laps: 99 – 11/6/77
Most Laps Led by a Race Winner: 308 – 3/30/69
Fewest Laps Led by a Race Winner: 1 – 9/17/61
Most Wins by a Manufacturer: 37 – Chevrolet
Closest Margin of Victory: 0.006 Seconds – 3/11/01
 AdvoCare 500 Entry List 
#1 Jamie McMurray (Bass Pro Shops)
#2 Brad Keselowski (Miller Lite)
#5 Kasey Kahne (HendrickCars.com)
#9 Marcos Ambrose (DeWalt)
#10 Danica Patrick (GoDaddy.com)
#11 Denny Hamlin (Sport Clips)
#13 Casey Mears (Geico)
#14 Tony Stewart (Office Depot/ Mobil 1)
#15 Clint Bowyer (5-Hour Energy)
#16 Greg Biffle (3M/Manheim Auctions)
#17 Matt Kenseth (Roush Fenway 25 Winning Years)
#18 Kyle Busch (Wrigley)
#19 Mike Bliss (Plinker Tactical)
#20 Joey Logano (The Home Depot)
#21 Trevor Bayne (Good Sam/Camping World)
#22 Sam Hornish Jr. (Shell Pennzoil)
#23 Scott Riggs (North Texas Pipe)
#24 Jeff Gordon (DuPont)
#26 Josh Wise (MDS Transport)
#27 Paul Menard (Quaker State / Menards)
#29 Kevin Harvick (Rheem)
#30 David Stremme (Inception Motorsports)
#31 Jeff Burton (Caterpillar)
#32 Ken Schrader (TBD)
#33 Stephen Leicht (LittleJoesAuto.com)
#34 David Ragan (Glory Foods)
#36 Dave Blaney (Tommy Baldwin Racing)
#38 David Gilliland (House-Aurty)
#39 Ryan Newman (US Army)
#42 Juan Pablo Montoya (Target)
#43 Aric Almirola (AdvoCare)
#47 Bobby Labonte (Kingsford)
#48 Jimmie Johnson (Lowe's / Kobalt Tools)
#49 Jason Leffler (American Israel Racing)
#51 Kurt Busch (HendrickCars.com)
#55 Mark Martin (Aaron's Dream Machine)
#56 Martin Truex Jr. (NAPA Shocks and Struts)
#78 Regan Smith (Furniture Row-Farm American)
#83 Landon Cassill ( Burger King)
#87 Joe Nemechek (AM-FM Energy Wood & Pellet Stoves)
#88 Dale Earnhardt Jr. (National Guard / Diet Mountain Dew)
#91 Reed Sorenson (Plinker Tactical)
#93 Travis Kvapil (Burger King)
#95 Scott Speed (Jordan Truck Sales)
#98 Michael McDowell (Phil Parsons Racing)
#99 Carl Edwards (Subway)