Truck Series preview: Atlanta Motor Speedway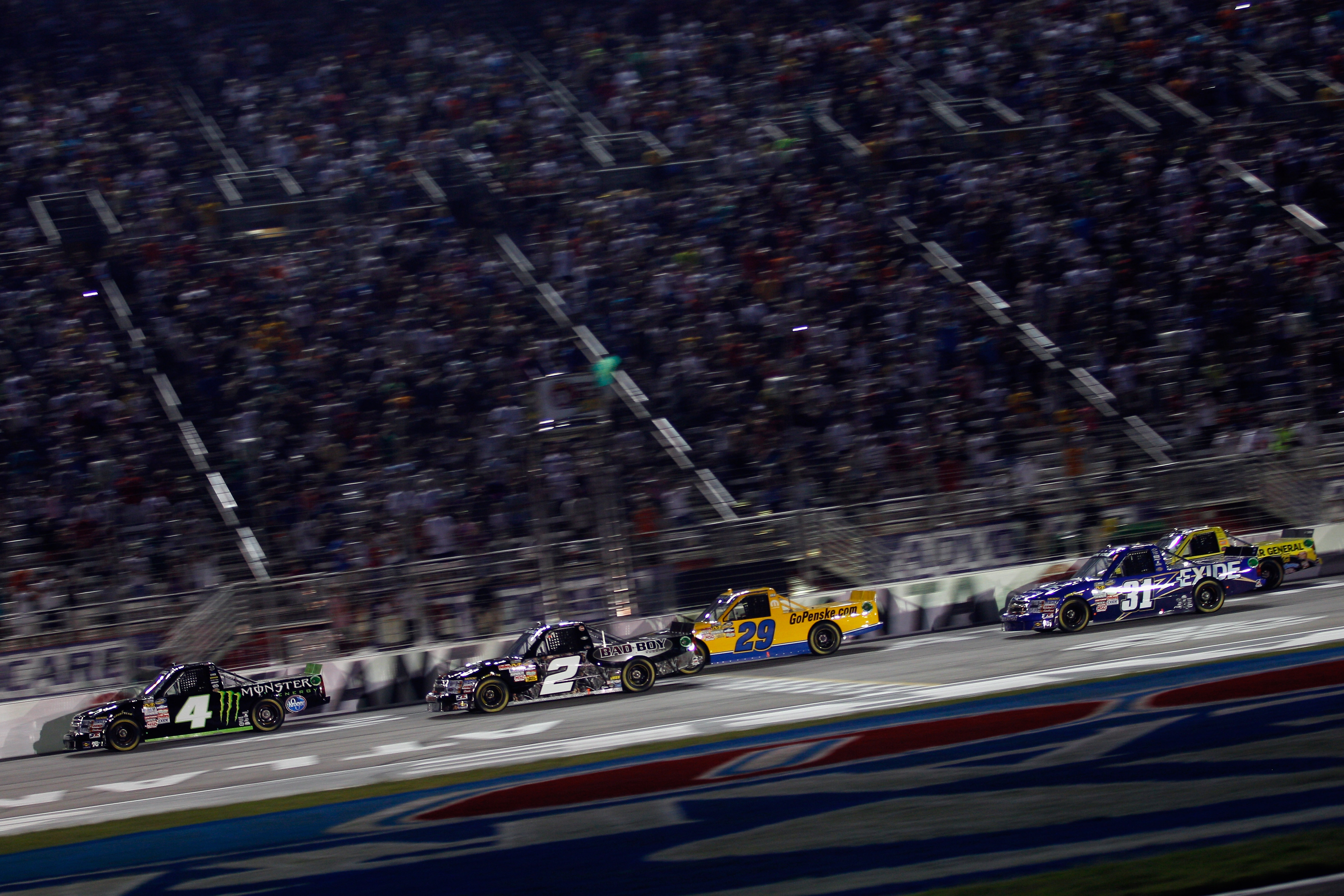 Just another reminder how quickly the 2012 NASCAR season is going by, it's time for the once-a-year stop to the Atlanta Motor Speedway on Labor Day weekend.
With the thrilling action the Truck Series has shown so far this season, a repeat performance on Friday night shouldn't come as a surprise.
One of the main challenges drivers and teams will face on Friday night is the rough surface of the Atlanta Motor Speedway.
As is the case at most tracks, in order for a driver to have a chance at winning, their truck must handle well. This weekend, that will be placed at a premium as tires on AMS's pavement is like placing shredded cheese on a cheese grader.
On top of having a well balanced truck, crews must compensate for the high speeds AMS creates with it's wide racing grooves, allowing drivers to move all over the 1.5-mile speedway.
If you're looking for a young driver to break through for their first win of the season, it's not likely. Past winners of the truck race at AMS have been typically veteran drivers who know how to manage their equipment while being able to dictate the pace of the race.
But maybe the most interesting element of Friday night's race focuses on two drivers, one who's making his first start in the series this season.
Both Kurt and Kyle Busch will compete in Friday night's race at AMS, Kurt in the No.51 for long-time truck owner Billy Balew while Kyle will compete his own No.18 truck.
All in all, Friday night's race should keep everyone on the edge of their seats.
Past Jeff Foxworthy's Grit Chips 200 winners
2011: Ron Hornaday Jr.
2010: Kevin Harvick
2009: Kyle Busch
2008: Kyle Busch, Ryan Newman
2007: Mike Skinner, Kyle Busch
2006: Todd Bodine, Mike Bliss
2005: Ron Hornaday Jr., Kyle Busch
2004: Bobby Hamilton
Atlanta Motor Speedway Fast Facts
Most Wins: 4 – Kyle Busch
Most Poles: 3 – Ron Hornaday Jr., Mike Skinner
Most Top Fives: 6 – Todd Bodine, Kyle Busch
Most Top 10s: 8 – Todd Bodine
Most Lead Changes: 21 – 10/28/06
Fewest Lead Changes: 7 – 2 times, most recently 9/2/11
Most Leaders: 9 – 2 times, most recently 10/28/06
Fewest Leaders: 2 – 3/17/06
Most Laps Led by a Race Winner: 100 – 3/6/10
Fewest Laps Led by a Race Winner: 11 – 10/25/08
Most Wins by a Manufacturer: 7 – Chevrolet
Jeff Foxworthy's Grit Chips 200 Entry List 
#0 Blake Koch (Driven2Honor.org)
#2 Tim George Jr. (Applebee's)
#3 Ty Dillon (Bass Pro Shops)
#4 Kyle Larson (TBA)
#5 Paulie Harraka (TBA)
#6 Justin Lofton (Lofton Cattle)
#7 Parker Kligerman (Red Horse Racing)
#07 Johnny Chapman (Wear Your Gear/ Bobber.info)
#8 Max Gresham (Made in USA-BugBand)
#08 Ross Chastain (Melon 1 /Georgia Watermelon Assoc.)
#9 Ron Hornaday Jr. (Joe Denette Motorsports)
#09 John Wes Towlney (TBA)
#10 Jennifer Jo Cobb (Driven2Honor.org)
#11 Todd Bodine (Toyota Care)
#13 Johnny Sauter (Hot Honey's/ Curb Records)
#17 Timothy Peters (Red Horse Racing)
#18 Kyle Busch (Dollar General)
#22 Joey Coulter (Armour Vienna Sausages)
#23 Jason White (Gunbroker.com)
#27 TBA (TBA)
#29 Ryan Blaney (Cooper Standard)
#30 Nelson Piquet Jr. (Drink B)
#31 James Buescher (Central Wire)
#32 Miguel Paludo (Duroline)
#33 Cale Gale (Rheem)
#38 Chris Jones (RSS Racing)
#39 Ryan Sieg (RSS Racing)
#51 Kurt Busch (Bill Holt Chevrolet)
#57 Norm Benning (Norm Benning Racing)
#74 Mike Harmon (Koma Unwind)
#75 Caleb Holman (Food Country USA/Sunset Farm Foods)
#81 David Starr (Advocare)
#84 Chris Fontaine (Glenden Ententerprises)
#88 Matt Crafton (Menards)
#92 Chad McCumbee (FleetHQ.COM/ BTS Tire & Wheel/QMI)
#93 Dennis Setzer (RSS Racing)
#98 Dakoda Armstrong (EverFi.com)
#99 Bryan Silas (Rockingham Speedway)