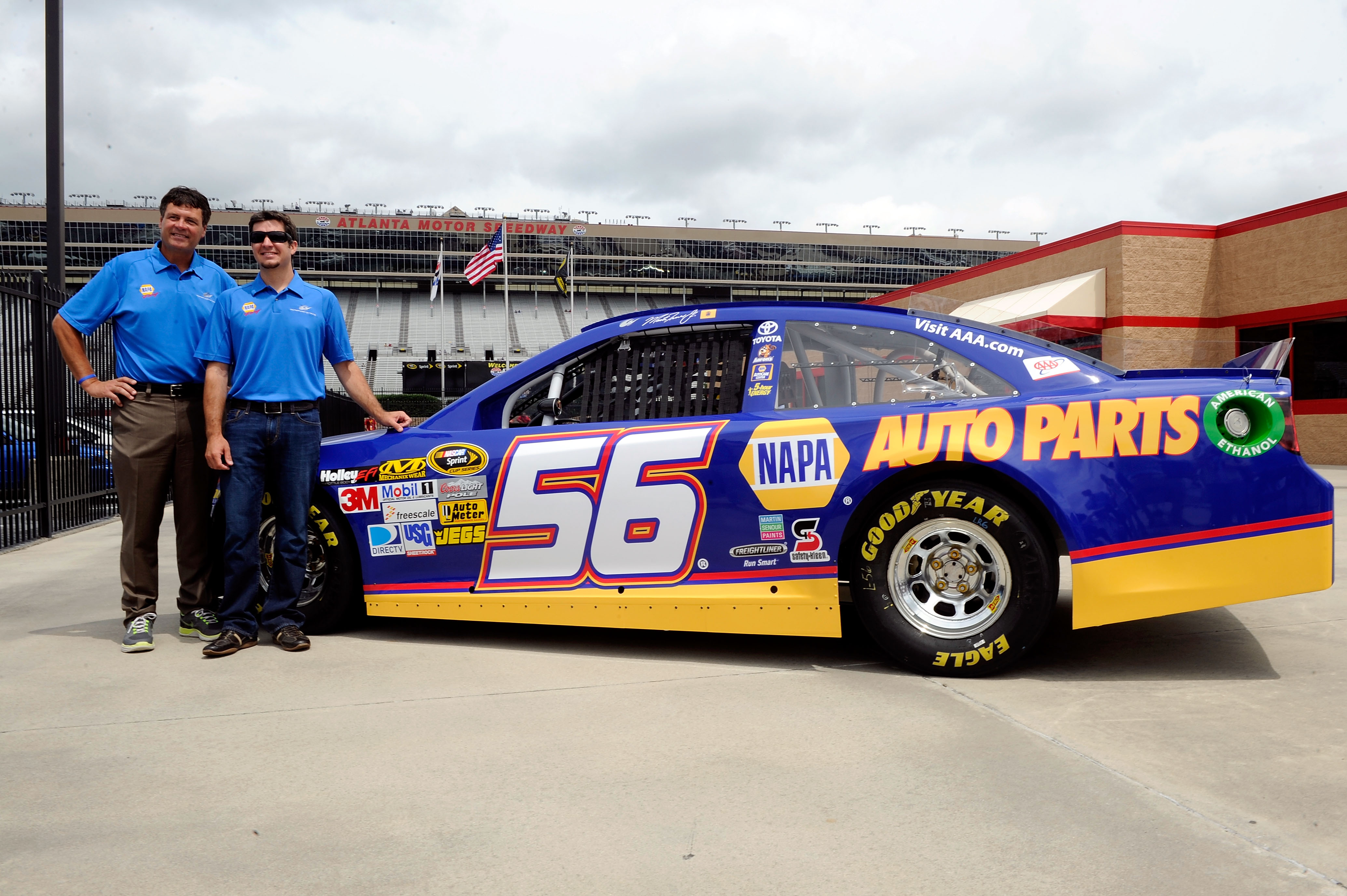 Martin Truex Jr. knows where he'll be spending his time in NASCAR.
Friday at Atlanta Motor Speedway, Truex Jr. and Michael Waltrip Racing announced a three-year contract extension as well as a three-year extension with NAPA Auto Parts as the primary sponsor.
Truex Jr., who currently sits fifth in the Sprint Cup points heading into Sunday's AdvoCare 500 at Atlanta Motor Speedway, is the highest he's been in the standings in his seven years full-time in the series.
"I can't tell you how happy it makes me to get this done," said Truex Jr. "I knew when I signed on for the 2010 season that we had a lot of work to do to get the performance to where NAPA would be proud of us, and I also knew I had big shoes to fill in that NAPA uniform because Michael is the best at being an ambassador for sponsors.
"It is so gratifying that the hard work has paid off with competitive race cars every week. And I am more comfortable than ever that NAPA is my sponsor and I am their driver. It's my job to do everything I can to make sure we are together for the rest of my career."
The sponsorship extension with NAPA Auto Parts is reportedly worth $16 billion according to SportsBusiness Daily, with NAPA sponsoring Truex Jr.'s No.56 Toyota for the entire 36-race schedule.
"NAPA and I have been together a long time and they are family to me," said Michael Waltrip. "They have been to victory lane with me, helped me launch my own race team and have been our team's biggest supporter through the years.
"It is hard to describe how grateful I am that NAPA feels good enough about our organization to continue this partnership."
Earlier this month, Truex Jr. said he really wasn't looking at any other options and that he was close to a new deal with MWR.
"We put a lot of time in evaluating where we choose to spend our marketing dollars and decided NASCAR continues to be a good fit for us," said  Paul Donahue, President of Genuine Parts Company.
""Once we decided on NASCAR, we determined that MWR was the team we wanted to continue to support.
"We have been very pleased with the performance of Martin Truex, Jr. and the entire No. 56 NAPA team. Martin as well as all the folks at Michael Waltrip Racing continue to represent NAPA in a positive manner and we look forward to a successful partnership both on and off the track."
Since joining MWR in 2010, Truex Jr. has finished 22nd and 18th in Sprint Cup points. This season with a stronger relationship with Joe Gibbs Racing and new teammates Clint Bowyer and Mark Martin, Truex Jr. has accumulated five top-fives and 13 top-10 finishes through 24 races in 2012.
Truex Jr. is also looking to clinch the first Chase birth in MWR's history Sunday at Atlanta.
"Re-signing Martin was huge for us. We've given him competitive race cars and engines this year and he's been able to showcase his talent," said Waltrip.
"Where I am most proud of Martin is off the track. He has dedicated himself to be a leader in our organization and has accepted his role as an ambassador for our sponsors.
"His work with NAPA, Toyota, AAA, along with his foundation work, has shown his maturity as a person and he makes me proud."