Should NASCAR penalize Jeff Gordon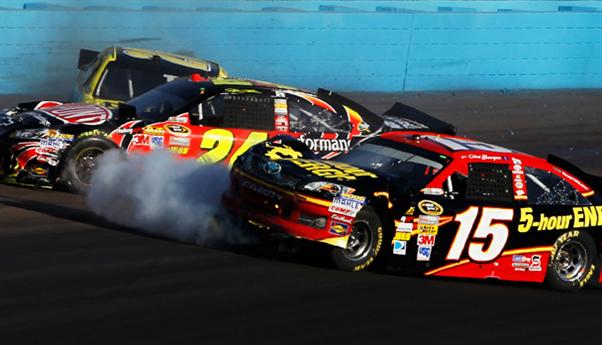 Following the late-race incident between Jeff Gordon and Clint Bowyer, there's been much debate whether NASCAR should take action against Gordon.
There's no doubt that the move on Bowyer was intentionally taken out by Gordon, he even admitted to it after the chaos was over.
The last time we saw a driver intentionally wreck another was in last November's Camping World Truck race at Texas Motor Speedway when Kyle Busch turned Ron Hornaday Jr. head-on into the wall under caution.
By now, everyone surely knows that NASCAR opted to park Busch for the remainder of the truck race and left him sitting on the sidelines throughout the weekend.
When Busch was parked, it was the first time NASCAR had taken that kind of action after an on-track incident since Kevin Harvick wrecked Coy Gibbs in a truck race at Martinsville Speedway in 2002 and he was parked for the following days Cup race.
Obviously, there's a distinct difference in the situation and that is the fact that today's incident and Busch's and that is when Busch did it, it was under caution, and when Gordon did it, it was under green flag conditions.
But does that make it any less wrong?
In all honesty, it really shouldn't make any different.
Intentionally wrecking another car under green flag conditions when every car on the track are at race speed has a greater possibility of being more dangerous than a two-driver incident under caution.
Not to mention, at the time when Gordon wrecked Bowyer, there were other cars around them racing for position that could have been a part of the crash. In fact, one of those cars that could have involved was the current championship leader, Brad Keselowski.
If Keselowski would have been caught up in the accident, it would surely be a consensus decision for NASCAR  to park Gordon for the season finale at Hoemstead-Miami Speedway.
The last thing that any fan or any driver in the field would want to see would be a feud of sorts between two drivers change the way the championship picture looked. There's already enough controversy over whether a race at Talladega belongs in the Chase with it's wildcard potential.
While there are certainly grounds for NASCAR to indeed suspend Gordon for his actions on track Sunday, in all likelihood, it probably won't happen and here's why.
When it came to NASCAR penalizing Busch last year at Texas, it was the chart-topper in list of controversial actions Busch had done over the years that led to NASCAR seeing ground to punish him on.
For one, Gordon is probably the most respected figure in the entire NASCAR garage. Before Sunday, probably the last person anyone would have expected to intentionally wreck another driver would be the four-time champion. Certainly, NASCAR will take that into consideration when deciding whether they should penalize Gordon or not.
People expect those kind of actions from a controversial driver with a reputation, not one of the all-time win leaders in series history and a authority figure of the series which most of the time operates more like a business than a sport.
We won't know what the future has in store for Gordon until later Monday or even Tuesday, there's no denying what happened on Sunday is going to provoke conversation for the coming week and potentially even into the off season.