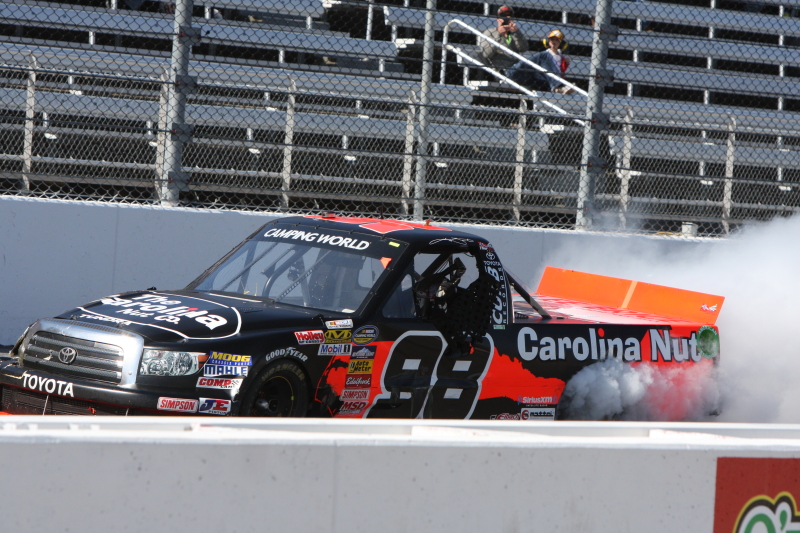 34 year old, Wisconsin native, Johnny Sauter, follows up his season opening win at the 2.5 mile Daytona International Speedway with a victory at the half mile paperclip in Martinsville. Today's win marks only the second time in Camping World Truck Series (NCWTS) history that a driver opened the season with back to back wins. Sauter led 17 laps in his ThorSport / Carolina Nut Co. Toyota en route to his eighth career NCWTS victory.
When asked how he was able to get to the lead late in the race, Sauter responded, "I tried to time it just right and that's the key." Sauter also stretched his lead in the series standings to 12 points over series rookie, Jeb Burton.
Jeb Burton was the star of the Kroger 250. Burton who sat on the pole and broke track record on Friday, led 154 laps in his seventh series start. On lap 105, Burton tagged the rear of leader and series veteran, Ron Hornaday, causing major damage. Hornaday rallied back to a respectable tenth place finish. After the race, Burton said they were just "out-tired" in the closing laps, referring to his tires being to worn out to have a shot at the win.
Darrell Wallace Jr, making only his second series start, garnered a lot of attention in his Kyle Busch Motorsports, Toyota Care Toyota. Wallace, who does have previous Martinsville experience in the NASCAR K&N East Series , led 34 laps a took home a solid fifth place finish.
NASCAR Cup Series regular, Kevin Harvick started the day 16th and charged to the front. Harvick led five laps and was involved in several great battles before suffering a flat tire and finishing eleven laps off the pace in 25th position.
Second generation driver Chase Elliott, son of former Cup Series champion Bill Elliott, made his truck series debut in the Kroger 250. Elliott qualified a very respectable eighth, ran in the top 15 all day, and finished a solid sixth place in his No. 94 Aaron's Dream Machine/Hendrick Cars.com Chevrolet. Elliott is a Hendrick Motorsports development driver.
Series veteran Matt Crafton gave ThorSport Racing a one-two finish with a solid second place run. Crafton was asked about his day after the race – "We had a terrible truck on the very first run. We almost went a lap down." "We saved our set of tires there at the end and it was go time."
The series now heads to Rockingham Speedway on April 14th for the NC Education Lottery 200 at the Rock presented by Cheerwine.