Tony Stewart shocks with Dover win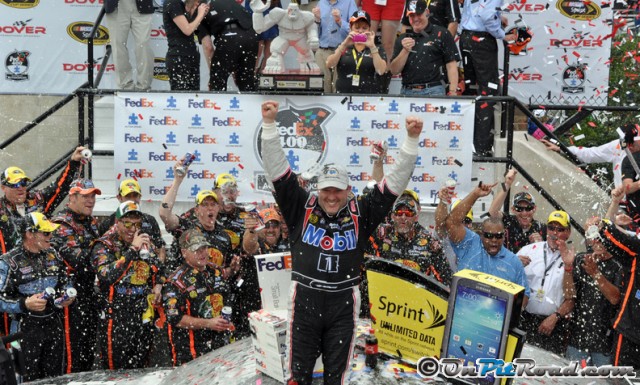 Tony Stewart wasn't a pre-race favorite heading into Sunday's race at Dover.
In fact, he hasn't been a favorite much at all in 2013.
The three-time Cup champion hasn't won at the one-mile, concrete-oval since he won both races at the track in 2000.
Even when the final restart of the race with 20 laps to go was set up after Denny Hamlin's Toyota cut a right-front tire, you're money more than likely wasn't on Stewart to win.
Especially with seven-time Dover winner Jimmie Johnson restarting second alongside Juan Pablo Montoya.
Before the final green flag even flew, the entire race was turned upside-down.
Eager to win his record-breaking eighth Dover race, Johnson jumped out to an advantage over Montoya a little too quickly.
"I was half-throttle for the whole front stretch," Johnson – who lead a race-high 143 of the 400 laps but finished seventeenth – said after the race.
"At some point, I have to go. I'm not sure if his car broke or he's off-power – I don't know – so I'm running half-throttle down the front stretch waiting for him and he never came."
Johnson was black-flagged by NASCAR for jumping the restart, handing the top-spot over to Montoya who was looking for his first win on an oval – his last Sprint Cup win came at Watkins Glen in August, 2010 – in his career.
Montoya – who was in the lead for the first time all race long – began to see the No.14 Chevrolet of Stewart draw closer in his mirror with the lap-count nearing the race-ending 400-lap mark.
Still holding the lead with under five laps to go, Montoya's mirror was now filled with a hungry Stewart and a fast Jeff Gordon.
With three laps remaining, Stewart made his move. Driving to the top-side of the race track, Stewart drew alongside Montoya down the backstretch and took the lead as the pair entered turn-three.
"He was way quicker. I don't understand where he came from," Montoya said after finishing second. "He wasn't good all day, but he was good when it mattered."
Stewart, who led only the final three laps of the race, went on to take his first victory of the 2013 season in Sunday's FedEx 400 Benefiting Autism Speaks.
"Man, it's been such a tough year," a relieved Stewart said in victory lane. "We tested here, which I though would be an advantage, and yesterday we took two-steps-backwards it seemed like.
"I'm so proud of Steve Addington…his pit strategy gave us the opportunity there at the end."
Sunday's win was only the second top-five finish for Stewart Haas Racing in 2013 – Ryan Newman posted fifth in the Daytona 500 – and the first victory for the team since July, 2012 at Daytona with Stewart.
"There's not many times you get to out-race Juan Montoya," Stewart said about the ending of the race. "He figured out where I was gaining ground, made the adjustment and got going again…but we found a little something on the top there."
Johnson maintains a 30-point lead over Carl Edwards in the championship standings heading in next Sunday's race at Pocono (Long Pond) Raceway.
FedEx 400 Benefitting Autism Speaks Unofficial Results 
Tony Stewart 

Juan Pablo Montoya
Jeff Gordon
Kyle Busch
Brad Keselowski
Clint Bowyer
Joey Logano
Kevin Harvick
Mark Martin
Dale Earnhardt Jr.
Jeff Burton
Kurt Busch
Ricky Stenhouse Jr.
Carl Edwards
Greg Biffle
Casey Mears
Jimmie Johnson
Aric Almirola
Marcos Ambrose
Paul Menard
Bobby Labonte
David Ragan
Kasey Kahne
Danica Patrick
Josh Wise
David Reuitmann
Austin Dillon
David Stremme
Dave Blaney
JJ Yeley
Joe Nemechek
Landon Cassill
Jamie McMurray
Denny Hamlin
Timmy Hill
Ryan Newman
David Gilliland
Martin Truex Jr.
Travis Kvapil
Matt Kenseth
Mike Bliss
Michael McDowell
Scott Riggs