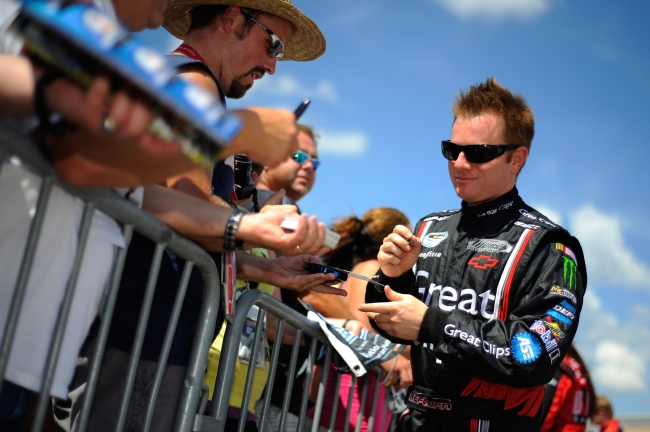 I preface this by saying that this is the first motorsports article of any kind I have written since November of 2011. Since that time, I've been largely divorced from NASCAR journalism and don't have much desire to ever go back in a serious capacity. But tonight… as I'm sitting here fighting back a lot of tears over the news I got before 11 tonight that Jason Leffler died as a result of injuries from a wingless sprint car crash, I felt an urge I haven't felt in a long time. So I coped with it, the only way I could: Writing what it's like, as purely a fan, to lose your favorite driver. I've stayed largely away from this medium of making my voice heard for some time.
But tonight, I have to speak as a fan. So here goes a very emotional out-pouring from this fan as I can only hope and pray to God that I don't completely break down bawling during this process.
The name Jason Leffler probably doesn't mean a whole hell of a lot to casual fans. If anyone remembers him, it's likely for his wicked faux-hawk he'd sport from time to time. But if you're like me and eat, sleep, and breathe racing twenty-four, seven, and three-sixty-five, that name means a lot. Was he ever a factor in the Cup Series? Not really. But I can say this: whenever I watched Jason Leffler race, I knew this was a guy who was gonna drive balls-to-the-wall, pedal-to-the-metal, wide f'n open no matter what. It didn't matter if he was in USAC, where he was an outstanding star. Even in the IRL, the Truck Series, or in the Nationwide Series, this was a guy that was gonna give you his all every time he set foot on a track. He might not have won a ton of races, but when he did win? You knew this guy busted his ass on that track to do so, night in and night out. He truly was a "Faux-hawked Warrior".
Tonight, Jason got to do something very few people do. Die doing what they loved to do for a living. But really, for his fans, and especially me… that's not a lot of consolation right now. When you lose a driver that you rooted for, it's like losing a brother. You may never have met or interacted with this brother, let alone spend any real time with them. Yet it doesn't change the kinship a race fan has when their favorite driver dies. That's why the sport was so bereft when Dale Earnhardt left us to go one lap ahead. That's about the only way I can remotely rationalize this in any small way. Leffler didn't leave us today. He just went one lap ahead. I'd say him, The Intimidator, Davey, Alan, Adam, and the untold number of racing legends who left us far too soon are putting on the best damned race Saint Peter's ever seen at The Pearly Gates and I bet it's an SRO: Standing Room Only crowd right now. Hope you're having fun up there, Jason. Hopefully one day I'll see you race again for the ultimate audience. But until then? I'm sure gonna miss watching you race.