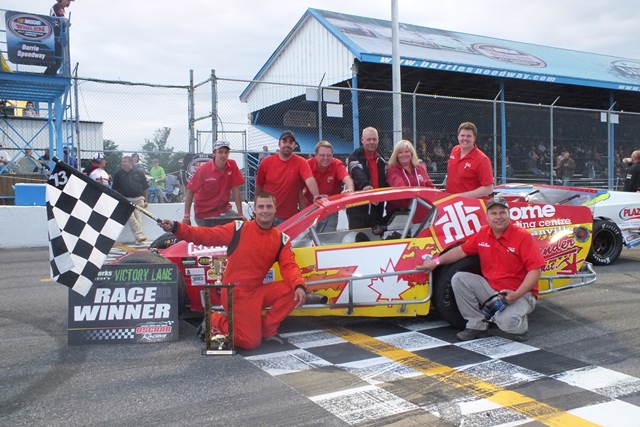 Last year at Barrie Speedway and in the season opener at Sunset Speedway, it was Gary McLean picking up the victory. This weekend at Barrie Speedway, it was his nephew Brent McLean would picked up the victory.
Gary McLean started off the night in victory lane, though, as he won the first heat ahead of Matt Barton, Davey Terry, Branden Bullen and Mike Westwood.
In the second heat, there would be a series of incidents. The first incident would have Brian McLean and Brad Pearsall spin of turn four. Then on the restart, Dave Osbourne would spin, collecting Pearsall. On the second attempt at a restart, Osbourne would spin again with Bobby Tolton spinning behind him. Heading into the corner, Pearsall had tried to make it three-wide with Tolton and Brian McLean.
It'd be Brent McLean picking up the win ahead of Pearsall, Brian McLean, David McCullogh and Osbourne.
In the third heat, Terry would have a flat tire on lap one while Bullen would tag the inside wall and need to be toed off the track. Gary McLean would go for the daily double ahead of Barton, Bullen and Terry.
In the final heat, Brian McLean would have a spin midway through. Brent McLean would also for the daily double head of Pearsall, Osbourne and McCullogh.
When it came to feature time, it'd be Davey Terry on pole, followed by Brent McLean, Matt Barton, Brad Pearsall, Gary McLean, David McCullogh, Dave Osbourne, Mike Westwood and Bobby Tolton.
On lap one, Brent McLean would grab the lead ahead of Terry, Barton, Gary McLean and Pearsall.
Making his OSCAAR debut, Mike Westwood wouldn't have a good night as he'd come down pit road on lap two.
The first and only caution would fly on lap six when Barton would get into Terry as they battled for second off of turn four. So with 24 laps to go, Brent McLean would lead ahead of Gary McLean, Pearsall, McCullogh, Osbourne, Brian McLean, Terry, Barton and Tolton.
On the restart, Brent McLean would pull ahead of the field. In the middle of the pack, both Terry and Barton would get by Osbourne, with Barton then passing Terry.
At the end of the 30 laps, it was Brent McLean picking up the win ahead of Gary McLean, Brad Pearsall, David McCullogh, Matt Barton, Davey Terry and Dave Osbourne.
The OSCAAR Modifieds will hit Delaware Speedway next Friday as they continue a stretch of four back-to-back events to complete the month of June.