Alex Tagliani to race with special helmet to promote allergy awareness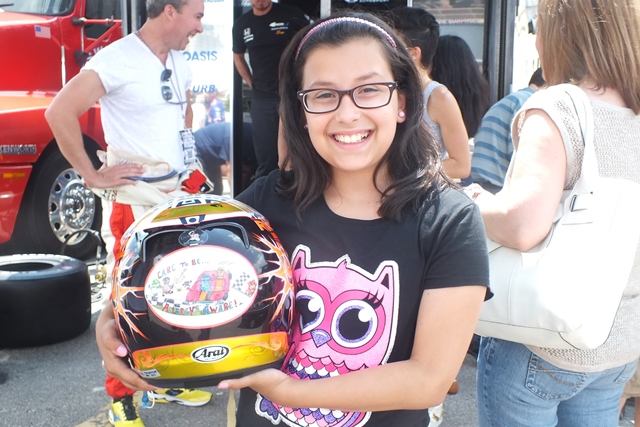 Earlier this year, Anaphylaxis Canada kicked off a promotion where fans were able to submit their drawings, with the winner's going on Alex Tagliani's helmet for the Honda Indy Toronto.
On Thursday at the Honda Indy Toronto, Alexia's design was unveiled as the winning design as she created a special piece of artwork, based on her brother's allergy.
"My brother is allergic to peanuts and nuts so I thought it'd be a good idea to do this since Alex has a similar allergy," Alexia says. "I like drawing and coloring so it was an awesome thing for me."
This month is Allergy Awareness Month and Anaphylaxis Canada is wanting to spread the message to be aware about allergies and make sure to carry their EpiPens with them at all times.
Following the race, the helmet will be auctioned off with all the proceeds going to Anaphylaxis.
Food allergies have taken a front seat in the past eight years with the introduction of Sabrina's Law in 2005, passed by the provincial government. It requires all school boards in the province to establish and maintain a anaphylaxis policy.
Tagliani has a personal connection to cause, allergic to peanuts and tree nuts himself.
Earlier this year at an appearance in front of grade students, Tagliani shared a story about an allergic reaction he had at a
restaurant, when a piece of cheesecake had a small coating of almond paste he didn't know about. His throat closed up right away and he had trouble breathing and realized he'd left his EpiPen in the rental car in the parking lot. He had to run and get it to help save his own life. An ambulance was called and he was sent to the hospital.
"I will always carry my EpiPen wherever I go now," said Tagliani to a crowd of students from kindergarten to Grade 4 who had plenty of questions for Tagliani about food allergies.
Also this weekend, Tagliani announced that he will be taking part in the Power of 2 – Indy Car edition, trying to raise more money than Scott Dixon. Tagliani is looking for donations for Anaphylaxis Canada, while Dixon is looking for donations for Young People Living with Cancer.
If Tagliani raises more money than Dixon, Dixon has to ride a tricycle around the Indiana State Fairgrounds in a sheep costume. If Dixon raises more money than Tagliani, Tagliani has to ride a tricycle around the Indiana State Fairgrounds in a beaver costume.
Fans are encouraged to go to http://www.power-of-2.org/ and make their donation today.
Tagliani is hoping the design brings him some luck as he is hoping to turn his season around.
"We've had a lot of bad luck and it's been rough," he says. "Our car has not been really good on ovals, but there's a couple races where I pushed too hard with the car that I had and made some mistakes so on street courses and road courses, everything is possible. Hopefully we can get our season back on the way."