Austin Dillon ready to embrace new challenge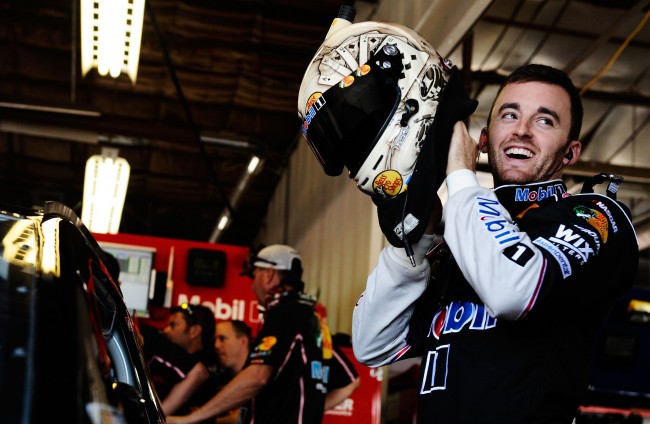 BROOKYLN, MI — Austin Dillon is ready for the added pressure he has this weekend.
Not only is the 2012 Nationwide Rookie of the Year trying to lock down a solid finish in Saturday's inaugural event at Mid-Ohio, but he's also playing substitute for the injured Tony Stewart at Michigan International Speedway.
"It's pretty exciting," Dillon said of his opportunity this weekend with Stewart Haas Racing (SHR). "We all know who drives it on a regular basis and that's one of my heroes, Tony Stewart."
Over the course of Dillon's career, he has been faced with pressure.
Growing up in the shadows of his legendary grandfather, Richard Childress, Dillon has also been faced with the weekly challenge of racing the No.3; the number fans forever associate with Dale Earnhardt.
This weekend will mark the third team Dillon has driven for in the Sprint Cup Series this season.
"I think it's cool to be able to say that I've driven for multiple people," Dillon said about the opportunities he has had this season.
The 2011 Camping World Truck Series champion credits the different rides for helping him grow as a young driver moving up the ladder in NASCAR.
"The great thing about it is that you learn a lot running with different guys and learning how things are supposed to be done and what it really takes to be a team leader.
"I think that's pretty important."
While the bulk of Dillon's attention this weekend will undoubtedly be on his Sprint Cup efforts in Michigan, he's still focused on Saturday's Nationwide race at Mid-Ohio.
Currently, Dillon holds a three-point lead in the Nationwide Series standings over Regan Smith meaning that his first Nationwide championship is very much in grasp.
Despite being in the championship fight, Dillon is choosing to miss all activities at Mid-Ohio Friday in large part to the all-day test session NASCAR held for the teams Thursday.
"I think the logistics are actually not as bad as well all thought it was going to be because the test at Mid-Ohio kind of solved that," said Dillon.
"I was able to be there all day yesterday. We flew in on Wednesday night, I was there yesterday full-time and then came over here last night."
Dillon will miss qualifying for the Nationwide race due to being in Michigan for the SHR Cup efforts but still has high goals for Saturday's race despite being forced to start from the rear of the field.
"I feel like with all the strategy and things that are going to play out during the race — I think it's going to be a pretty wild race," he said.
"Going to the inaugural race for Mid-Ohio and there are some blind corners and elevation changes and some really slow corners where people are going to make up ground and mistakes are going to be made."
Regardless of the way you look at it, this weekend has the potential to have implications on the young driver's short-term and long-term future.