For the fourth time this year, Andrew Gresel was victorious, driving his No. 81 Sauble Falls Tent and Trailer Park, Canadian Union of Skilled Workers, Overland Heating and Cooling, McRobert Fuels, Spira Fire Protection, Shoreline Property Management, London Recreational and HY-Grade Roofing Super Late Model to victory lane on Monday.
Virtue of winning the Chase for the Colors event, 2013 OSCAAR Super Late Model Champion Brandon Watson would start pole. Watson also won both of his heats during Saturday's qualifying action. Gresel would start second virtue of finishing second to Watson at the Chase for the Colors. Virtue of his heat win, J.R. Fitzpatrick started third followed by Derrike Tiemersma, Brad Corcoran, Brent McLean, George Wilson, Jesse Kennedy, Jeff Dunford, Shane Gowan, Dwayne Baker, Glenn Watson, Shane McGlynn, Tyler Hawn, Todd Campbell, Ed Bowlby, Jim Bowman, Cory Jones, John Owen, Quinn Misener, Craig Stevenson and Gary Passer.
Brandon Watson grabbed the early lead and led till the first caution at lap seven for Bowlby spinning on the front stretch, thanks to contact from Owen. Bowman and Stevenson used the caution as an opportunity to come down pit road.
Watson once again grabbed the lead on the restart and led till the second caution at lap 14 for Dunford being spun by Owen. Misener, Bowman, Jones, Wilson, Hawn and McGlynn used the caution as an opportunity to head down pit road. With 36 laps to go, Watson led Gresel, Corcoran, Tiemersma, Fitzpatrick, Glenn Watson, McLean, Gowan, Passer, Kennedy, Baker, Campbell, Dunford, Owen, Bowlby, Wilson, Jones, McGlynn, Hawn, Bowman, Misener and Stevenson.
The first attempt at a restart brought forth the third caution when Tiemersma and Corcoran got together, collecting McGlynn, Bowlby and McLean with them.
The second attempt would be a go as Brandon Watson grabbed the lead ahead of Gresel while Glenn Watson slipped in
front of Fitzpatrick for third before the lap 17 caution for Campbell being spun by Owen. Under the caution, McLean and McGlynn headed down pit road.
Once again, there'd be trouble again on a restart as the fifth caution was displayed for Tiemesma being spun by Dunford. Wilson used the caution to come down pit road for adjustments.
The green would go back in the air and at halfway, it was Brandon Watson leading Gresel, Baker, Glenn Watson, Passer, Fitzpatrick, Owen, Gowan, Campbell, Kennedy, Corcoran and Tiemersma. Six laps later, the sixth caution was displayed when Dunford and Gowan got together. Under the yellow, Bowlby pitted while Bowman got the lucky dog due to just going a lap down to Watson. With 19 laps to go, Brandon Watson led Gresel, Baker, Glenn Watson, Passer, Fitzpatrick, Owen, Campbell, Kennedy, Corcoran, Tiemersma, Wilson, Hawn, Misener, Jones, McGlynn, Dunford, Bowman, Gowan and Bowlby.
Bowlby was the only car a lap down but he'd get the lucky dog at lap 32 when Misener spun while Passer spun after the seventh caution was displayed. McGlynn, Dunford and Gowan used the yellow as their opportunity to pit.
Also under the same yellow flag, Brandon Watson came down pit road to fix bumper damage as his bumper was hanging half off due to contact on the previous restart. While on pit road, Watson's team elected to change tires. In return, this handed the lead to Gresel. So now with 18 laps to go, Gresel led Baker, Glenn Watson, Passer, Fitzpatrick, Owen, Kennedy, Campbell, Tiemersma, Corcoran, Wilson, Hawn, Jones, Bowlby, Gowan, Dunford, Bowman, Brandon Watson, Misener and McGlynn.
The restart brought forth the eighth caution when Bowlby would spin off of turn two. Wilson and McGlynn pitted under the yellow. The field would get two more laps in before the ninth caution for Fitzpatrick spinning, collecting Campbell and Corcoran. The 10th caution flew at lap 39 for Wilson spinning off turn two. Under the yellow, McGlynn, Wilson and Bowman pitted.
At this point with 11 laps to go, Gresel continued to lead, while Brandon Watson had worked his way back up to the second position. Baker ran third followed by Glenn Watson, Passer, Owen, Tiemersma, Campbell, Corcoran, Hawn, Gowan, Fitzpatrick, Kennedy, Jones, Bowlby, Misener, Dunford, Bowman and Wilson.  As the field was getting ready to go back green, Misener would hit Dunford, resulting in Dunford being done for the day due to heavy front end damage.
The caution laps would be counted now due to the race being over its scheduled time limit and the field would go back to green on lap 43, though saw another caution at lap 46 for Misener around in turn four while Owen was around in turn three. In the three laps that were ran in the process, Brandon Watson was able to slip by Gresel and grab the lead while Baker continued to run third ahead of Glenn Watson and Passer.
With the race being inside of the final five laps, cautions laps were no longer counted and the restart came with four to go, bringing the 12th caution for Tiemersma and Corcoran getting together, collecting Misener, Bowlby and McGlynn.
Once the field went back to green, Brandon Watson held Andrew Gresel off in the final four laps. However, upon further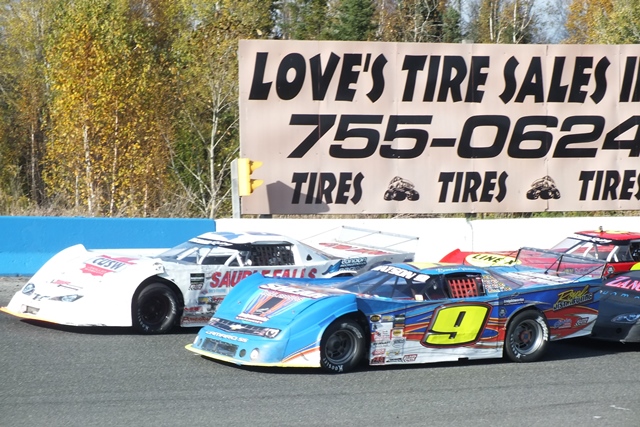 review by OSCAAR, Watson will be stripped of the win and credited with a last place finish due to breaking the tire rule. The tires that he put on under the lap 32 caution were sticker tires that were not registered with OSCAAR, and therefore illegal.
As a result, Andrew Gresel picks up his first Autumn Colors Classic victory. Glenn Watson gets credited with second followed by Dwayne Baker, Gary Passer and Todd Campbell. Shane Gowan finished sixth followed by Tyler Hawn, Jesse Kennedy, J.R. Fitzpatrick and George Wilson. Derrike Tiemersma finished 11th followed by Cory Jones, Jim Bowman, Brad Corcoran and John Owen.