SAAVEDRA RETURNS TO TRACK ON RAIN-SHORTENED DAY AT INDIANAPOLIS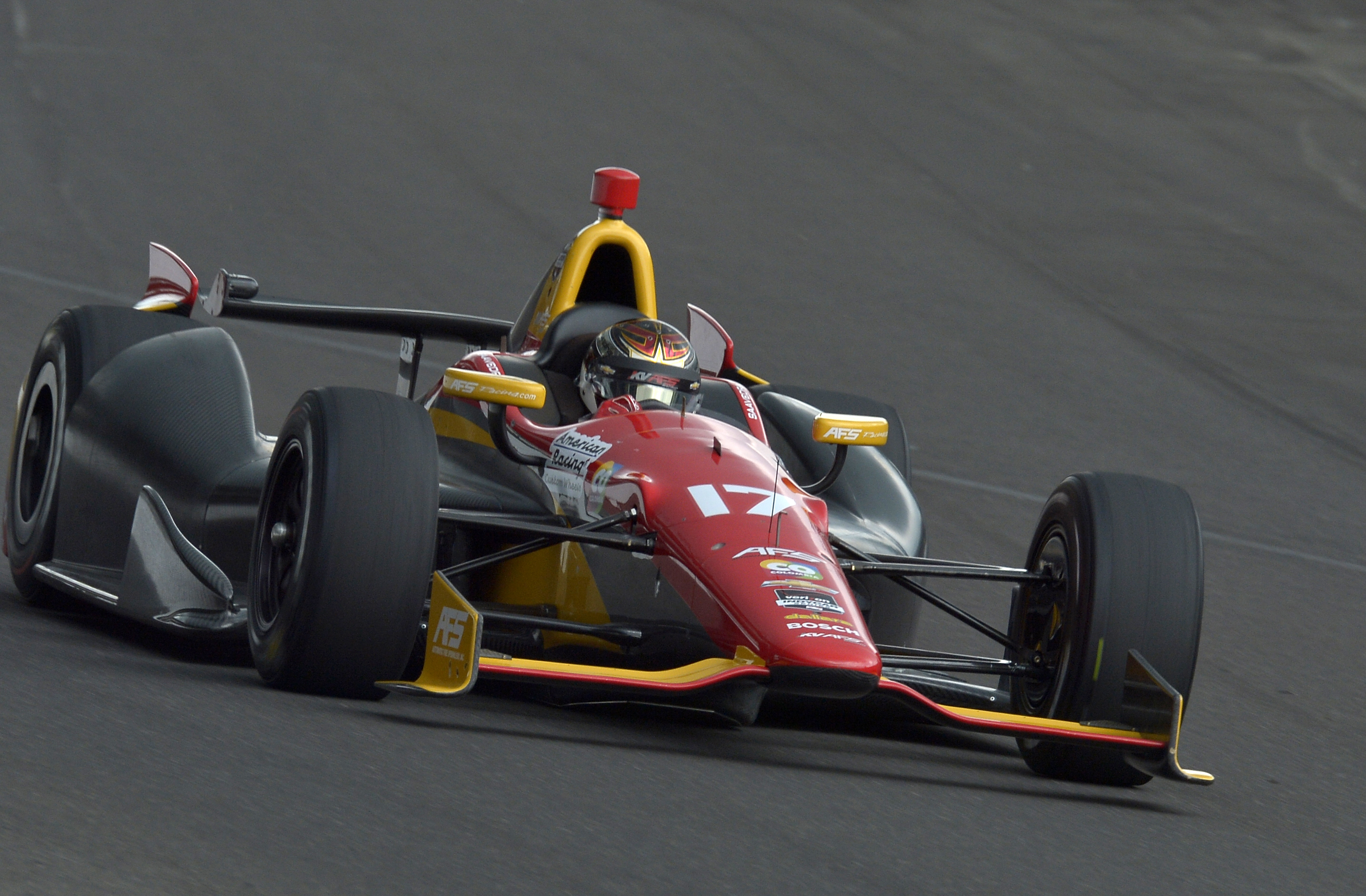 NDIANAPOLIS (Tuesday, May 13, 2014) – Sebastian Saavedra pulled on his helmet and stepped into the No. 17 KV AFS Racing car May 13 just like he had dozens of times. He logged only seven laps in the red and yellow car before practice for the 98th Running of the Indianapolis 500 Mile Race was curtailed by rain, but the practice time was significant.
Saavedra joined 29 other drivers who totaled 1,024 miles without incident. Thirty-one drivers have registered 4,041.
DOWNLOADS: Practice #3 Times | Combined Times
E.J. Viso, filling in for James Hinchcliffe in the No. 27 United Fiber & Data car for the third consecutive day, topped the speed chart at 224.488 mph (40.0912 seconds). Andretti Autosport teammate Kurt Busch, seeking to contest both the Indianapolis 500 and stock car race in Concord, N.C., on May 25, posted his fastest lap of the month (224.159 mph) in the No. 26 Suretone car.
Juan Pablo Montoya (224.115) was third in the No. 2 Verizon Team Penske car, while Andretti Autosport's Ryan Hunter-Reay (223.612) and Marco Andretti (223.605) also were in the top five. Hunter-Reay, runner-up in the Grand Prix of Indianapolis on May 10, has the top lap speed of the month at 225.025 mph.
Saavedra, the pole sitter for the Grand Prix of Indianapolis, who was uninjured after being involved in a multi-car incident on the standing start of the 82-lap race on the Indianapolis Motor Speedway road course, made his debut on the 2.5-mile oval during practice for the Indianapolis 500.
"It was good mentally for him and the whole team," said two-time Indianapolis 500 winner Al Unser Jr., who is serving as the driver coach for the four-car KV Racing Technology stable this month. "The crew on this team has done a fantastic job getting the car together. They started (May 11, Opening Day of Indy 500 practice) with the car down to the tub and built from there. It was a great achievement and important for Sebastian to get out there in."
Saavedra, who qualified for his first Indy 500 in 2010 at age 19, said he's "back in business."
"It feels like somebody has given me a kidney punch and I'm stiff but OK," said Saavedra, of Colombia. "I just wanted to get out there. Kudos to all my boys who had a couple of long days to put it together. She's looking amazing.
"I'm not concerned with the laps really as long as we maintain the program we have we should be good. A.J. Foyt says there's plenty of time, breathe it, enjoy it."
DAY 3 NOTEBOOK:
Verizon IndyCar Series owner/driver Ed Carpenter will carry the Butler University logo on his No. 20 Fuzzy's Vodka/Ed Carpenter Racing Chevrolet and helmet during the Indianapolis 500. Carpenter, a 2003 graduate of  Butler University, welcomed Butler University President James Danko, Butler Athletic Director Barry Collier, Butler men's basketball coach Brandon Miller, Butler women's basketball coach Kurt Godlevske and Butler mascot Butler Blue III to the Speedway today.
ED CARPENTER (No. 20 Fuzzy's Vodka/Ed Carpenter Racing Chevrolet): "Since we've been putting it on the car, we've had a lot of success. Don't change it if it's not broken. I graduated from Butler in 2003 and it's a tight community and there's a lot of pride being involved with Butler and being associated with the University. To be able to take it to another level and have the logo on the car is something that I'm proud of. It's fun to share with each other and have (Butler representatives) come to the track feel like they are a part of what's going on." (About being honored with the Hilton Ultimus Brown Alumni Achievement Award): "It was a total surprise to get that honor, especially with the other honorees that were there. I'm just proud to be able to be associated with the university. To be recognized by the University is something that makes me feel very proud and even more proud than I was as an alum."
BRANDON MILLER (Men's Basketball Coach, Butler University): "I'm excited to be down at the track and get a chance to talk to Ed (Carpenter) and see how things work behind the scenes. It's always an interesting day and a lot more complicated than you think. It's always good to see Ed and how things work." (About the team effort it takes to be a successful team): "There's so much that goes in with the preparation and all of the details that go into racing and how you come out and have the product that you want. In talking to Ed, I realized I don't know a whole lot about racing and how complicated it really is." (As someone who grew up in New Castle, Ind., are you a fan of the 500?): "I am a fan. A huge Ed Carpenter fan, and proud he has the Butler logo on his car." (When was your first trip to IMS?): "I was a kid. We came with my elementary school. We came to the track and we watched the cars go around. Ever since then, I've been a fan of the race and paid attention to the race on Sunday and see who the winner was."
JAMES DANKO (President, Butler University): "It's terrific. First and foremost, it's good to be riding along with Ed as he's racing and second we get some great exposure for Butler. Last year, Ed was at the front of the race for a good portion of the race  and it's terrific for us to be there with him.
***
"Let's do that again," said Edith Pittenger as she leaned into the cockpit to thank Mario Andretti for the high-speed two-seat Indy car ride around the historic Indianapolis Motor Speedway.
"It's a date," the auto racing legend replied.
Nearly 40 family members gathered trackside May 13 to cheer on the resident of Muncie, Ind., and mark the special occasion.
"She did this when she was younger … 96," said her son, Jay Pittenger.
That was 2008 with two-time Indianapolis 500 Mile Race winner Arie Luyendyk behind the wheel of the stretched Indy car to set an unofficial record for the oldest person to take a lap on the famed 2.5-mile oval. Now, at 102 years old, the spry great-great-grandmother sent a message to potential challengers.
"That was fun; come and try it," said Pittenger, who raised her arms as Andretti sped over the Yard of Bricks that mark the start-finish line.
The two-seater ride six years ago was a Christmas present from family members, while this excursion was organized by Indy Racing Experience co-owner Scott Jasek.
"My family knew it was something I wanted to do back then, and it was so much fun I wanted to do it again," Pittenger said, "and it was just as much fun this time."
Pittenger, who attended her first Indianapolis 500 in 1948 when her son, Lynn, was an usher, returned for more than two decades with a gaggle various family members in tow. The 1969 race stands out in her memory – the year Andretti led 116 laps en route to victory for car owner Andy Granatelli.
Andretti, who will be recognized on Legends Day (May 24) on the 45th anniversary of his victory, joined Indianapolis Motor Speedway President J. Douglas Boles and the large family contingent in congratulating Pittenger.
"It just shows that you can be too young to ride but you're never too old," Andretti said.
***
INDIANAPOLIS 500 PRACTICE:
At 11:55 a.m., the ambient temperature was 79 degrees with a relative humidity of 65 percent and winds from the southwest at 13 mph. Skies were mostly cloudy. The track temperature was 104 degrees, according to Firestone engineers.
Noon – GREEN. #77 Pagenaud first on track.
12:27 p.m. – YELLOW. Light rain reported in Turn 3.
12:36 p.m. – GREEN.
12:58 p.m. – YELLOW. Track inspection.
1:07 p.m. – GREEN.
1:14 p.m. – YELLOW. Tow in for #2 Montoya, who has pulled off the course in Turn 4. Driver reports an electrical problem.
1:27 p.m. – GREEN.
1:31 p.m. – YELLOW. Rain.
2:47 p.m. – CHECKERED. Remaining track activity has been cancelled due to weather conditions.
FASTEST TIMES/SPEEDS OF PRACTICE:
| | | | | |
| --- | --- | --- | --- | --- |
| | Car | Name | Time | Speed |
| | 27 | E.J. Viso | 40.0912 | 224.488 |
| | 26 | Kurt Busch | 40.1501 | 224.159 |
| | 2 | Juan Pablo Montoya | 40.1580 | 224.115 |
| | 28 | Ryan Hunter-Reay | 40.2482 | 223.612 |
| | 25 | Marco Andretti | 40.2495 | 223.605 |
***
Thirty-one drivers have been on the track to date and turned 1,024 laps today and 4,051 laps this month. Helio Castroneves turned 56 laps today, most of any driver. There were four cautions for a total of 1 hour, 43 minutes and 57 seconds today.
INDIANAPOLIS 500 POST-PRACTICE QUOTES:
SCOTT DIXON (No. 9 Target Chip Ganassi Chevrolet): "Well it ended up being a short day today. We got rained out after about an hour or so of running. We worked again on long runs and race preparation in the Target car. It looked like the weather isn't going to be much better tomorrow so we'll just have to sit and wait. Typical May weather for Indianapolis."
TONY KANAAN (No. 10 Target Chip Ganassi Chevrolet): "Not a lot on track today unfortunately. We learned a little bit but really didn't have a chance to go through our run plan like we would have liked to because of the rain."
RYAN BRISCOE (No. 8 NTT DATA Chevrolet): "We didn't get a lot of on-track time today because of the weather, but I think we still made some really positive strides forward in the laps we did get completed. We were able to make some solid race runs and get the No. 8 NTT DATA Chevrolet into traffic. We'll take any time we can get out there, but we're really hoping that the weather can come around and we can get a full day in on the track soon."
CHARLIE KIMBALL (No. 83 NovoLog FlexPen Chevrolet): "Even though we didn't have a lot of on-track time today because of the rain, we were still able to work on some setup changes. There are still some items on our test list that we need to work through and we're hoping that the weather will clear up this week so we can make those changes. We can't control or change the weather, especially in Indianapolis in May, but Novo Nordisk Chip Ganassi Racing is great at adapting and making the best of the situation that we're put in. My engineers and I have a lot of confidence in the speed of the No. 83 NovoLog FlexPen Chevrolet and we're just looking forward to getting a full day on track."
SAGE KARAM (No. 22 Comfort Revolution/Brantley Gilbert Chevrolet): "Today went well. We made some good improvements to the car which allowed me to run in more traffic and in bigger packs of cars. I was able to put up some pretty good times similar to what guys were running yesterday and close to the fast guys today. Getting into the top 10 is a good confidence builder for myself and the team. We're going to work very hard to tweak the car and get it a bit better for me in traffic so I am more comfortable. Once we that happens, we are going to have a very good car for this month."
JUAN PABLO MONTOYA (No. 2 Verizon Team Penske Chevrolet): "We started today off in a little more of a qualifying setup on the No. 2 Verizon Chevy, just trying to creep up on what we'll need for this weekend's pole days. The car felt good and had a lot of speed since it was a more trimmed out. Unfortunately we had an electrical issue and it took us a couple of runs to figure it out, but that's why I was stopped on the grass. Then the rains came and that was the end of the session. We ran a lot of laps yesterday in preparation for it so it's nothing major and it gives the guys time to catch up on the car."
TAKUMA SATO (No. 14 ABC Supply/A.J. Foyt Racing Honda): "It's a little disappointing that we had to stop early due to the weather conditions. Today it was quite gusty wind as well right from the beginning so it was very difficult to test tire temps. But we did some test items that we didn't get to yesterday and we made a lot of good progress. So with only 20 laps today, I think it was a good test day. And hopefully over the next few days we have better weather conditions."
MARTIN PLOWMAN (No. 41 ABC Supply A.J. Foyt Racing Honda):  "The car felt better running by myself, but today was the first time that we decided to run in some heavy traffic. So I think we just need to work on getting the car comfortable enough to run flat in traffic. We weren't quite there today, but this was a good first experiment and now we've got a good amount of time to work on that before race day." (About the rain): "We're in the same boat as everyone else. It's not ideal. It's going to hurt me a bit because I'm still lacking experience around this place so I need as much time as I can get. But we're using the time wisely to pick Takuma's brain and AJ's brain and get as much information as I can."
JOSEF NEWGARDEN (No. 67 Hartman Oil/Sarah Fisher Hartman Racing Honda):"I'm kind of happy about the rain a little bit. I know it sounds a very odd, but it's been a tough on our teams trying to switch over from the Grand Prix race that we had a couple days ago, so it's nice to give them a break. We've had a good start to the month, at least in terms of practice for the 500. We've been trying to step through our program and things we didn't get to do last year. We have a pretty good car. It's just a continuation of what we didn't get to do last year. We did a lot last year, but as a one-car team, you can't really do everything you want to. This year is a bit different. We have Alex Tagliani as a teammate and it's easier to get things done. Yesterday we did quite a bit of running. We ran 105 laps. We're just hoping for a couple of clear days this week because we have a lot more to do."
E.J. VISO (No. 27 United Fiber & Data Honda): "I've taken on the full role of (James Hinchcliffe). Whatever his crew and engineer had planned to test and experience, I've been doing. It has been a quick adaptation to the team for me and so far it's all been pretty positive. My biggest wish is to Hinch and to his recovery. Hopefully, he's going to be able to make it to the race. I think today he was getting checked and soon we'll have an answer." (About getting back into a car): "When you are driving a car that's already up to speed and you know it's capable of doing something, you feel very safe. After a few laps, I was flat out."
HELIO CASTRONEVES (No. 3 Pennzoil Ultra Platinum Team Penske Chevrolet):"Another great day for the Pennzoil Chevrolet. We did what we needed to do before the rain came in. Now we are just making sure that we are ready to go as soon as the track is opentomorrow. It looks like the weather is going to be hit and miss again, so when the track goes green we will be ready. But we are getting close to qualifying and that is what we are starting to think about."
ED CARPENTER (No. 20 Fuzzy's Vodka/Ed Carpenter Racing Chevrolet): "It is tough when you can't get a full day of running in at the Speedway. But we expect some rain in May. We just don't pack everything up immediately too on a day like today. We have to take our cars through tech again and clean up some things so we are ready for qualifying. I felt really good about day one (Sunday). Then day two (Monday) and first part of day three (Tuesday) have been so-so. I think we are better than what the time sheets have shown. You want to be on track as much as possible with the changing conditions at IMS. You don't want to be surprised on race day."
JR HILDEBRAND (No. 21 Preferred Freezer/Ed Carpenter Racing Chevrolet):"With rain coming in, we tried to do a bunch of things early today. We have a pretty extensive plan throughout the week, so we really want the track time. Everyone is in the same boat on days like today. We can then sit down and access our current situation with the cars. We just hope that rain doesn't come back in the few days. It feels great to run with Ed, and I am enjoying this team. It is low key and very professional. I hope to expand this program at Ed Carpenter Racing because I really like working with these guys. Some of the them I have worked with in my Indy Lights and IndyCar career. So it is pretty familiar territory for me."
WILL POWER (No. 12 Verizon Team Penske Chevrolet): "Surprisingly, the weather worked out for us earlier in the day to get enough laps in. It was great to get out there today and the Verizon Penske Chevrolet is running very well and fast. We're making a lot of progress and, overall, I'm very happy with how the day went."
***
The following 12 Verizon IndyCar Series teams have been selected for the Pit Stop Competition. On Coors Light Carb Day:
Car # Driver /Entrant
2          Juan Pablo Montoya / Penske Motorsports
3          Helio Castroneves / Team Penske
8          Ryan Briscoe / NTT Data Chip Ganassi Racing
9          Scott Dixon / Target Chip Ganassi Racing
10        Tony Kanaan / Target Chip Ganassi Racing
12        Will Power / Team Penske
14        Takuma Sato / A.J. Foyt Enterprises
15        Graham Rahal / Rahal Letterman Lanigan Racing
22        Sage Karam / Dreyer and Reinbold – Kingdom Racing
28        Ryan Hunter-Reay / Andretti Autosport
77        Simon Pagenaud / Schmidt Peterson Hamilton
83        Charlie Kimball / Chip Ganassi Racing Teams
***
WEDNESDAY'S SCHEDULE (all times local):
8 a.m. –  Garages open
Noon-6 p.m. – Indianapolis 500 practice