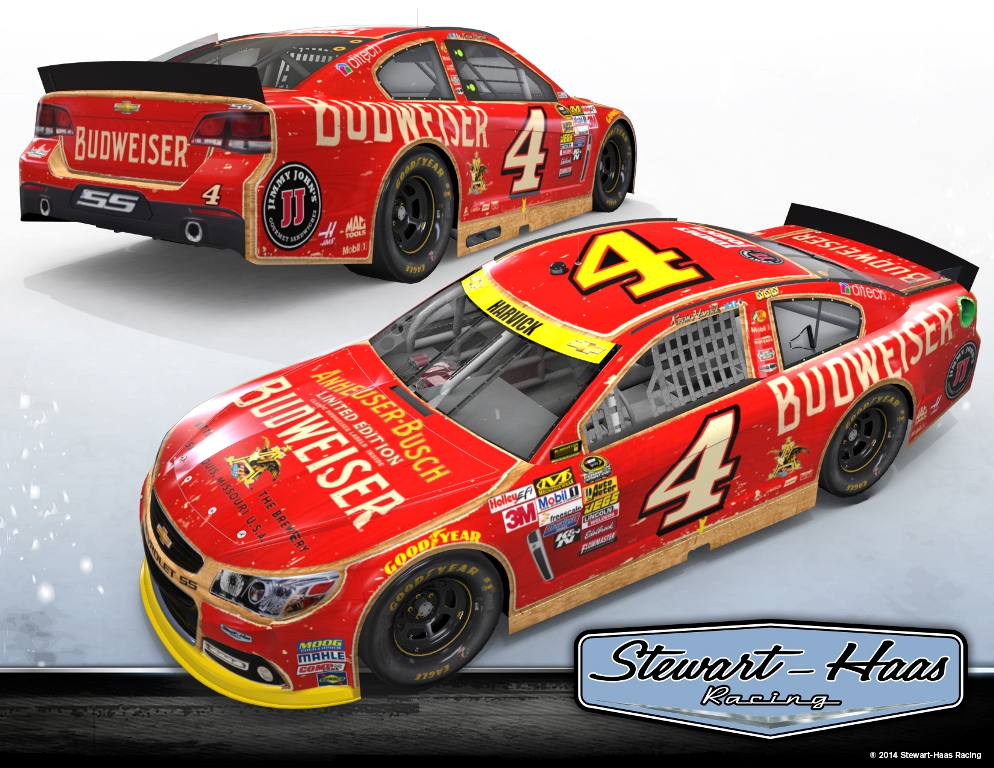 This weekend at Phoenix International Raceway, Stewart-Haas Racing announced that Kevin Harvick's No. 4 Budweiser Chevrolet will feature a special paint scheme to celebrate the upcoming holiday season. The paint scheme replicates Budweiser's classic holiday packaging that was introduced this week.
Starting this week, 12, 18 and 24-pack bottles available in the packaging, featuring classic labels from 1918 (last label before Prohibition), 1933 (the first label following the repeal of Prohibition), and 1976 (the Budweiser brand's 100th anniversary).
Looking to be one of the four drivers that makes the final round of the Chase for the Championship, Harvick will be looking for his sixth Phoenix victory this weekend. In 23 previous starts, Harvick has earned eight top fives and 12 top 10s.
"I have raced there a long time," Harvick said of his experience at Phoenix. "I guess the first time would have been '95. You had (Rick) Carelli and you had Mike Chase and you had (Ron) Hornaday. I know Carelli raced there for a long time, long before there were any of the current grandstands and any of the buildings, and they used to run the open comp cars. My dad would come over and work on the race track, and if there was a bad storm you couldn't get to the track because the bridge was washed out. There are a lot of things that a lot of people don't remember about Phoenix. It's very special to me. They used to have the Copper Classic and the 300-lapper at the end of the year for the Southwest Tour cars. It was our Daytona 500. So, to be able to go back and win races there and be successful means a lot to me."