NSCS: BULLINS TO RETURN TO WOOD BROTHERS AS CREW CHIEF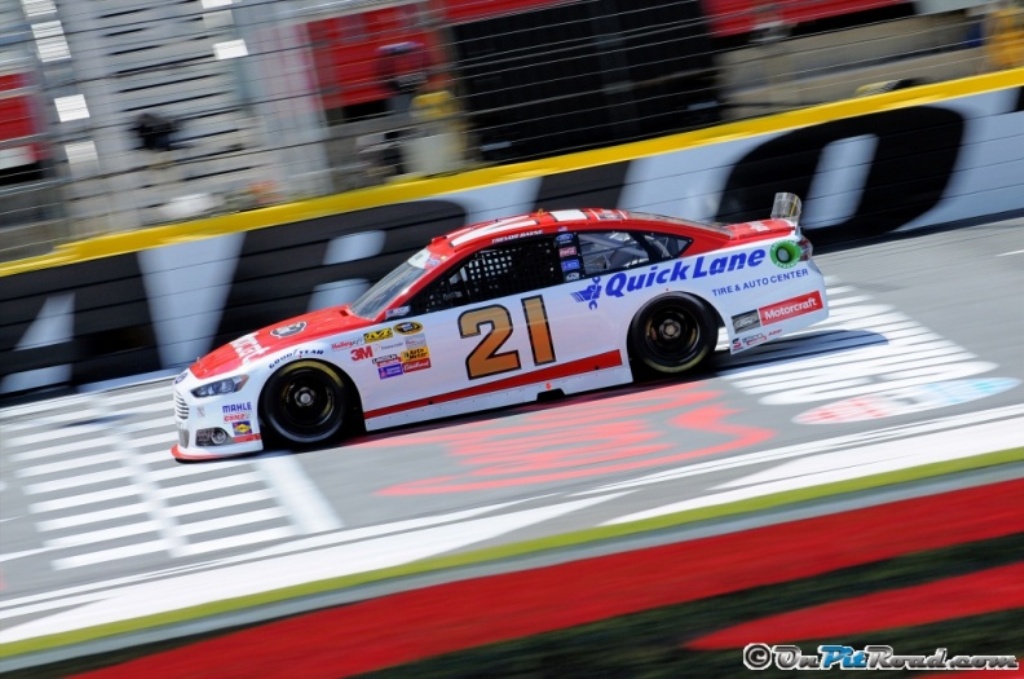 HARRISBURG, N.C. (December 22, 2014) – Wood Brothers Racing announced today that Jeremy Bullins will rejoin the No. 21 Motorcraft/Quick Lane Ford Fusion team next season to serve as the crew chief for Ryan Blaney in the NASCAR Sprint Cup Series, beginning with the 2015 Daytona 500. Bullins returns to the Wood Brothers organization following a successful three-year tenure with Team Penske's No. 22 NASCAR Nationwide Series team that produced 21 wins and two consecutive NASCAR Nationwide Series Owners' Championships.
Bullins first worked with the Wood Brothers in 1999 on the Pro Cup and Late Model cars driven by Jon Wood. In 2000, Bullins became race engineer for the iconic No. 21 Ford in the NASCAR Sprint Cup Series, a position he held until June of 2002. Bullins moved on to work with ST Motorsports, Robert Yates Racing and Richard Childress Racing, where he helped drivers Kevin Harvick and Clint Bowyer claim a total of nine Sprint Cup Series victories as a race engineer.
A native of Walnut Cove, NC, Bullins joined Team Penske in 2012 to serve as the crew chief for the No. 22 car in the Nationwide Series, earning three wins in his first full season at the helm. In 2013, Bullins led the team to 12 wins with four different drivers and the team's first Nationwide Series Owners' Championship. The No. 22 Ford team won the Owners' Title again this season behind six series victories. In total, Bullins earned 21 wins, 14 poles, 57 top-five and 79 top-10 finishes in 99 starts with the No. 22 Team Penske Nationwide Series program.
"This is a great opportunity for me at this point in my career to move to a great organization with a solid driver, while still getting the chance to work with the people that I've come to know and respect at Team Penske," said Bullins. "Everyone in the sport knows about the Wood Brothers and recognizes that No. 21. To get a chance to work for Eddie and Len and the entire organization and to have Ryan behind the wheel, is pretty much everything I could have asked for."
Eddie Wood, co-owner of the No. 21 Ford Fusion, said he's looking forward to resuming his working relationship with Bullins, who studied mechanical engineering at North Carolina State University before joining the Wood Brothers.
"I feel like he's coming home," said Eddie Wood. "He worked with us when we were still at our shop in Virginia and he was just getting started in NASCAR. Now he's a proven winner. It's an honor to have him back with us. We're anxious for him to get his first Sprint Cup victory, as a crew chief, which will be No. 99 for us."
Bullins joins the No. 21 Wood Brothers team at the same time Blaney makes the transition as the Motorcraft/Quick Lane team begins its alliance with Team Penske. Bullins and Blaney worked together through all three years of Bullins' tenure at Team Penske.  The duo produced two Nationwide Series wins along with eight top-five and 16 top-10 finishes in Blaney's 19 starts driving the No. 22 Team Penske Ford Mustang.
Len Wood, who owns the Motorcraft/Quick Lane team with his brother Eddie, believes that bringing Bullins on board will pay immediate dividends.
"Jeremy coming over from Team Penske to help us out will help in the transition from our past alliance to our new alliance with Team Penske," said Len Wood. "Because he's worked with Ryan in the past, and knows the Team Penske system, Jeremy should be able to get Ryan on the right track and running competitively right out of the box, without a long development period."
Wood Brothers Racing
Wood Brothers Racing was formed in 1950 in Stuart, Va., by Hall of Famer Glen Wood.  Wood Brothers Racing is the oldest active team and one of the winningest teams in NASCAR history. Since its founding, the team has won 98 races (including at least one race in every decade for the last seven decades) and 117 poles in NASCAR's top-tier series. Fielding only Ford products for its entire history, the Wood Brothers own the longest association of any motorsports team with a single manufacturer. Glen's brother, Leonard, is known for inventing the modern pit stop.  The team currently runs the Motorcraft/Quick Lane Ford Fusion driven by Ryan Blaney in the famous number 21 racecar.
About Motorcraft
Motorcraft® offers a complete line of replacement parts that are recommended and approved by Ford Motor Company. From routine maintenance to under-hood repairs, Motorcraft parts offer exceptional value with the highest quality and right fit at competitive prices. Motorcraft parts are available nationwide at Ford and Lincoln dealers, independent distributors and automotive parts retailers are backed by Ford Motor Company's two-year, unlimited-miles Service Parts Limited Warranty. Ask for Motorcraft by name when you visit your local auto parts store or your favorite service facility. For more information, visitwww.motorcraft.com.
About Quick Lane Tire & Auto Centers
Quick Lane® provides automotive quick services for all makes and models. Quick Lane's nationwide network of more than 700 facilities, each providing the convenience of an aftermarket company (no appointment necessary, service while you wait, evening and weekend hours, competitive prices) with the confidence of a major automotive manufacturer (quality parts, factory-trained, technicians). Quick Lane® is a registered trademark of Ford Motor Company. For more information, visit www.quicklane.com