NXS: 2015 NASCAR Xfinity Series Season Preview – Darrell Wallace Jr.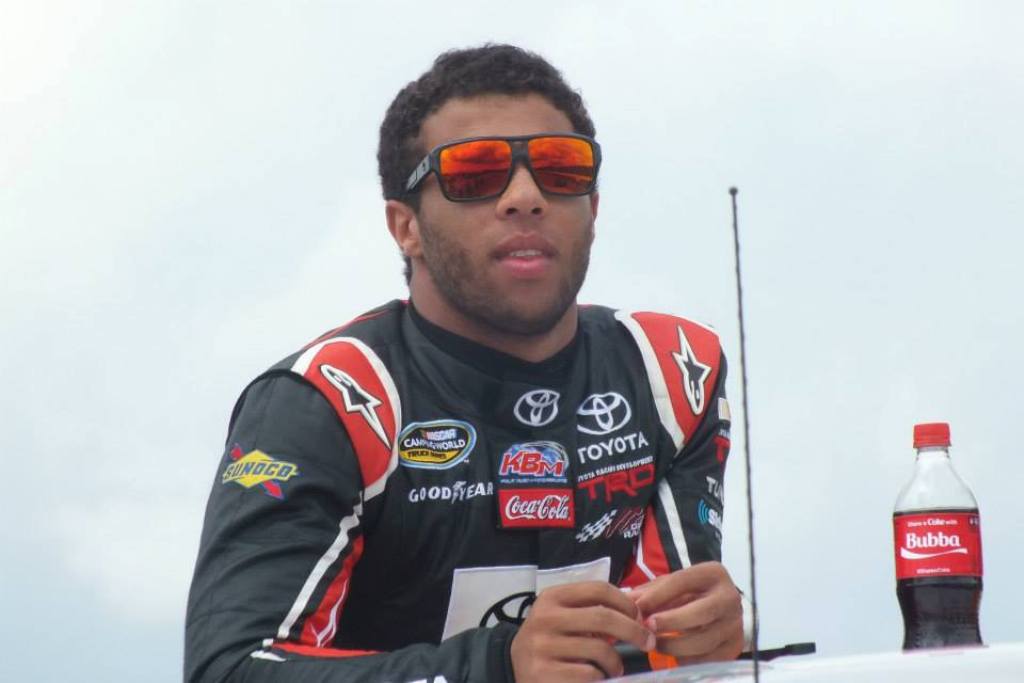 After having success in the NASCAR Camping World Truck Series, Darrell Wallace Jr. announced earlier this month that he will drive for Roush Fenway Racing next year in the NASCAR Xfinity Series.
Looking back at 2014
Entering his second year of truck competition with Kyle Busch Motorsports, Wallace had a successful season, scoring four victories en route to finishing third in points. Bad luck was the biggest culprit of the season as Wallace learned how to tame his ability behind the wheel in between pushing the envelope, and having equipment at the end of the race. The balance was best witnessed by his short track performances, at places like Martinsville Speedway.
He also ran a limited Xfinity Series schedule for Joe Gibbs Racing to have six career starts to his credit heading into the 2015 season, with four top-10 finishes.
Wallace has been applauded as being one of the brilliant up and coming drivers, given his success in the NASCAR K&N Pro Series ranks before moving into the Truck Series. The applause that he received promoted a driver development contract with JGR. That contract was believed to equal running the full schedule for them in the Xfinity Series in 2015, but sponsorship did not happen so he was left without a full-time ride. Enter RFR capitalizing on the opportunity to continue to build their organization and young drivers in the lower ranks, as Wallace joins Ryan Reed and Chris Buescher – along with veteran Elliott Sadler.
Looking ahead at 2015
Given Wallace's success to date, he should be in for a solid season in the Xfinity Series and with being eligible, taking home the Rookie of the Year Award. Expect Wallace to post top-10 finishes on a weekly basis and place himself in the top-10 in points, possibly top-five in points at season's end.
Now what is holding Wallace back from putting him as a championship contender? Roush-Fenway Racing's Xfinity Series program. They only scored one Xfinity Series victory last year – Buescher at Mid-Ohio, with Bayne finishing sixth in points as Buescher finished seventh. As already stated on OPR, the entire RFR organization must improve if they want to contend for the championship, against the likes of Richard Childress Racing and JR Motorsports. If they want wins, that desires even bigger improvements to equal that of Joe Gibbs Racing and Team Penske. With Sadler and Wallace coming over to RFR from JGR/KBM, they could possibly shed some secrets as to how the team has had success. They could also help thicken the notebook as Sadler has numerous series starts, versus Wallace, Buescher and Reed being young in their careers.
Career Outlook
Regardless whether he becomes top-five material or top-10 material, Wallace shifted waves and made a career move during the off-season with this announcement. It allows himself to be in a better situation of running more races than he would've been able to, and there are doors open to move up to the Sprint Cup Series. Joe Gibbs Racing has filled their seats with drivers that will drive for awhile – Carl Edwards, Denny Hamlin, Kyle Busch and Matt Kenseth. In contrast, Roush Fenway Racing currently stands as a three-car organization with Ricky Stenhouse Jr., Greg Biffle and Bayne. If the team was ever to expand to four Sprint Cup Series rides, Wallace has a 1/3 in shot at landing the ride and perhaps stronger chance versus his current teammates, based on his success date. By having that 1/3 chance, it's better than having no chance at all.