NXS: 2015 NASCAR Xfinity Series Season Previews – Chris Buescher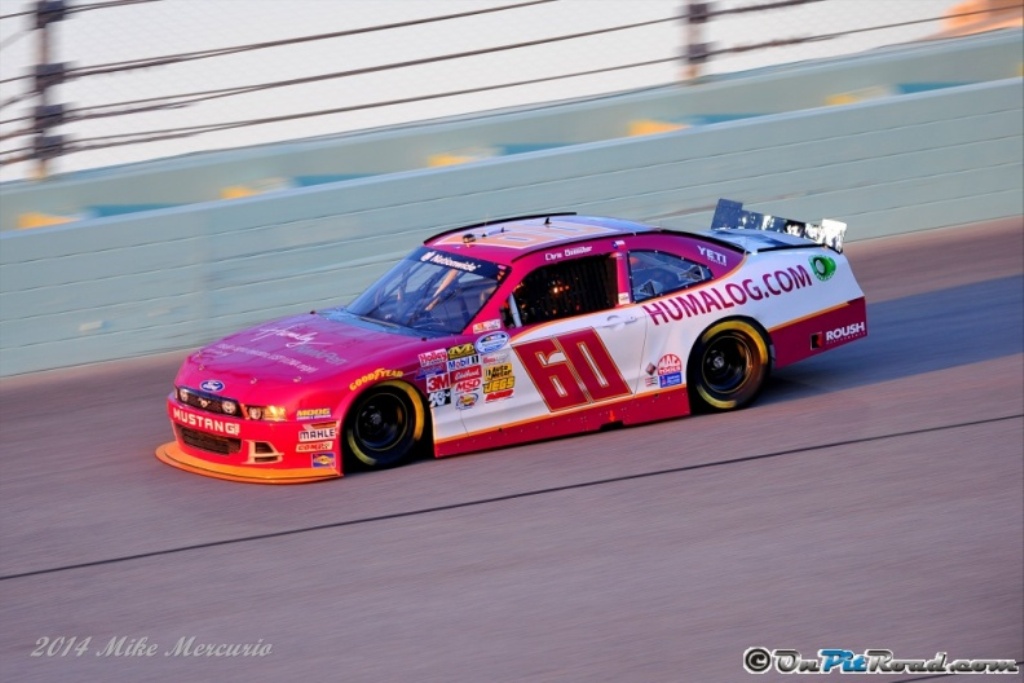 With the rookie focus being put on Chase Elliott and Ty Dillon, there were a couple of rookies that got lost in the discussions that had reasonable success of their own. One of those drivers is Roush Fenway Racing competitor Chris Buescher.
Looking back at 2014
Buescher made the move to a full-time NASCAR Xfinity Series (formally Nationwide Series) last season and had a solid year, finishing seventh in points with five top-fives and 14 top-10s. The Texas native had a quiet year for the most part, solidly performing within the top 10/15 to post solid results. Notably, in the first 20 races of the season, he would only have five finishes outside of the top 15.
For a rookie on any other given year, that would've been top notch headline worthy. However, this year had some exceptional rookies, namely series champion Chase Elliott. As a result, the statistics weren't widely recognized. Though to any person who has followed Buescher, the success is no surprise as running seven races in 2013, he finished in the top-17 in each of them except one. Consistency leads to putting yourself in position for success and is half the battle for a young driver in learning the limits of how far that they can push. Buescher earns praise for the balance shown.
Buescher did catch attention mid-season, though, and had everyone's eyes for the second half of the year after scoring the victory at Mid-Ohio. As the laps closed near the end, everybody expected him to make a mistake and toss away the victory, on top of trying to conserve enough fuel. However, the young driver held it together, running the road-course like a pro and seized the opportunity. Let it be known this will most likely be the first win of many as given his rookie year as a whole, you're going to be seeing a lot of Buescher over the years.
Though reflecting back upon the year and seeing how solid it was, there is one thing that should be noted – Buescher failed to qualify for the season opener at Daytona. A lot of people forget that now, but he would fail to qualify and at the time, a lot of people questioned whether Jack Roush made the right decision in hiring him. Looks like the Cat in the Hat was right in his pick for a new young shoe, again.
Looking ahead at 2015
So what will it take for Buescher to crack the top five in points and contend for the championship?
Qualifying for all of the races. It seems simple but failing to qualify at Daytona got him behind the eight ball. He has to make sure to not repeat the same mistakes once again.
While posting a string of top 10s and 15s will get you into the top-10 in points, he will need to step it up into the top five if he wants to be in the top-five in points. That will involved possibly pushing the car a little harder than he was before, working closer with Scott Graves to make sure it handles better for his driving style, and avoiding trouble at all costs.
Part of the problem in that is the lack of strength with Roush-Fenway's program. While they have been known to win races in the past, they only scored one Xfinity Series victory last year – Buescher at Mid-Ohio. Bayne was the highest finishing driver of the team of three, finishing just ahead of Buescher in points – sixth. The entire organization has to step up their game if they want to contend with Joe Gibbs Racing, Penske Racing and JR Motorsports. Those three times have taken Sprint Cup stars and put them in the cars to find out ways to improve the program. That could be something that they could look into. One notable factor – the addition of Elliott Sadler. Sadler comes over from JGR so perhaps he can shed some secrets.
If a little improvement can be found by the team and Buescher continues to grow moving forward, success could be forth coming.
A Writer's Musing
I had followed the ARCA Racing Series and being in Toledo the same weekend as the Menards 200 at Toledo Speedway, it seemed obvious to take in the action. That day, in May 2010, there was a young man that graced victory lane when the race was over. It was his first career win, driving for the Roulo Brothers in an sponsored No. 17 entry. His name – Chris Buescher.
I remember the first time that I came across Chris Buescher. I didn't know much about him, or really anything to be truthful. However, speaking with him after the win and seeing how polite he was, gracious in accepting questions and grounded, it looked as though he had the right attitude. You could also tell that he had the ability behind the wheel in how he dominated the event and showed everyone that day he would be a driver to watch in the coming years.
That win led to nine more wins between later that year and leading through 2013, which caught the attention of Jack Roush in searching for a young driver to fill his third car as a teammate to other young shoes, Trevor Bayne and Ryan Reed. In the process, Buescher also came close to an ARCA Championship, finishing runner-up in 2013.
But as they say, that's history now for the future is ahead of him and for this young man, that future is mighty bright.