NSCS/NXS: Ford Performance NASCAR: Ford Championship Weekend Notes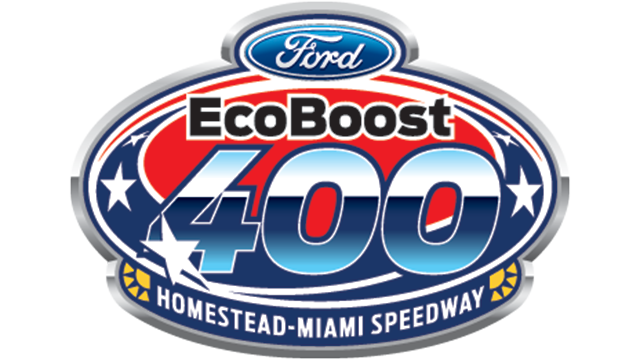 FORD PERFORMANCE NASCAR: HOMESTEAD-MIAMI SPEEDWAY
The NASCAR Sprint Cup Series season will come to an end this weekend at Ford Championship Weekend as Homestead-Miami Speedway hosts the Ford EcoBoost 400.  Ford has won more NASCAR Sprint Cup Series races at the 1.5-mile speedway than any other manufacturer (7) while Greg Biffle is tied for the most victories by any driver (3).
FORD CHAMPIONSHIP SCENARIOS…Ford has the opportunity to win championships in the NASCAR Camping World Truck and NASCAR XFINITY Series this weekend.  In addition, Ford is contention to capture the NXS Manufacturer's title.
NASCAR CAMPING WORLD TRUCK SERIES…Tyler Reddick, driver of the No. 19 F-150 for Brad Keselowski Racing, is second in the series point standings and trails leader Erik Jones by 19 points going into Friday's Ford EcoBoost 200.  Ford has one series championship with that coming in 2000 courtesy of Greg Biffle at Roush Fenway Racing.
FORD NCWTS CHAMPIONS
2000 – Greg Biffle
NASCAR XFINITY SERIES…Chris Buescher has held the NASCAR XFINITY Series points lead for 23 consecutive weeks and he'll look to win his first series championship in Saturday's Ford EcoBoost 300.  Buescher has an 18-point lead over second-place Chase Elliott, 22 points over third-place Ty Dillon and 24 points over fourth-place Regan Smith.  Ford's last NXS driver champion was Ricky Stenhouse Jr. when he won the second of his back-to-back titles in 2012.  Overall, Ford has four NXS titles and all of them have been by drivers from Roush Fenway Racing.  In addition, Ford enters this weekend with a five-point lead over Chevrolet in the manufacturer's race.  This would mark Ford's third manufacturer's crown in the last five years.
FORD NXS CHAMPIONS
2002 – Greg Biffle
2007 – Carl Edwards
2011 – Ricky Stenhouse Jr.
2012 – Ricky Stenhouse Jr.
NASCAR SPRINT CUP SERIES
THE FIRST TIME…Ford won a NASCAR Sprint Cup Series race at Homestead-Miami Speedway coincided with the first year of Ford Championship Weekend as Kurt Busch won the inaugural Ford 400 from the pole in 2002.  The win completed a breakout season for Busch as that marked his fourth victory of the season and he did it by passing Ryan Newman with 10 laps to go.  Busch, who would later win the NASCAR Sprint Cup Series championship at HMS two years later, finished third in the final point standings.
THE LAST TIME…Ford captured the checkered flag was in 2010 as Carl Edwards won for the second time in three seasons.  Edwards, who first won the Ford 400 in 2008, dominated this time around as he led 190 of the 267 laps.  He took the lead from Kasey Kahne with 21 laps remaining and then cruised to a comfortable victory over second-place Jimmie Johnson, who won the season championship.  The win marked the second straight for Edwards, who won a week earlier in Phoenix.
IN BETWEEN…Jack Roush has had a great deal of success at Homestead-Miami Speedway, winning seven times with four different drivers (Kurt Busch, Greg Biffle, Matt Kenseth and Carl Edwards).  Biffle was unbeatable during a three-year stretch, winning in 2004, 2005 and 2006, which started a streak that saw Ford win five straight years (2004-2008).
FORD NASCAR SPRINT CUP SERIES WINNERS AT HOMESTEAD-MIAMI
2002 – Kurt Busch
2004 – Greg Biffle
2005 – Greg Biffle
2006 – Greg Biffle
2007 – Matt Kenseth
2008 – Carl Edwards
2010 – Carl Edwards