ST: Kyle Plott Passes Entire Field to Finish Second in UNOH Myrtle Beach 400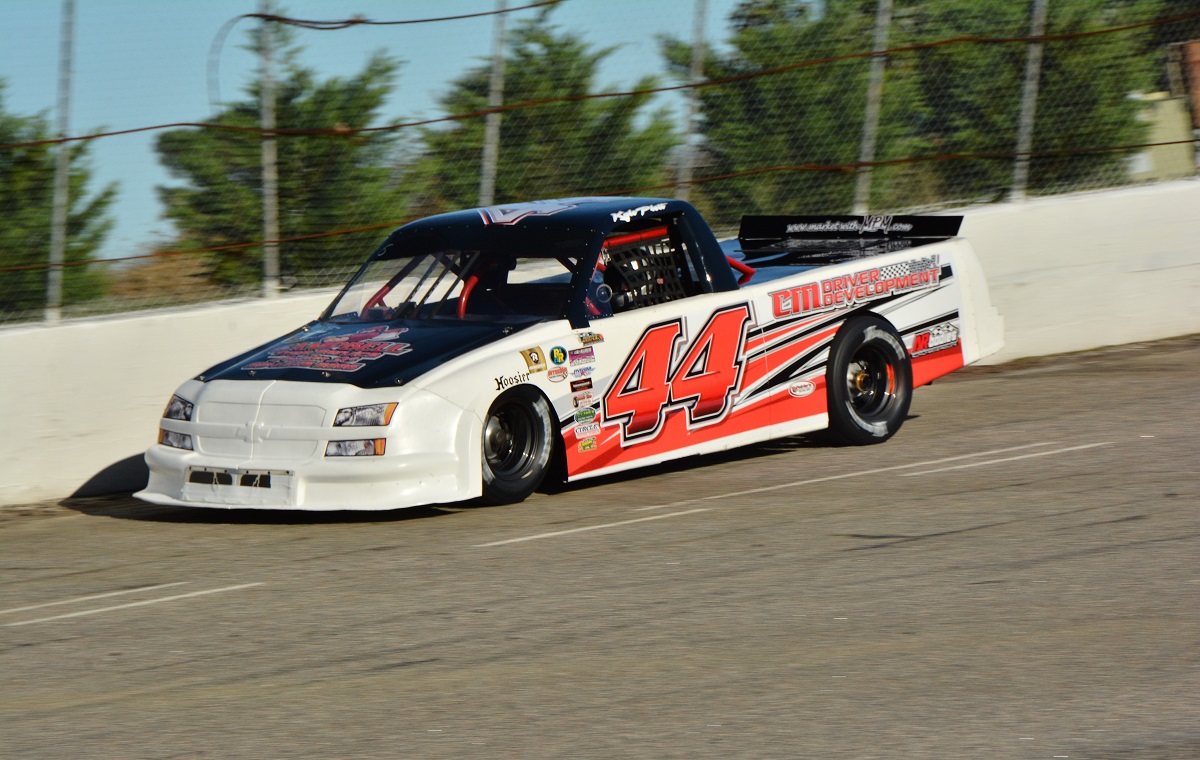 The opening weekend of the UNOH Myrtle Beach 400 featured a 100 lap feature event for the Southeast Super Truck Series. Marietta, Ga. driver, Kyle Plott, piloting the No. 44 CM Driver Development & Leasing /Campbell's Tree Service/CAT Recovery Services Chevrolet, turned in an impressive performance coming from the rear of the field to finish second in the event.
Plott qualified seventh at the .563-mile short track that sits just a few miles away from the popular tourist attraction, Myrtle Beach. The strategy heading into the event was conserving tires. Plott planned to take it easy for the first half of the race, let his competition burn their tires off on the tracks very abrasive surface, then make his move toward the front.
The 2014 Whelen All-American Series rookie of the year had another huge hurdle to overcome as well – he had to pit for fuel due to having a small fuel cell in his race truck. A task that usually equates to mid-pack finish at best in a 100 lap short track event.
This obstacle did not damper his spirits or the spirits of his experienced CM Driver Development & Leasing (CMDD) team. In fact, they used this as motivation.
Just before the start of the event, Plott commented that the needed fuel stop just meant he would have to try a little harder.
A Lap 25 caution provided the perfect opportunity for Plott to hit pit road. The CMDD crew went to work immediately and quickly sent the No. 44 back out to competition. Now, with only 75 laps remaining in the event, Plott had his work cut out for him. He had to pass over twenty race trucks while saving enough of his tires for the end.
Plott never wavered and methodically worked his way through the field passing trucks smoothly and without incident.
When the checkered flag fell, Plott crossed the line in fourth, but ended the night with an impressive second place finish after two trucks were disqualified in post-race technical inspection.
"As soon as we started the race we knew what we were going to do, we were going to start saving tires right from the get go. That's what we did last year at the MBS 400 and it worked out pretty good and that's what we did, we dropped all the way to the back and luckily enough a caution fell when we needed it to where we could come in a fuel up and go after the win and I slowly started picking them off and got up to fourth so, it was a good day for the CM Driver Development team and again I can't think these guys enough. They worked their tails off to get this car ready. We didn't know we were going to run this race until about a week before, so they definitely worked hard and I came up there and helped them, spent late nights in the shop and it was well worth it to come home fourth.", Plott said after the race before he was aware that two trucks would be disqualified.
Hear Kyle's post race interview here
Plott will be in action again November 21 at the Myrtle Beach Speedway for the UNOH Battle at the Beach driving a NASCAR Late Model for CM Driver Development & Leasing.
More about Kyle Plott:
Kyle is a 19-year old racer from Marietta, Ga that has already built an impressive resume that includes the rookie of the year title in the 2014 Whelen All-Amercan Series and winner of the 2011 "Big Money 100" Legends race at Charlotte Motor Speedway. He has accumulated over 300 wins in various divisions along with a total of 17 championships. If you are interested in partnering with Kyle or to schedule a personal appearance contact Turn 4 Promotions at info@turnfourpromotions.com Please include Kyle Plott in the subject line.
Media Contact: pr@turnfourpromotions.com