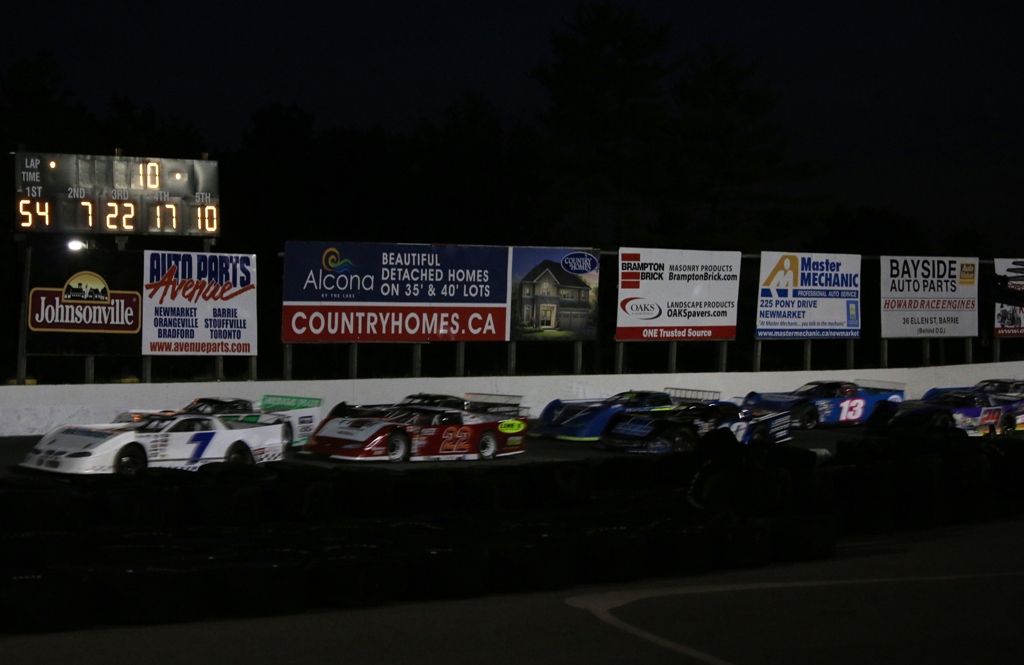 It goes without saying that each season at any track is memorable for it's own reasons as there's things that will always stand out in the mind of each driver, crew member, official and fan. Sometimes people will share the same moments, and sometimes people won't. Regardless, there are always reasons to remember a year of racing.
Earlier this month, four of those memorable moments were shared, which can be read by clicking here. Though with that in mind, here are some other moments that could be included.
Fan Submitted Memory: The crashes this season were ones to remember for sure, along with the close racing in all three divisions – Wally Wilson
As discussed in the first part of the memorable moments, there was top-notch competition across the board for OSCAAR in 2015. However, as Wilson points out, there was also some of the other spectrum – big, major wrecks. Just ask Shawn Chenoweth what happened at Sauble Speedway.
In the early laps at Sauble Speedway during the feature, there would be contact, which result in Chenoweth's super late going up into the catch fence before landing back down on the track on its wheel. Chenoweth was uninjured in the crash, but the car was completely destroyed, front to back.
TW Roberts Photos, the official photographer for Sauble Speedway, captured a stunning image of the crash.
Tyler Hawn's Rough Season
After finishing ninth in the standings last year on the heels of some strong runs, Tyler Hawn was looking to keep getting stronger, possibly breaking into the top-five this past season. Unfortunately, things didn't work out as planned as Hawn finished outside of the top-10 in points after missing a couple of races.
Things started off rough from the get-go for Hawn as he would blow the motor up during qualifying for the season opener at Sunset Speedway. He would make it back for the next event at Sunset Speedway, finishing a solid sixth. Hoping to carry the momentum forward, Hawn was having a strong run at Delaware Speedway when contact would result in heavy contact with the wall, resulting in heavy front and rear-end damage to his super late. As a result, he would miss five races making repairs to his ride.
Returning to the track for the final two events, things continued to unfortunately not go as planned. Mechanical issues derailed his return at Sunset Speedway in September, while a mid-race spin resulted in a 13th place finish at Peterborough Speedway.
Known as one of the most respected drivers on the tour, as evident by winning the Most Sportsmen Driver Award last season, hopefully Hawn's luck turns around for 2016.
Todd Campbell's Surprise Podium
Sometimes when it comes to the end of a race, you get a surprise on the podium with a driver that nobody had picked out to be there. That is something that happened in the season opener at Sunset Speedway.
A lot of people had pinned names like Kevin Cornelius, Glenn Watson, J.R. Fitzpatrick, Kelly Balson, Derrick Tiemersma, etc to be the top-three drivers at the end of the 50 laps. However, while two of those names were certainly part of the picture, the third wasn't an expected driver as Todd Campbell took the third spot.
A veteran of the tour, Campbell is someone that quietly runs his race as hard as he can, sneaking in there when you're least expecting it. While other drivers found themselves in incidents or having mechanical problems, Campbell quietly ran his race and at the end, put himself in picture to be there.
The solid consistency continued over the rest of the season as Campbell finished no worse than 10th in his five starts throughout the season. If you're looking to cheer for an underdog, he's someone to keep an eye on.
Beyond the moments thus far, there are certainly many more that I could've talked about. So please do comment with your favourite memorable moments from the season. What is something that perhaps has slipped my mind that you can't seem to forget?