ARCA: Thomas Praytor; Team DK-LOK Collects Hardware at ARCA Banquet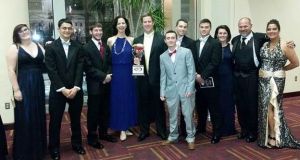 The Performance Racing Industry Show in Indianapolis was the perfect warm up act for the annual ARCA Series presented by Menards Championship Banquet on Saturday night.
The PRI Show is over a million square feet and offers something for every racer from local Saturday night to Sprint Cup. After days of shopping for race parts teams were looking forward to collecting some hardware along with points fund checks to help pay for them.
In addition to parts, PRI is as close as you'll get to a racing convention in the United States and the night life can be as harrowing as being three wide at Salem Speedway.
"We had a great show, most of our suppliers were at the show and we were able to see them face to face which is really hard to do during the race season. We have so many people that have helped and are still helping it's hard to make an aisle without stopping to catch up," offered Thomas "Moose" Praytor. "It's amazing how many of our late model suppliers are still keeping up with us, it really makes you feel good that folks still care even when you are not buying from them anymore."
After three days on the trade show floor the bulk of the DK-LOK Team including crew chief Adam Lowe and the majority of the UNOH Over The Wall Gang traded in their shopping clothes for formal wear and the ARCA Championship Banquet.
After a video introduction the Moose took to the banquet stage thanking DK-LOK and his team, turning his humor towards roasting some ARCA officials and car owners including his own. To see a rough video of the speech click on the link below:
Thomas Praytor ARCA Championship Video
"We were down and out so many time this year it just never would seem like the bad luck would stop. Our whole team kept digging and not only did we finish the year, our DK-LOK was strong at the end."
The ARCA banquet closes the books on the 2015 ARCA Season.