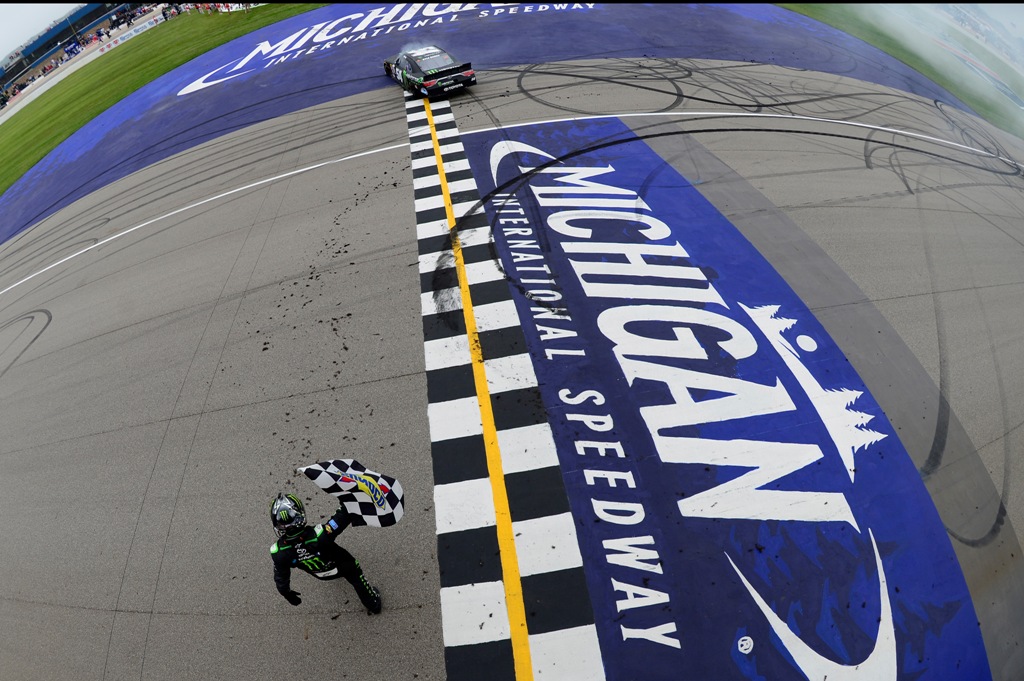 The NASCAR XFINITY Series heads to the Irish Hills of Michigan after its first trip to Pocono Raceway was cut short by rain. XFINITY Series drivers are familiar with Michigan International Speedway, however, and will be on track for the first of two practice sessions on Friday.
Kyle Larson was the winner at Pocono, but he won't be on track at Michigan to defend his win. Larson and Justin Marks have been splitting time in Chip Ganassi's No. 42 car, and this weekend is Marks' turn behind the wheel. Marks has run only five races this year, and in the five starts, he's yet to score a top-10 finish. In his first race at Las Vegas, Marks crashed out and finished 34th. At Dover a few weeks ago, he wrecked in his heat race and was unable to start the main. As a result, he was credited with a last place finish. In his other three races, he scored top-15s in each. Although Marks has never competed at MIS in the XFINITY Series, he has five starts at the track to his credit between ARCA and Camping World Truck Series competition where he netted two top-10s, including a fourth. His car went to victory lane at the Tricky Triangle, but fans shouldn't expect the same at Michigan.
It's no doubt that Joe Gibbs Racing has been the dominating team in 2016. Their three cars have been the best in qualifying all season long, and they've backed it up in the races, too. JGR cars have won seven of the 12 races this season. Taking home four of the seven trophies for Gibbs is the same guy who won at Michigan last year – Kyle Busch. Busch only led 27 of the 125 laps, but it was good enough to win his second XFINITY Series race at the two-mile track. Based on the season he's having where he's won in four of his seven starts, it would be no surprise if Busch pulled his No. 18 NOS Energy Toyota into victory lane again.
Erik Jones has already locked up a Chase spot with two wins this year, but a win in the Irish Hills would be big for the Michigan native. Jones is the hometown kid that wants to perform in front of his hometown crowd with a win on Saturday. He ran the Truck race at Michigan last August, but was only able to muster up a third-place finish behind his boss, Kyle Busch and Ryan Blaney.
The third JGR driver is still looking for that elusive first win. Daniel Suarez leads the points in front of Elliott Sadler, but has yet to win in one of NASCAR's top-three series despite making more than 60 starts. If Suarez wants to win on Saturday, he'll have to beat his two teammates, which has proven to be no easy task.
If anybody is going to beat Gibbs in the XFINITY race, it might be best to look to the 2014 winner of this race, Paul Menard. Menard is back in the race to try and steal a win from the Gibbs brigade and score only his fourth career win in the series. Menard was aided to the win in 2014 when leader Joey Logano cut down a tire with just five laps to go. Menard was in the catbird seat, and flew to the win. The win was Menard's first since 2006, and now that he has the taste of Michigan victory in his mouth, he'll be hungry to do it again.
As mentioned previously, Joey Logano was on his way to winning this race in 2014, but after cutting a tire down late in the race, he was forced to settle for a disappointing 16th. 'Disappointing' could also be a word used to describe Team Penske's XFINITY Series season thus far. Penske is a team that's used to winning, but a new crew chief in Brian Wilson, and a slow start to the year has alluded the team from victory lane. The No. 22 car has come alive in recent weeks with Logano behind the wheel. The team nearly won at Charlotte before Denny Hamlin passed Logano for the win on the final lap, and they finished inside the top-five at the shortened Pocono race, so a resurgence could be on the way for Penske in The Captain's backyard on Saturday.
Quite possibly the biggest threat to JGR at Michigan is a part-time driver out of the JR Motorsports stable. Alex Bowman made it clear at Dover that he will do whatever it takes to get to victory lane, and although he was disappointed with a third-place finish there and a 10th at Pocono, the Arizona driver has the speed and the car to win on Saturday.
Another of Bowman's teammates will be one to watch for the win. Elliott Sadler currently positions himself second in points, while also owning a win from a thrilling finish at Talladega. Last season, Sadler was with Roush-Fenway Racing. It was a lackluster season, to say the least. The 11-time XFINITY Series winner only posted four top-five finishes, but each of them came at big, fast tracks. Sadler finished fifth at MIS last season in his first top-five of the season. After MIS, he placed in the top-five at Daytona, Kentucky and Indianapolis. If the fast tracks are where Sadler runs the best, Michigan should be a piece of cake for him.
It's hard to mention Elliott Sadler without mentioning Brennan Poole in the same breath. Poole was involved in the controversial finish at Talladega that resulted in Sadler getting the win, and Poole being scored third. It was a career-best finish for the 25-year-old, but Poole was looking for more. Since Talladega, Poole his finished no worse than 12th, and has been raking in the strong results. Though he might not be able to beat Cup guys like Busch, Menard and Logano on pure speed, he could employ a pit strategy to beat them, much like how he won the ARCA race at MIS in 2013.