Larson Wins XFINITY Race at Texas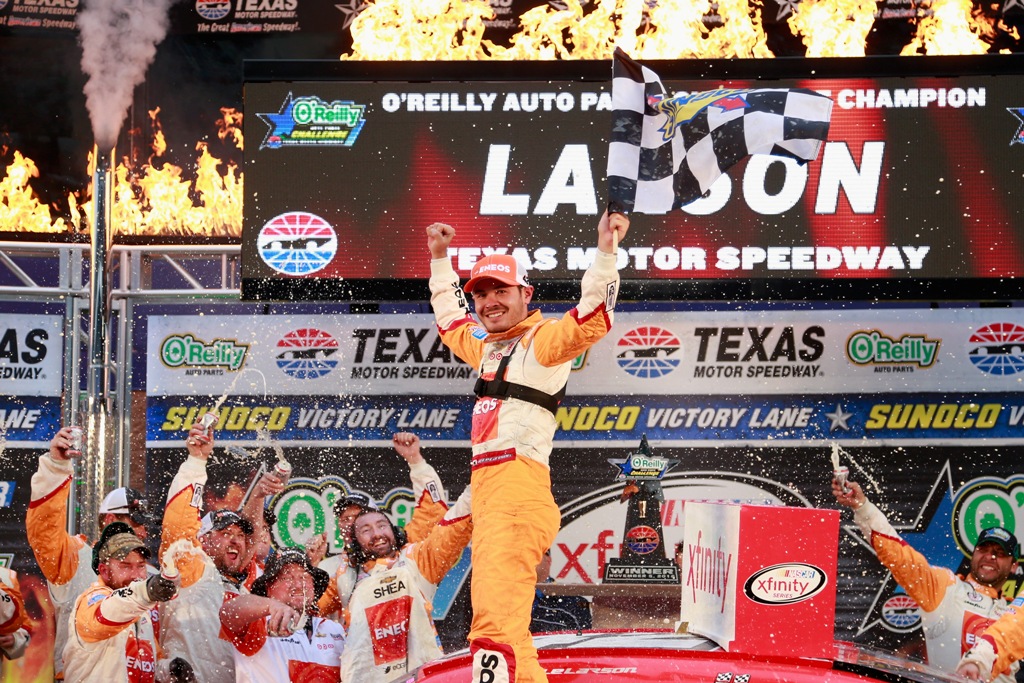 Brad Keselowski looked to be on his way to his first win of the NASCAR XFINITY Series season on Saturday, but Kyle Larson had other plans.
Keselowski led 145 of 200 laps, but a caution with just over 30 laps to go for potential fluid on the track changed things for the No. 22 team.
When the race restarted with 30 laps to go, Kyle Larson, who restarted in second, got a huge push from Elliott Sadler behind him. When Larson got along side the No. 22, he used the air to side-draft Keselowski, and take control of the lead. Larson wouldn't look back, and led the final 30 laps of the race to score his fifth career win.
"Just a fun race," Larson said in victory lane. "Brad (Keselowski) was definitely better than I was, I thought. Especially because he didn't have to run the top. It seemed like myself, (Kevin) Harvick, we had to run the top to go really fast, and he could go around everywhere."
Keselowski made several attempts at the end of the race to chase down Larson's No. 42 Chevy, but was unable to get the momentum rolling off the corners, while Larson held on running the high lane. Keselowski finished second, which was his best finish of the season.
Harvick finished third followed by Joe Gibbs Racing Chase drivers Erik Jones and Daniel Suarez, who ended up in the top-five despite concerns about an alternator issue.
"Good solid day. That's what we needed to do," Jones said.
Elliott Sadler finished sixth followed by Austin Dillon, Brennan Poole, Matt Tifft and Justin Allgaier.
Remaining Chase drivers Darrell Wallace, Jr., Ryan Reed, Blake Koch and Brendan Gaughan each finished 11th, 12th, 14th and 16th.
Suarez and Sadler each head into Phoenix International Raceway with solid 17- and 16-point cushions over fifth in points, while Jones has a seven point advantage, and Koch holds the final Chase spot by only one point over Allgaier in fifth.