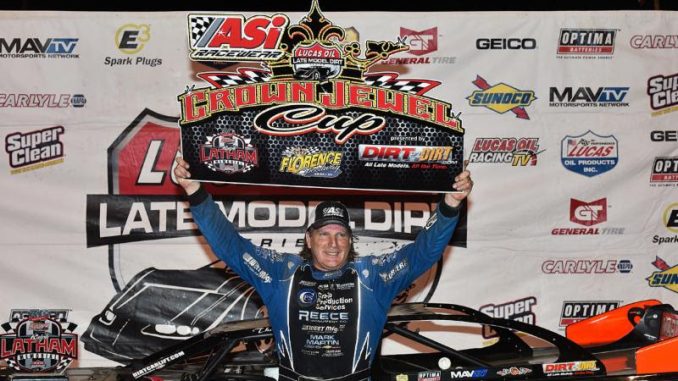 FOR IMMEDIATE RELEASE:
WAYCROSS, GA (November 11, 2016) – Scott Bloomquist of Mooresburg, TN, who recently claimed his third-career National Championship, also captured his third consecutive ASi Racewear Crown Jewel Cup – Presented by DirtonDirt.com.
"It's been a great year. I'd like to thank ASi Racewear and DirtonDirt.com for giving back to our sport. Their support of the
Lucas
Oil
Late Model
Dirt
Series, with the added cash bonus, adds to the excitement for drivers and fans alike that follow the series," stated Bloomquist.
The Crown Jewel Cup program awarded points to drivers at the eleven crown jewel events, within the series schedule, that paid $20,000 or more to the winner. Bloomquist will receive a $10,000 bonus at the championship awards banquet. Tim McCreadie and Dennis Erb Jr., who completed the top three in the Crown Jewel Cup, will also receive cash awards.
ASi Racewear is the best choice for premium quality, full color, vibrant, screen printing and embroidery. For more information on ASi Racewear, visit their website at:
www.asiwear.com
.
DirtonDirt.com is
dirt
late model racing's true home on the Internet, as a comprehensive multimedia resource that features broadcast news quality video reports, amazing action photography and informative stories. For additional information, visit their website at:
www.dirtondirt.com
.
2016 Crown Jewel Cup Events:
April 15th-16th
 – Bad Boy 98 – Batesville Motor Speedway – $20,000
May 13th-14th
 – Buckeye Nationals – Atomic Speedway – $50,000
May 28th
 – 24th Annual
Lucas
Oil
Show-Me 100 –
Lucas
Oil
Speedway – $30,000
July 21st-23rd
 – 6th Annual Silver Dollar Nationals – I-80 Speedway- $40,000
August 11th – 30th
Annual Ralph Latham Memorial – Florence Speedway – $30,000
August 12th-13th
 – 34th Annual Sunoco North/South 100 – Florence Speedway – $50,000
September 4th
 – 48th Annual Hillbilly Hundred – Tyler County Speedway – $25,000
September 17th
 – 13th Annual Knoxville LM Nationals – Knoxville Raceway – $40,000
September 23rd-24th
 – 37th Annual Jackson 100 – Brownstown Speedway – $20,000
October 7th-8th
 – 28th Annual Pittsburgher 100 – Pittsburgh's PA Motor Speedway – $20,000
October 14th-15th – 36th Annual
Dirt
Track World Championship – Portsmouth Raceway Park – $100,000
ASi Racewear Crown Jewel Cup – Presented by DirtonDirt.com FINAL Standings:
| | | | | | |
| --- | --- | --- | --- | --- | --- |
| POS | CAR # | DRIVER NAME | HOMETOWN | POINTS | TRAIL BY |
| 1 | 0 | Scott Bloomquist | Mooresburg, TN | 2550 | |
| 2 | 39 | Tim McCreadie | Watertown, NY | 2105 | -445 |
| 3 | 28e | Dennis Erb, Jr. | Carpentersville, IL | 2070 | -480 |
| 4 | 5 | Don O'Neal | Martinsville, IN | 2060 | -490 |
| 5 | 6 | Jonathan Davenport | Mount Airy, NC | 2030 | -520 |
| 6 | 1 | Earl Pearson Jr. | Jacksonville, FL | 1945 | -605 |
| 7 | B5 | Brandon Sheppard | New Berlin, IL | 1935 | -615 |
| 8 | 15L | Darrell Lanigan | Union, KY | 1930 | -620 |
| 9 | 20 | Jimmy Owens | Newport, TN | 1815 | -735 |
| 10 | 15F | Steve Francis | Bowling Green, KY | 1745 | -805 |
| 11 | 75 | Colton Flinner | Allison Park, PA | 1580 | -970 |
| 12 | 777 | Jared Landers | Batesville, AR | 1465 | -1085 |