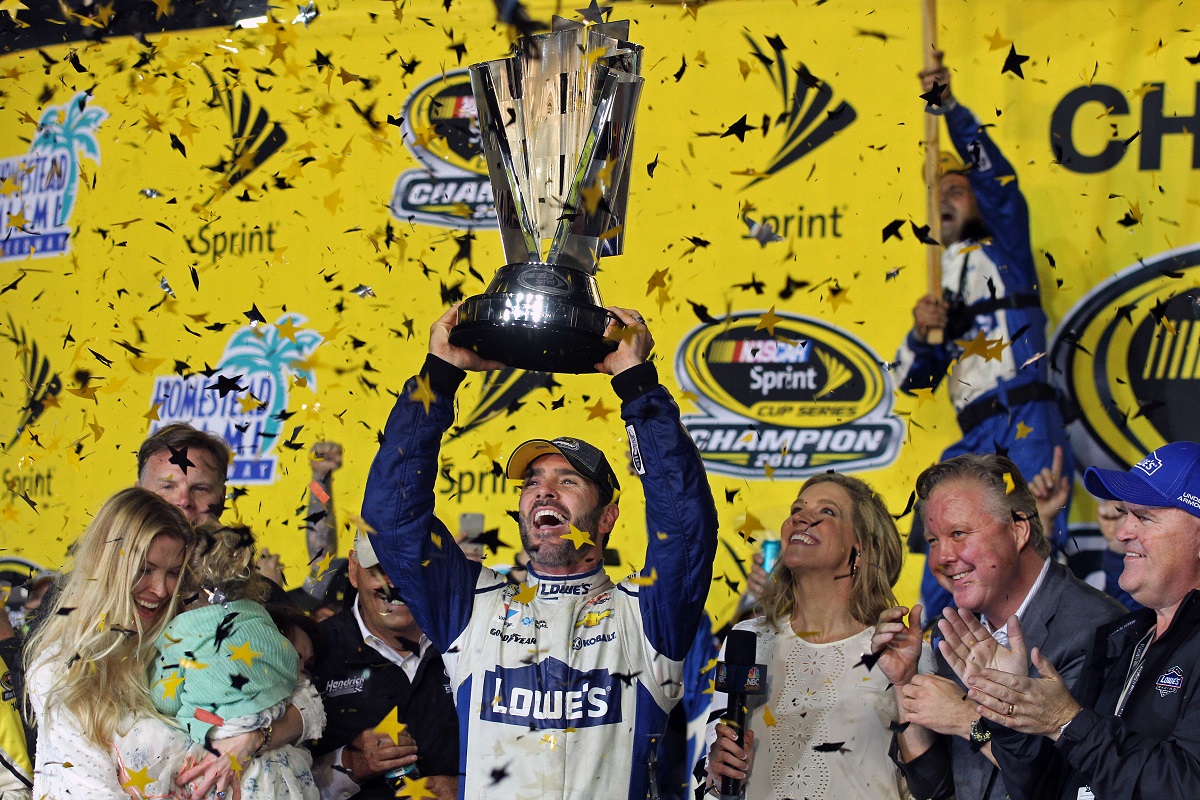 On November 20, 2016 NASCAR history was made as Jimmie Johnson claimed his seventh Sprint Cup series championship, tying Richard Petty and Dale Earnhardt Sr. Before this historic feat can even be celebrated many detractors are already arguing that Johnson's championships are not as good as those of Petty and Earnhardt. I completely disagree. Johnson has captured seven Sprint Cup Championships in an era of closer competition, stricter rules, and fewer starts compared to Petty and Earnhardt.
Richard Petty earned his championships under six different points systems. In Petty's era, there were often only a small number of competitive teams racing weekly.
Petty earned his first championship in 1964, in which he competed in 61 of 62 races. Only one other driver competed in 61 events that season, the others were not even close. His 1967 championship season had eleven different winners in 49 races, with Petty winning 27 races.
Earnhardt's championships also came in a different era of the sport. During Earnhardt's era, the racing was different; the cars were different; the safety was better. However, similar to the Petty era, many of those seasons consisted of cars that could still finish in the top-three, despite being several laps down. During Earnhardt's career, most seasons consisted of 30 races, with the most being 34.
Johnson has won all seven championships in the modern era. The competition is much closer. In the 2006 season, the start of Johnson's five consecutive titles, the majority of the races had over half the field on the lead lap and a margin of victory less than one second.  Regardless if you are a Johnson fan or not, you cannot deny that winning seven championships in any era of our sport, or any sport for that matter, is something that takes a high degree of skill.
NASCAR has undergone many changes over the years, some have been positive and some have been negative, but the argument that today's racing is less competitive than in earlier eras is not valid.  Petty ran 1,185 races in his career. Earnhardt and Johnson combined have 1,219 starts. Therefore, in less total races, more competitive fields, and stricter rules, it's harder to argue the point that Johnson had an easier route to his seven championships.
Before you put an asterisk beside Johnson's name in the record books because you feel his championships are not as good, truly think about what it took to reach this monumental milestone. Johnson, Petty, and Earnhardt are the only three drivers in NASCAR history to win seven championships, but Johnson accomplished this in an era of closer competition, stricter rules, and less scheduled races per season. Again, regardless of which side of the argument you side on, you must respect the level of talent it takes to reach that level of perfection.
**The opinions expressed on this site are not necessarily those of the publisher, management or staff. All comments other than website related problems need to be directed to the author. (c)OnPitRoad.com. **