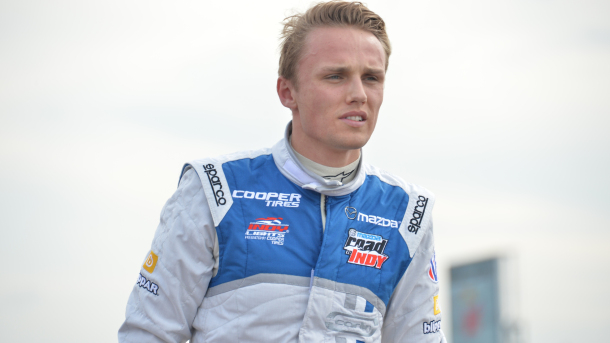 Chip Ganassi Racing revealed the last driver in the four car IndyCar stable. Max Chilton will be returning and will continue to pilot the No.8 Gallagher livery. With him he brought full sponsorship from Arthur J. Gallagher & Co. which is an international insurance brokerage as well as risk management services firm.
The Reigate, England native finished 19th in points in the 2016 IndyCar Championship standings which was also his rookie year in IndyCar after he made 35 race starts in Formula One from 2013-2014. Chilton recorded his best results on short ovals during his Verizon IndyCar debut and had his best finish of seventh at Phoenix International Raceway and had his best qualification at Iowa Speedway.
"I think we were able to build a solid foundation in my rookie year in the Verizon IndyCar Series with the support of Gallagher and the team," Chilton said. "The learning curve is very steep here and the field is separated by just a few seconds from top to bottom with really talented teams and drivers, which makes the competition incredibly close. Having a year of experience now to adapt to the car and learn all of the courses on the schedule is huge for us.
"Chip and Gallagher give us everything we need to be competitive and go out to contend for wins, so I'm optimistic for the direction of the No. 8 Gallagher team heading into next season."
Scott Dixon, Tony Kanaan and Charlie Kimball will also return to Chip Ganassi Racing and will be Chilton's teammates. The team will be switching from Chevrolet engines and aero kits to Honda for the 2017 season.
"We are pleased to renew our partnership with motorsports leader Chip Ganassi Racing in the Verizon IndyCar Series and to build on last year's sponsorship momentum as we deepen awareness of our company and our brand," said Deborah Hecht, vice president of global brand marketing and sponsorship for Arthur J. Gallagher & Co. "We look forward to a very successful and winning year for both Chip Ganassi Racing and Gallagher No. 8 driver Max Chilton."
Gallagher is based in Itasca, Ill and has operations in over 33 different countries.  In the companies first year with CGR, they held a few initiatives like hosting customers during every 2016 even hoping to create new business as well as implementing social media campaigns to help manage risk.
"Gallagher's first season with our team and Max allowed us to collectively work on a program that delivered results for them in their motor racing debut," said Steve Lauletta, president of Chip Ganassi Racing. "We're excited to help them continue the program, reach their business goals off the track and expand their brand awareness through Max and the team. Having them come back for 2017 is a great sign for building the relationship into the future."