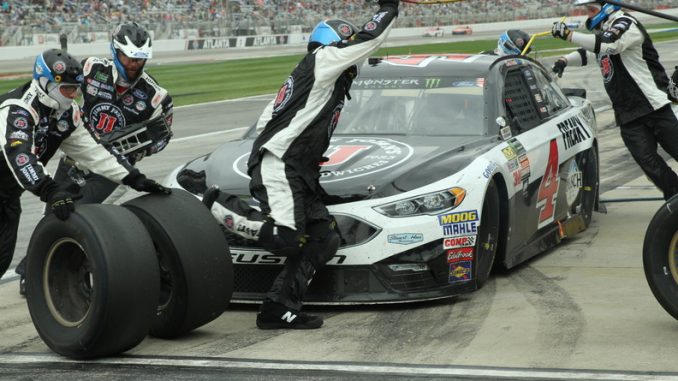 Kevin Harvick turned in another impressive performance Sunday in the Folds of Honor QuikTrip 500 at Atlanta Motor Speedway.
Harvick led 4 times for a total of 292 laps, won the first two stages, and appeared to be on his way to a sure victory. Late race pit road problems, however, again caused the No. 4 team to fall from the lead and allowed victory to slip through their hands.
On several occasions, last season, Harvick was very vocal about his pit crew's performance, or lack thereof. This pit road incident, however, could not be blamed on the pit crew. The crew performed flawlessly all day churning out blistering fast stops and maintaining position for their driver. Today's issue was a pit road speeding violation with just 14 laps to go. The driver has responsibility for maintaining proper pit road speed. The No. 4 team seems to have great chemistry this year. So, there did not seem to be anyone placing blame. They win as a team and lose as a team. It is this type of chemistry that wins championships.
"We were too fast on pit road apparently. I really hate it for everybody on this Jimmy Johns Ford. They put a great car under me and did everything I thought we needed to do. I knew I needed to be close to pit road speed because we were having trouble getting out of the box, but I didn't think we were pushing it that close, but it gets to bouncing there and you can't really tell where you're at and that's why there's so many pit road speeding penalties here because you have to run it so close and … I was too fast," said a disappointed Harvick to Fox Sports after the race.
The penalty for the infraction relegated Harvick to start near the rear of the field placing 35 cars between him and the lead.
Harvick made an impressive run at the drop of the green, but there was simply not enough time and too much real estate to make up. He finished the day with a ninth-place finish, but did manage to capture the points lead in the process thanks to his two stage wins.
There seems to be an unfortunate trend of leading the most laps, but not making it to victory lane in the works for Harvick. But, if he keeps putting himself in these positions and running strong all day, the wins will come for sure.
Early last season when Stewart-Haas Racing announced it would be switching manufacturers from Chevy to Ford in the 2017 season, the naysayers immediately came out of the woodworks. Many fans and some "experts" believed the team would struggle for much of the season until it adjusted to the Ford Fusion.
Based on the team's performance thus far this season, when they get "adjusted" the competition will be in trouble.