Chastain Gains Momentum Heading to Dover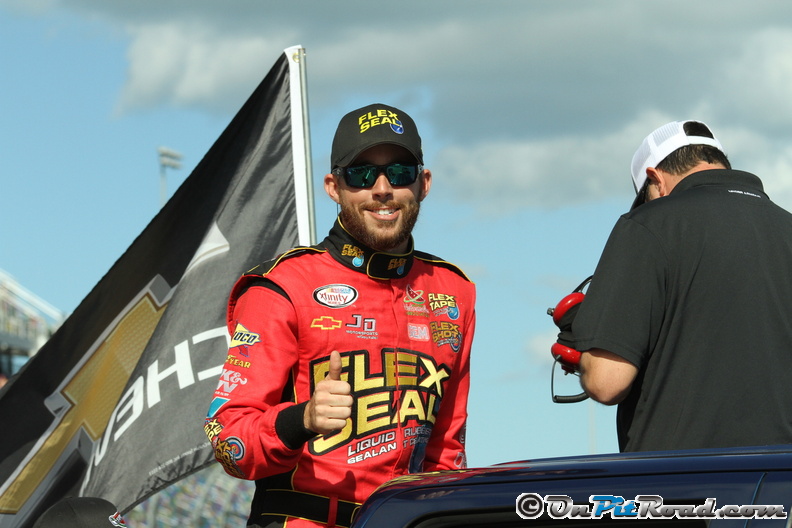 A solid weekend at Charlotte Motor Speedway has Ross Chastain heading into Dover International Speedway with some much needed momentum. Chastain is preparing to race triple duty across the NASCAR Camping World Truck Series, XFINITY Series and the Monster Energy NASCAR Cup Series where he will make his series debut.
Chastain started the race in 27th and consistently moved through the field. He would finish with the lead pack and on the lead lap for the third time of the season after having to dodge some accidents and battle with challenging track conditions. Despite all this, he was able to keep everything within arms reach and was able to pull off a strong day. The 15th-place finish was his best at Charlotte, and moved him up two positions in the points to 20th, now 210 points off of points leader Elliott Sadler.
"A great day for us today," Chastain said. "The Flex Seal Chevrolet was in tip-top shape, and the guys did a wonderful job in the pits."
Chastain plans on making his Monster Energy NASCAR Cup Series debut next weekend at the Dover International Speedway driving the No. 15 Premium Motorsports Toyota Camry. On top of that first start, Chastain will race two more times at the Monster Mile running triple duty. He will start the weekend competing in the NASCAR Camping World Truck Series Bar Harbor 200 behind the wheel of the No. 66 for Bolen Motorsports. On Saturday, Chastain will continue to chase a spot in the playoffs behind the wheel of the No. 4 for JD Motorsports in the OneMain Financial 200.
"This wasn't something I was exactly searching for, but it presented itself and I'm ready," Chastain said of the Cup opportunity. "I want to thank Johnny Davis for putting it all together. He has helped me so much in this sport and now is helping me get into the Cup series, so I can't thank him enough. My goal Sunday is to finish all the laps and minimize mistakes. Anything else will be a bonus. I'm not looking at it as an audition by any means, but it's a chance for me to get some great experience."