Dillon Takes Grandfather's No. 3 to Victory Lane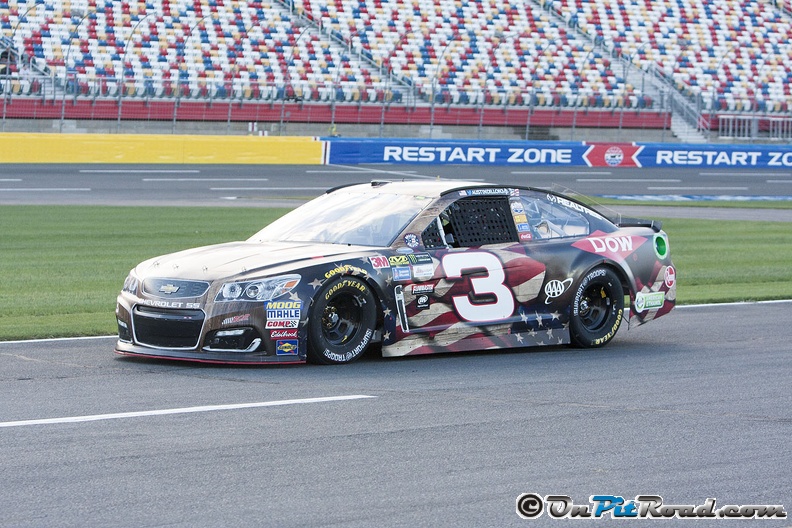 Austin Dillon, driver of the No. 3 Richard Childress Racing Chevrolet, scored his first victory on Sunday on the Coca-Cola 600 at Charlotte Motor Speedway. That is a great story. Grandson of a NASCAR legend and son of a former racer, reaches victory lane in the premier series of stock car racing. This should be a celebration of the of accomplishment for a young driver who has worked his way up the ranks and now finds himself with a victory among the NASCAR elite.
Unfortunately, there seem to be many who want to somehow contribute this win to Dale Earnhardt Sr. Indicating that somehow Earnhardt made it possible for Dillon to win with the number he made famous in some mystical or spiritual way.
While it's great to remember a legendary driver such as Earnhardt and recall the many victories and championships he won driving a car with the No. 3 emblazoned on the door, it is somewhat unfair to Dillon. One must remember that before the No. 3 was "Dale's number", it belonged to Richard Childress, Dillon's grandfather.
By carrying the No. 3 to victory lane in NASCAR's top series, Dillon is carrying on a family tradition that dates back to the late 60's. Childress began his career in the No. 13 at Talladega in 1969. He then moved to the No. 96 for several years. Childress settled on the No. 3 and drove it from 1976 to 1981 as an owner/driver before stepping out of the driver's seat to become just an owner. Childress made 285 starts in the Cup series, with 172 of those starts in the No. 3. (It should be noted that Childress made his final start in the No. 41 driving for Junior Johnson at Riverside.)
It's no secret that Earnhardt made the No. 3 famous. It's also no secret that Childress loved Earnhardt and would never do anything to take away from the fact that everyone correlates the No. 3 with the Intimidator. However, one cannot help but wonder, by attributing Dillon's win to Earnhardt, are we not diminishing a special moment in the relationship between a grandfather and grandson?
It is a replay of a few years ago when it was announced that Dillon would carry the No. 3 on his car in the Cup series. Fans were outraged. "How could they do that?" "They need to retire that number!" "There will never be another Dale Earnhardt Sr!"
We took the spotlight away from what Dillon was doing and bombarded everyone with what Earnhardt did. We diminished this young driver's accomplishments then, and we are doing it again now.
The stories should be about how Dillon drove his grandfather's number to victory lane. Period. What a great family tradition story they have written. Let's talk about that.
**The opinions expressed on this site are not necessarily those of the publisher, management or staff. All comments other than website related problems need to be directed to the author. (c)OnPitRoad.com. **