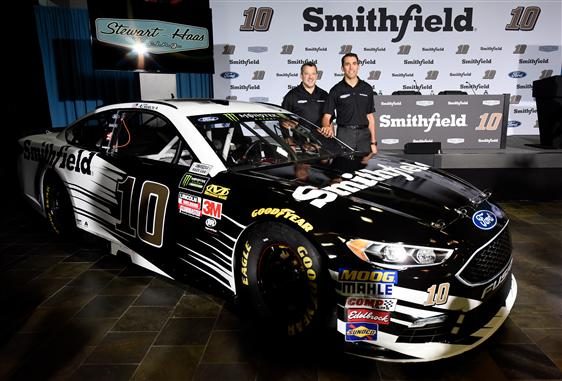 After months of rumors swirling that Aric Almirola would take over the No. 10 Smithfield Ford in 2018, the rumors were finally made official today. Stewart-Haas Racing announced the 33-year-old will replace Danica Patrick next years.
Rumors of Almirola joining SHR have circulated for months, and even before the Florida driver fractured his back in a horrifying crash at Kansas Speedway in May. Now, all the rumors are put to rest.
"I've known Aric since 2004 and have always been impressed with him on the racetrack," said Tony Stewart, who co-owns Stewart-Haas Racing with Haas Automation founder Gene Haas. "I've raced with him and seen him mature into a really good racecar driver. He can compete for wins here at Stewart-Haas Racing and help our other drivers compete for wins. He's an excellent fit for this team and for Smithfield."
Almirola, who has driven the iconic No. 43 for Richard Petty Motorsports since 2014, joins the team after having scored one Monster Energy NASCAR Cup Series win at Daytona International Speedway in his first full-time year driving the No. 43. Almirola has also won two NASCAR XFINITY Series races since 2016, including at Talladega Superspeedway this year.
"This is the opportunity every racer wants," Almirola said. "Stewart-Haas Racing is an experienced organization with a lot of depth, great technical support from Ford, and staffed with racers from top to bottom. They lean on each other, challenge each other and make each other better. I'm really looking forward to being a part of that.
"I've known Tony Stewart since our time together at Joe Gibbs Racing. I know what he expects and he knows my commitment. I can't thank him and Smithfield enough for believing in me and providing this opportunity."