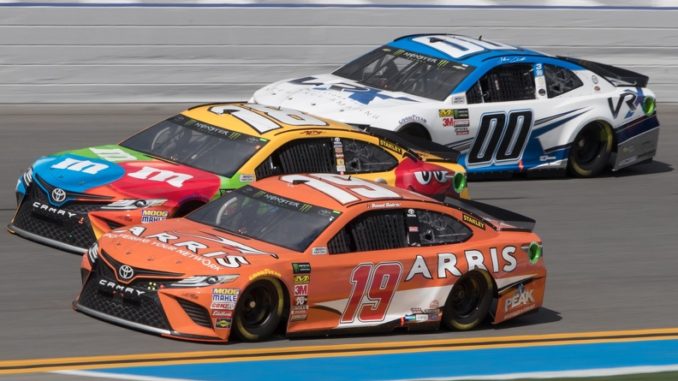 NASCAR has amended the rules package for the Coke Zero 400 at Daytona International Speedway set for Saturday night July 7th. While rumors run rampant about the new aero package being ran at up to three races in 2018 we do know that Daytona is going to have a slight modification to the rules for their upcoming event.
The plate size will remain unchanged from the Daytona 500, at 56/64ths but the width of the rear spoiler will increase from 53 inches to 58 inches. This is in an effort to increase drag and downforce while also increasing the effect of the draft.
The 2018 Daytona 500 had several multi-car accidents with many drivers complaining of ill-handling vehicles. There were 24 lead changes in the event among 14 drivers with Austin Dillon driving the No. 3 Richard Childress Racing Dow Chevrolet to Victory Lane after a last lap pass of Aric Almirola that saw contact between the two send Almirola hard into the outside wall.
The green flag for the 2018 Coke Zero 400 is set for 7:19 p.m. on Saturday night, July 7th with television coverage provided by NBC and radio coverage on MRN. Ricky Stenhouse, Jr. is the defending champion.