What NASCAR Drivers May be Moving in 2019?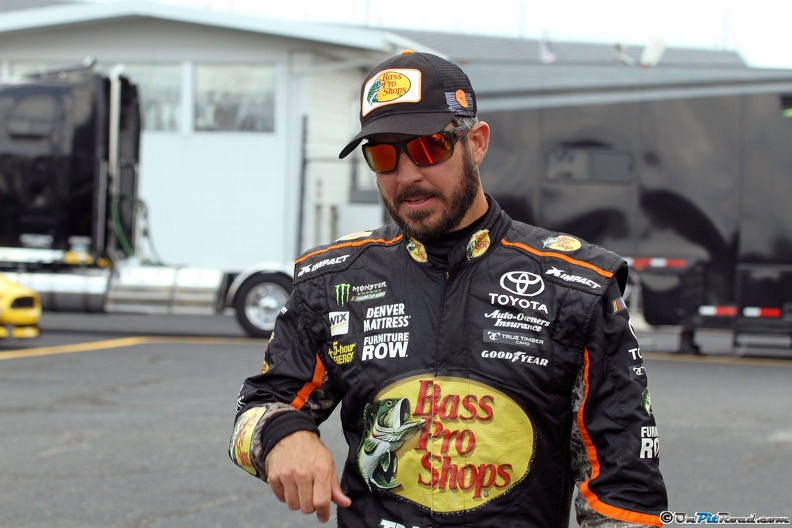 As we are over halfway through the 2018 NASCAR season I want to look forward to the 2019 campaign. For the most part, the past few years have had very little big moves in the sport of NASCAR racing. In the past, we used to get all kinds of juicy rumors about this driver maybe going here and that driver going there but for one reason or another that talk just isn't as prevalent as it used to be. I'm going to attempt to put some of the moving pieces together and construct some of the possible scenarios in 2019. This fall could lead to a real "Silly Season" before all things are said and done.
There are several drivers who are rumored or known to be locked into their contracts at least through the 2019 season so those drivers will obviously not be discussed. That list includes:
#2 Brad Keselowski
#3 Austin Dillon
#4 Kevin Harvick
#9 Chase Elliott
#10 Aric Almirola
#11 Denny Hamlin
#12 Ryan Blaney
#17 Ricky Stenhouse, Jr.
#18 Kyle Busch
#20 Erik Jones
#21 Paul Menard
#22 Joey Logano
#24 William Byron
#37 Chris Buescher
#43 Bubba Wallace
#47 A.J. Allmendinger
#48 Jimmie Johnson
#88 Alex Bowman
Now, I'll examine the drivers whose status may be a little more up in the air and go over them one-by-one. After a brief overview, I will throw out my .02 for what it's worth on what I think the 2019 driver/team rosters "might" look like.
#1 Jamie McMurray – McMurray currently sits 22nd in the 2018 point standings and has three top-10's and only one top-five finish. He is virtually out of the running for the playoffs unless he wins one of the next six races. His last victory came at Talladega in 2013 and he is 42 years old. It wouldn't be a huge stretch to think Ganassi could look elsewhere for a driver of the No. 1 Chevrolet.
#6 Trevor Bayne/Matt Kenseth – Bayne has already been demoted to a part-time driver in the Roush-Fenway Ford, being replaced for a portion of the 2018 races by Matt Kenseth. In Bayne's 14 races this year he has a best finish of 12th in Texas. His last three efforts of Sonoma, Chicago, and Daytona placed him 27th, 26th, and 20th respectively. Kenseth, in the past two races has finished 19th and 15th after a solid 13th place run at Pocono in June.
#13 Ty Dillon – Dillon, driving the Germain Racing Chevy, had a solid 6th place effort at Daytona in July but that's the lone spark of his 2018 campaign. On non-plate tracks his best effort is a 13th at Texas. He is coming off of a 29th place run at Kentucky and a 13th place effort at New Hampshire.
#14 Clint Bowyer – Bowyer, in his second year at SHR, has really turned up the wick this season. Bowyer has two wins and six top-five finishes so far this season. His teammate Kevin Harvick has been remarkable, winning six races but Bowyer has ran strong all season.
#19 Daniel Suarez – Here is a very interesting one. Suarez, who was hotshotted to Cup after Carl Edwards abrupt retirement prior to the 2018 season, has struggled in 2018. During his 2017 rookie year he had 12 top-10 finishes and looked to bust loose in 2018. However, things haven't went quite as planned this season and he sits 20th in the standings and hasn't had a top-10 run since Dover in May. His past six races he's finished 30th, 15th, 11th, 35th, 15th, and 22nd. Although Suarez is only in his second year at JGR there is likely some pressure to turn the tides and have stronger runs down the stretch.
#31 Ryan Newman – Newman's status at RCR has been up for debate several times over the past couple of years. Newman has been notorious for making the best out of bad situations and gaining all of the points he can to make the playoffs over the past several seasons. This year has been a bit tougher for Newman who has crashed out of three events so far in 2018. With his back in the corner and currently on the outside of the playoff picture, he needs to put together some solid runs over these next few races to climb back into contention to make the playoffs. With a great sixth place run at New Hampshire he will be looking to capitalize on that momentum heading into Pocono.
#41 Kurt Busch – Busch's option wasn't picked up after the 2017 season but he was able to renegotiate his contract and come back to SHR in 2018. He sits a solid fifth in the point standings and is coming off back-to-back top-1o's at Kentucky and New Hampshire. Busch has a second, third, and fifth place finish in 2018 and looked to have the best car at New Hampshire before a pit road error put him back in the field.
#42 Kyle Larson – What we do know about Larson is that he says he's very loyal to Chip Ganassi for giving him a shot at NASCAR. From stories that Larson has personally told he said that Ganassi was the one owner who wasn't looking for a "pay" driver and recognized Larson's ability. You do have to wonder though, depending on what rides may become available, if Larson will stay at CGR or make a jump to another team. Everyone knows his immense talent and many wonder if CGR can give Larson cars that can win championships in this equipment.
#78 Martin Truex, Jr. – Truex himself has said that contract talks are ongoing between he and Furniture Row Racing. With the news that sponsor Five-Hour Energy is leaving the series will this help persuade Truex into possibly looking over his options?
#95 Kasey Kahne – It is no secret that Hendrick arranged a deal for Kahne to be in the No. 95 Levine Family Racing Chevy during the 2018 season. However, with news that the team will switch to Toyota and have an alignment with JGR in 2019, one has to think that Kahne's time in this car could be short-lived.
My guesses on the 2019 season (Changes highlighted in bold):
#1 – Kurt Busch – I see Busch not being picked up by SHR after this season and making a move to CGR. Busch is a former Cup champ and I believe he will land a ride if he is shunted from the SHR car after this season. This could be a great fit for Busch to remain relevant if he doesn't return to the No. 41.
#6 Matt Kenseth – I think Kenseth runs one full season at Roush-Fenway before giving way to one of the younger guys in the Ford developmental program. I do not see Trevor Bayne having any relationship with RFR after this season.
#13 Ty Dillon – I do not see Dillon moving away from the Germain Racing ride unless Childress moves him to the No. 31.
#14 Clint Bowyer – Bowyer's solid efforts in 2018 have earned him a continued spot at the table at SHR heading into 2019 and beyond. I would expect him to get a contract extension for at least two to three more years.
#19 Martin Truex, Jr. – This could be way off base but with the uncertainty in the sponsorship efforts at Furniture Row, along with the struggles of Daniel Suarez in 2018, I definitely could see a scenario where Toyota wants to keep Truex in the fold and he sees running for JGR to be a more attractive offer.
#31 Ryan Newman – I believe that Newman will return for at least one more season at RCR. If he doesn't, I would expect Ty Dillon to take over this car. Daniel Hemric is also running very well in Xfinity for RCR and I could see him moving up to the Cup series. If Dillon takes over the No. 31 I think Hemric moves to the No. 13 Germain car.
#41 Cole Custer – Custer has been with SHR for a couple of seasons now in the Xfinity series. He had 19 top-10 runs in 33 races in 2017 and in 2018 he has 14 top-10's through 18 races and seven top-five's as well. Custer is only 20 years old and while one more season in Xfinity in 2019 may make sense, I also think that Ford would like to get some of the younger blood into the Cup series and Custer makes perfect sense in that regard.
#42 Kyle Larson – Larson stays at least one more season at CGR in 2019. I will say though that I believe that we should really watch the two Hendrick cars of Byron and Bowman in 2019. I think they deserve a fair shake and at least two seasons but if they falter again in 2019 I could definitely see Larson being a top contender for a Hendrick ride in 2020.
#78 Christopher Bell – If Truex leaves Furniture Row for Gibbs I can see the scenario where Furniture Row gains the services of Christopher Bell. He's one of the brightest young stars in NASCAR and Toyota would obviously love to keep him under their banner. A Truex move to JGR would open the door for Bell to jump right into a great Cup ride right out of the starting gate.
#95  Daniel Suarez – If Suarez gets bounced from the JGR No. 19 ride I think that a natural landing spot for him would be this No. 95 car which will be aligned with JGR in 2019.
Well, there's a pretty good list of driver changes for the 2019 NASCAR season. Do you agree with any of these or have your own theories? Give us feedback in the comments section and tell us what you see when you gaze into your crystal ball.
**The opinions expressed on this site are not necessarily those of the publisher, management or staff. All comments other than website related problems need to be directed to the author. (c)OnPitRoad.com. **