Making the Case For: Justin Allgaier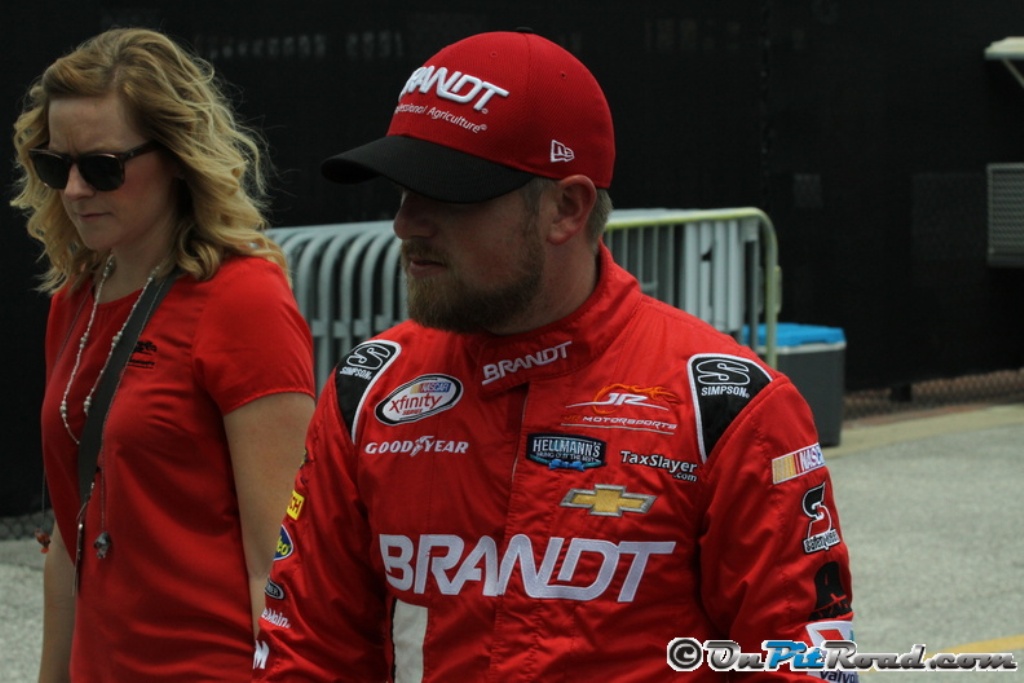 There are many drivers who have come through NASCAR over the years that never reached their full potential for one reason or another. Often times it's bad timing and less than quality rides that hinder drivers from reaching the highest levels of the sport.
Every once in awhile I am going to write an article and make my case for a certain driver. Today's first installment will be about Justin Allgaier, who I feel deserves a high quality Cup ride in 2019.
Allgaier is a 32-year-old driver from Riverton, Illinois. I remember Allgaier from his dirt late model days way before he ever got a sniff of NASCAR. He was always fast in anything that he strapped into and looked destined for stardom at a young age. He ran the majority of ARCA races in 2006, picking up his first ARCA Series win in August at the Illinois State Fairgrounds in the Allen Crowe Memorial 100.
Allgaier would run the entire ARCA season the following year, scoring the win on one occasion at Salem Speedway in September.
Allgaier would have his breakout year in ARCA coming in 2008, winning six times in 21 starts and bringing home 16 top-10 finishes. He would only have one DNF all year from an engine failure at Kansas. Allgaier won the last three ARCA races of the season at New Jersey Motorsports Park, Talladega and Toledo. Allgaier would complete 97.5 per cent of all laps ran in 2008 en route to the series title.
For 2009, Allgaier would move to Team Penske and run full-time in the NASCAR XFINITY Series. In his first full year of competition he would finish sixth in the point standings with 12 top-10s and three top-five finishes.
In 2010, Allgaier finished an impressive fourth in the series standings. However, that placement was back in the days of no limits on Cup drivers in lower series' and the allowance of racing for points in multiple series. The only drivers to finish higher than Allgaier in the standings were all full-time Cup drivers; Brad Keselowski, Carl Edwards and Kyle Busch. Allgaier would pick up his first career victory in the XFINITY Series in the spring race at Bristol Motor Speedway.
For the 2011 season, Allgaier moved from Penske to Turner Motorsports and won at Chicagoland Speedway, passing Carl Edwards on the last lap after Edwards ran out of gas. Allgaier would go on to finish third in the series standings in 2011 with 17 top-10 finishes.
In 2012, Allgaier won the race at Montreal and finished sixth in the series standings. He had 19 top-10 finishes in the 33 race season.
In 2013, he ran fifth in the series standings and had 16 top-10 finishes in his 33 starts.
It was in 2014 that Allgaier got his big shot — or so he though.
He moved to the Cup Series for HScott Motorsports in the No. 51 Chevrolet. He showed flashes of his talent by leading laps in the Daytona 500 and he had a great run of 17th in the Food City 500 at Bristol. Despite being in slightly lesser equipment, Allgaier managed to complete 95.5 per cent of laps during the season. He ran 15th at Charlotte in the fall and ran 15th in the season finale at Homestead in November. Allgaier finished 30th in the standings just behind Danica Patrick in a Stewart-Haas Racing car and Ricky Stenhouse, Jr. in the Roush Fenway Racing No. 17 Ford.
In Allgaier's second full-time Cup season, he managed to impress out of the gate with an early-year eighth place finish at Bristol in the spring. He followed that up by finishing 12th at Bristol in the night race and 13th at Martinsville in the fall. He came home 30th in the point standings, just behind Trevor Bayne and former three-time champion Tony Stewart.
When his Cup ride went away for the 2016 season, Allgaier did something that has become common over recent years; he returned to the XFINITY Series in an effort to redeem his career. This turned out to be a real spark in his career as he had an impressive 27 top-10 finishes in 33 races with JR Motorsports and completed 98.8 per cent of all laps ran. He came home third in the series standings, despite failing to win a race.
The 2017 and 2018 season — to this point — are what really make the case for Allgaier's return to a Cup caliber ride. He's won seven races in his last 60 starts and finished in the top-10 38 times.
Looking at his entire body of work, Allgaier deserves another shot at a good Cup ride. After his ride in the HScott car disappeared, Clint Bowyer took over for one year before moving to Stewart-Haas. Bowyer, who is arguably one of the best drivers in the Cup garage, finished 27th in the series standings in the same car that Allgaier vacated.
Something we haven't seen a lot in NASCAR is guys getting a second chance in the Cup Series. But if you look at Allgaier's first chance it came in a car that wasn't capable of having great finishes more often than not. Allgaier made the best of the hand he was dealt and gave the HScott No. 51 some respectable runs in his two full-time seasons.
Over these past few seasons in XFINITY, Allgaier has proven that he deserves another chance at the big time in a better car. With all the rides available on paper for 2019, one would think that he has a good shot at getting back to the Cup Series.