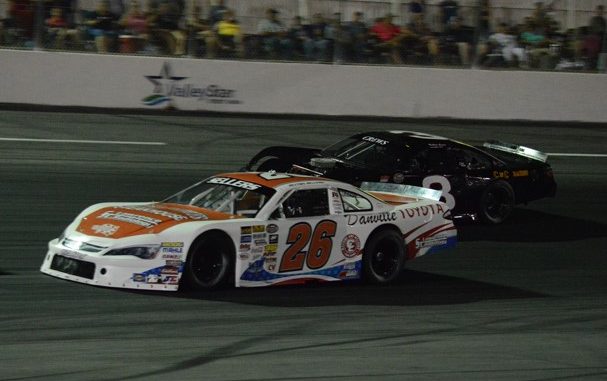 SOUTH BOSTON, Va. (October 2, 2018) – In the 13 years since Peyton Sellers won his first South Boston Speedway in 2005, the landscape has changed drastically.
Sellers is the only driver who finished in the top seven that season still racing regularly. He has raced in both the NASCAR Camping World Truck Series and the NASCAR Xfinity Series since that first Late Model title before migrating back home to South Boston a few years ago.
A couple of things remain the same, though. He is still winning races and championships and two of the same sponsors, Clarence's Steakhouse and Danville Toyota, adorn his car.
He wrapped up his fourth South Boston Speedway Late Model Stock championship a few weeks ago and followed that up with his third Virginia Late Model Triple Crown title last Saturday night with a fifth-place finish in the ValleyStar Credit Union 300 at Martinsville Speedway.
"We sat down at the beginning of the year and decided we would go after the (South Boston) track championship and the triple crown and we accomplished all of that," the 34-year-old Sellers said.
The Virginia Late Model Triple Crown rewards the driver with the best average finishes in the Commonwealth's three biggest Late Model races of the season: the Thunder Road Harley Davidson 200 at South Boston Speedway, the Hampton Heat at Langley Speedway and the ValleyStar Credit Union 300.
Sellers and South Boston rival Philip Morris came into last weekend's race tied for the Triple Crown lead with 1.5 averages after splitting victories in the first two events.
"Philip and I raced it out at the very end Saturday night," said Sellers before Morris got caught up in a spin and finished 12th.
"The Triple Crown is big to me. A lot of big names in racing have come from Virginia. I'm proud to be a Virginia driver," said Sellers, who picked up a $10,000 bonus for winning the Triple Crown. "The Triple Crown races aren't easy races. The best of the best are at each of them."
Sellers took a strategic approach to the 2018 season at South Boston. When Morris, who captured a fifth NASCAR Whelen All-American Series national championship this year, got off to a hot start, Sellers began dropping to the rear of the field to take advantage of South Boston's passing point system, which rewards points for each car passed.
Morris wound up with 10 wins and Sellers three, but Sellers still managed a 56-point advantage over Morris in the final point standings.
"At South Boston, racing with the national champion every week, you're not going to win as many races," said Sellers.
"With the competition level at South Boston, you don't get a mulligan. You can't have a bad night; if you do, it takes five nights to make up for it. Me and Philip's cars worked good all year. I don't think either of us were able to save anything all year."
Sellers had to deal with off-track issues for the second half of the season. His father Bert underwent heart surgery in midsummer and Sellers had to step away from day-to-day work at Sellers Racing to take over leadership of the family construction business as his father recuperated.
"I was working on the car up through July when Dad got sick, but since then I've been running our construction company," said Sellers. "We're very fortunate to have family here to cover for each other. I covered for Dad, H.C. (brother) has covered for me (with the race team) and Mom has picked up slack in all areas."
Sellers' South Boston Late Model titles came in 2005, 2014, 2017 and 2018. His first championship, though, came in 2001, in a Limited Sportsman car and it set the stage for the next two decades
"I was the 2001 Limited track champion at Orange County (Speedway)," recalled Sellers. "That winter Clarence (Pickurel, owner of Clarence's Steakhouse) called me to drive for him. I was 18. I was the first rookie he put in that car. Danville Toyota was on the car that season (2002), too. Both have come and gone as my career took me in different direction, but both are still on the car now."
There is a break in action at South Boston Speedway until Saturday, November 3 when the CARS Response Energy Tour visits for the AutosbyNelson.com 250. The CARS Tour final race of 2018 will decide championships in both its Late Model Stock Car Division and Super Late Model Division with 125-lap races on tap for each division.
Adult tickets are $10 in advance and $15 the day of the race. Children age 12 and under will be admitted free with a paying adult.