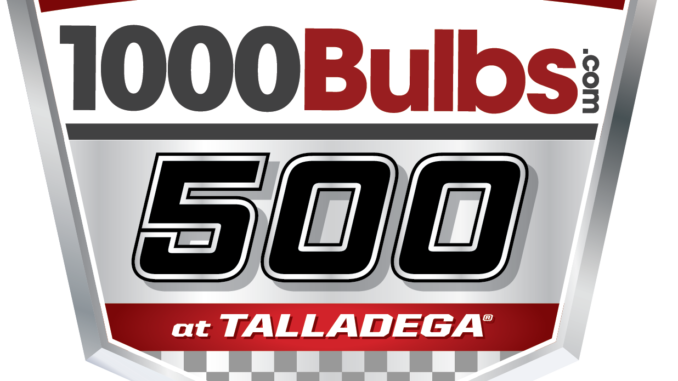 NASCAR Playoffs Come to Talladega Superspeedway
with Sunday's 1000Bulbs.com 500
Ricky Stenhouse Jr. Looks to Upset Monster Energy Series Championship Contenders
Full Saturday Schedule with Foodland/Food Giant Qualifying, Fr8Auctions 250
TALLADEGA, Ala. – The biggest race track on the Monster Energy NASCAR Cup Series schedule is gearing up for one of NASCAR's biggest races, Sunday's 1000Bulbs.com 500, where unpredictability adds a riveting dose of drama to the NASCAR Playoffs.
Sunday marks the middle race of the playoffs' second round. Currently, 12 drivers remain in the championship hunt; following next week's (Oct. 21) event at Kansas Speedway, the contenders list will be trimmed to eight, after which three more races will produce a "Championship 4" showdown going into the season finale at Homestead-Miami Speedway.
Come Sunday at the famed 2.66-mile TSS layout, a victory by one those 12 contenders will result in an automatic berth into the next round. Unpredictability — via the always-looming prospect of a results-shuffling "Big One" – aside, a solid favorite to win the 1000Bulbs.com 500 is a driver who isn't in the playoffs, Ricky Stenhouse Jr. (No. 17 SunnyD Ford).
Stenhouse, one of the most capable competitors at the two biggest tracks on the schedule (Talladega and Daytona International Speedway), has a series-leading average Talladega finish of 11.4, based on 10 starts in the Monster Energy Series. He has one victory, in the 2017 spring race, his first victory at NASCAR's top level.
"It's always coming back to the place where you got your first win," Stenhouse said. "Excited to get back on the track. I think we had a real good run here in the spring (fifth-place finish). I wish I had done a few things different coming down to the last few laps. Hopefully, I learned a little something that if it comes down to it [Sunday] we can put ourselves in a better position to cross the finish line first."
Another driver who is outside the playoffs but still merits attention is Bubba Wallace (No. 43 Medallion Bank/Petty's Garage Chevrolet). A native of Mobile, Alabama, Wallace is a Monster Energy Series rookie. His first Talladega start, this past April, produced a 16th-place finish.
"There are good vibes already," Wallace said. "As soon as we stepped off the plane here there was a big crowd of fans at the airport to greet us for autographs. It's shaping up to be a good weekend."
On Saturday at 10:05 a.m. CDT, the Monster Energy Series will have its only practice session with Foodland/Food Giant Qualifying set for 3:35 p.m. CDT.
Friday afternoon, qualifying for the NASCAR Camping World Truck Series' Fr8Auctions 250 was held. That race will start Saturday at noon CDT.
About Talladega Superspeedway
Talladega Superspeedway is NASCAR's most competitive (record 88 lead changes in 188 laps), highest banked (33 degrees), and longest track (2.66-miles), as well as the most fun and fan-friendly. Talladega offers something for everyone, including hundreds of acres of free camping, amazing kids tickets and college student prices, along with special offers for military members and first responders, and teachers and educators. The historic venue, which opened in 1969, is deemed NASCAR's "Party Capital" thanks to the track's infamous infield, which features the traditional Saturday Night Infield Concert presented by Wind Creek Casino and Hotel and the world-renowned Talladega Blvd., home of Friday night's "Big One on the Blvd." party. It's the site of the most comfortable seats in motorsports, large ISM Vision HD video boards lining the frontstretch and endless pre-race activities for fans on race day, including special Kids VIP opportunities. For ticket information, visit www.talladegasuperspeedway.com or call 855-518-RACE (7223).
The track, along with its parent company, International Speedway Corporation, recently announced Transformation – The Talladega Superspeedway Infield Project. The approximate $50 million redevelopment endeavor is part of ISC's long-term capital allocation plan and reinvestment into its major motorsports complexes. The project, highlighted by a one-of-a-kind Garage Fan Zone Experience, will feature "up-close" access, interactive attractions and enhanced amenities for fans, sponsors, teams and stakeholders in the iconic Talladega infield. Full completion of the modernized project is scheduled for October of 2019. Fans can learn more about the project by visiting www.talladegasuperspeedway.com/transformation. The track, which opened in 1969, will also celebrate its 50th Anniversary next year.