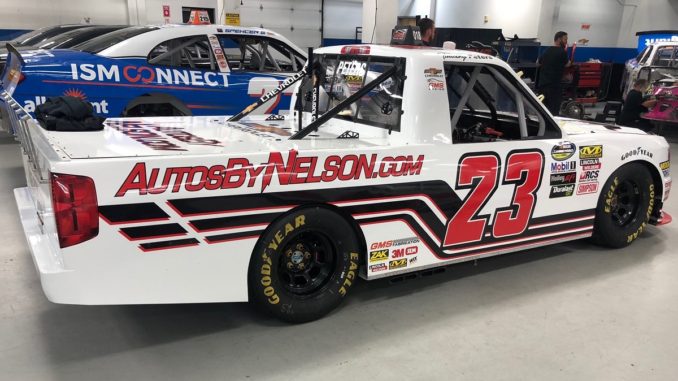 MARTINSVILLE, Va. (October 22, 2018) – Timothy Peter's NASCAR Camping World Truck Series season isn't over after all.
GMS Racing and Autos By Nelson announced Monday that Peters will be driving a GMS Chevrolet Silverado sponsored by Autos By Nelson in the Texas Roadhouse 200 at Martinsville Speedway Saturday.
After winning at Talladega Superspeedway 10 days ago, Peters thought his season was finished following the third, and what was supposed to be final start, in a substitute role for GMS.
The folks at GMS had different thoughts, though. They immediately started putting together a plan for Peters to race at his home track this weekend. Barry Nelson, owner of Martinsville-based Autos By Nelson, made the deal complete when he stepped up to sponsor the entry.
"It's a deal they didn't have to do, but they made a spot for me," Peters said of the efforts to have him in a truck for Martinsville. "Obviously I had hoped that Talladega would help (with a ride for Martinsville). Nothing is ever easy by any means, but I'm thankful. GMS' fabrication shop, GMS racing and Chevrolet all made this easier to happen."
Peters' Talladega win was the 11th in his NASCAR Camping World Truck Series career, but he's been without a fulltime ride since Red Horse Racing, his home for more than a decade, closed midway through the 2017 season. Since then he has served as general manager for Nelson's growing Late Model Stock operation, which fielded five entries in Martinsville Speedway's recent showcase Late Model race. He also makes selected starts in Late Model events.
"It's cool Barry is going to help me out on our Chevrolet Silverado with Autos By Nelson. Barry has helped me so much professionally and personally since we first met a few years ago," Peters said of Nelson, who built a small family car dealership into Autos By Nelson, a group of seven auto dealerships representing 13 manufacturers in Southern Virginia and North Carolina.
When GMS Racing needed a substitute driver for three races beginning in late August, they called on Peters, who had made only a couple of truck series races this season. Those three starts resulted in strong runs, including the Talladega win and a fifth-place finish at Canadian Tire Motorsports Park.
"I can't thank Maury Gallagher (GMS owner) for the confidence he has shown in me and this opportunity. Jerry Baxter and all of the guys on the 25 truck (the group Peters raced with the past three events) are such a big part of my success, of all of this. Without them I certainly wouldn't be here," said Peters. "This is such a great opportunity and it is so humbling. What still sticks out is that call from Mike Beam (GMS Racing president) to go to Canada … that we could have still been on someone's mind …"
Peters, who lives about 30 minutes from Martinsville Speedway, has 24 NASCAR Camping World Truck Series starts on the iconic half-mile track along with numerous Late Model Stock races. He has won at Martinsville in both the truck series and Late Model Stock cars.
Chad Norris will serve as crew chief for Peters' Martinsville entry, which will be the No. 23 Silverado. Norris, who normally heads up the GMS Xfinity Series entry, will bring over crew members from that team for Martinsville. The Xfinity Series is idle this weekend.
"I feel like we will adjust quickly," Peters said of the new combination. "Obviously the laps I have around Martinsville and the success I've had there will help, plus the great equipment gives us confidence. Chad has a ton of experience plus the other GMS crew chiefs that will be there. Everybody works so well together; I'm sure we'll all collaborate well together."