Matt DiBenedetto Fighting for His Job, Career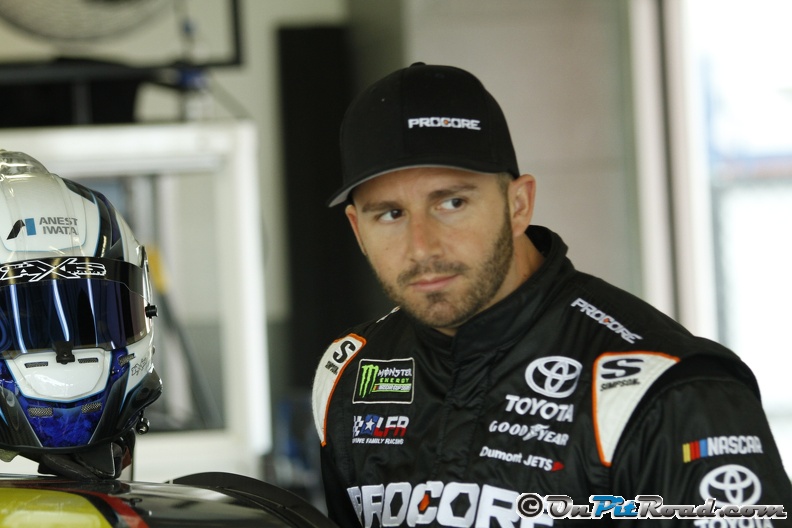 Matt DiBenedetto scored a sixth-place finish at Watkins Glen on Sunday, his fourth top-ten of the season. Discussing the impressive run, a happy DiBenedetto openly admitted, "I'm fighting for my life."
DiBenedetto was referring to the fact that his team, Leavine Family Racing (LFR), has an alliance with Joe Gibbs Racing (JGR). One of the biggest "silly season" stories in the sport right now is next year's plans for JGR driver, Christopher Bell.
Bell is currently one of the hottest drivers in the NASCAR Xfinity Series. It has become a foregone conclusion that it is time for him to move up to the Monster Energy NASCAR Cup Series next season. The problem, however, is that JGR currently does not have an open spot for Bell due to the NASCAR rule permitting only four team per organization.
Therefore, the situation has created numerous theories as to what JGR will do in order to keep Bell with its organization. Last year, most thought Bell would replace Denny Hamlin due to poor results for the No. 11 team. Hamlin, however, has turned things around and is having a very strong season this year. He currently has three wins.
Erik Jones is now the big question mark. Jones is the only JGR Cup driver yet to find victory lane this season. His performance has been much less consistent than that of his teammates.
The question is, how does JGR keep both Jones and Bell and have both in the MENCS? The most obvious answer would be one of the two drivers would drive for LFR due to the alliance with JGR. If this happens, where does that leave DiBenedetto?
Without question, the alliance with JGR has helped LFRs performance. Sunday's finish was the fourth top-ten of the season. However, it was only the 11th top-ten for LFR since 2011. The No. 95 has led 50 laps so far this season, more than any other season in its history, and almost 50% of the team's total laps led since 2011.
Many fans, industry insiders, and media members believe the alliance should not discount the impressive on-track performances DiBenedetto has turned this season. Most feel he has proven to be very talented behind the wheel.
DiBenedetto is aware he is the odd man out. "Everybody knows. They see the headlines and all the mess in the media. I'm just fighting for my life and my ride is all I love for so I hope I can stay with this team … I hope it's for a long time," said an emotional DiBenedetto. "I've known forever that this is what I'm meant to do, this is what I live for and live, eat, sleep and breathe. I know Victory Lane is coming, I hope they keep me around on this team for a long time to come so I can take them to their first victory."