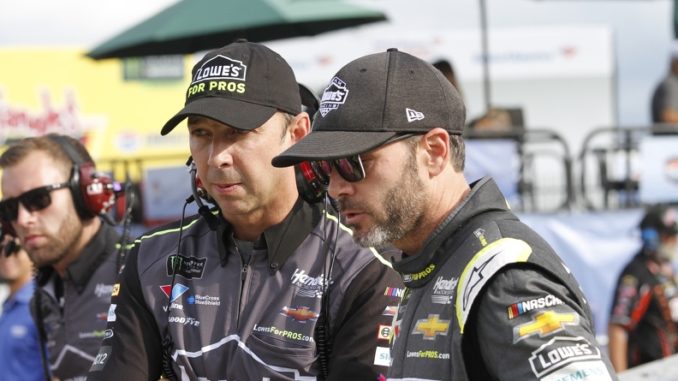 After 17 years together, the pairing of seven-time champions Jimmie Johnson and Chad Knaus will be no more as Hendrick Motorsports announced its intention to move Knaus to William Byron in 2019, and move Kevin Meendering up to work with Johnson.
"Chad and Jimmie will go down as one of the greatest combinations in sports history," Hendrick Motorsports owner Rick Hendrick said. "They defied the odds by performing at a championship level for longer than anyone could've possibly imagined. What they've accomplished together has been absolutely remarkable and will be celebrated for generations. This has been an incredible, storybook run."
Knaus will begin only his fourth driver-crew chief relationship in 2019 after working with Johnson since 2002. He crew chiefed previously for Stacy Compton in 2001 and worked with Casey Atwood in one race. In 17 years together, Johnson and Knaus won 81 times together.
Kevin Meendering, who has been the crew chief for Elliott Sadler in the NASCAR XFINITY Series since 2016, gets the nod to work with the seven-time champion in 2019. Meendering and Sadler have won on three occasions together, all of which came in 2016.
"Over the last couple of years, he's been one of the most sought-after talents in the garage," Hendrick said of Meendering. "Kevin is an impressive person who came up in our organization and will hit the ground running on day one. We already know how well he works with our people and that he's a respected, forward-thinking crew chief. Having worked with a veteran driver like Elliott Sadler for three years is extremely valuable experience. He's the right fit for Jimmie at the right time. With an established No. 48 team behind them, I believe they will perform at a winning level next season and chase that eighth championship."
Darian Grubb, who has been working with Byron since the beginning of his young career, will now join a more senior role within the organization as technical director. Grubb will finish out his crew chiefing duties for 2018.